Palm Phone vs. Galaxy Watch LTE: Which should you buy?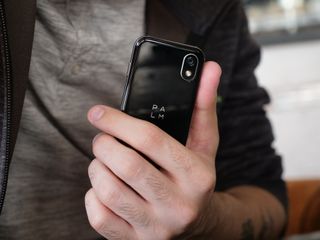 Palm Phone
The Palm Phone is a tiny companion device for your primary phone. It's built to be deliberately small and inconvenient to use, to encourage you to use your phone less often.
Palm Phone
Home screen optimized for small display
Beautiful, water-resistant design
Poor performance and battery life
Unimpressive camera
Weak cellular connection
Takes up space in your pocket
Galaxy Watch LTE
The Galaxy Watch is Samsung's latest smartwatch, meant to supplement your primary smartphone rather than replace it. It features a rotating bezel for easily navigating through its software, and a multi-day battery.
Galaxy Watch LTE
Excellent display and rotating bezel interface
Health and fitness tracking are good
Software is helpful and polished
Weak third-party app selection
Masculine design narrows appeal
Always-on watch face kills the battery
The Palm Phone and Galaxy Watch are both companion devices that attach to the same number as your primary phone and act as secondary ways to make calls and texts, along with other basic smartphone features like notifications and various apps. Each takes a different approach to supplement your phone, and for most people, one will be a more viable option than the other.
What are the differences?
The Palm Phone is an interesting device that intentionally combines low-end specs with a tiny display that all make it a bit difficult to use. The idea is to get you to use your phone less; just like a smartwatch, the Palm Phone attaches to the same phone number on your account as your primary phone, rather than operating as a standalone device. It runs a fully functioning build of Android 8.1, with a custom home screen optimized for the 3.3-inch display.
Similarly, the Galaxy Watch LTE shares a number with your phone for making calls and texts, but of course, it straps onto your wrist rather than sitting in your pocket. The display is even smaller than the Palm Phone, coming in at 1.3 inches, with Samsung's Tizen OS onboard. It receives notifications from your phone, and can run its own selection of apps ranging from Spotify to Uber and Strava.
With each device, you can leave your primary phone at home without worry of missing important calls and messages, thanks to LTE connectivity. Both count as add-ons to your monthly plan, though the Palm Phone is only available on Verizon, while the Galaxy Watch is available on almost every U.S. carrier.
Functionally, the Palm Phone has a few advantages. You can use the earpiece speaker for calls, just like any other phone — with the Galaxy Watch, you'll need to either use Bluetooth headphones or the built-in loudspeaker. Since the Palm Phone runs a full build of Android, you can also run any app on the Play Store, rather than requiring dedicated apps made specially for Tizen.
The Galaxy Watch pulls ahead in a few ways too, though. While the Palm Phone struggles to make it through an afternoon, the Galaxy Watch can last three entire days on a single charge (though enabling the always-on display will impact that battery life significantly). It also has much smoother performance, along with Samsung's nice suite of fitness-tracking features.
Both devices serve similar purposes, but there are two major factors that will decide which one you should buy. If you're not a Verizon customer, the Palm Phone is out of the question, but even if you are, you'll need to decide which form factor is better for you; do you prefer a cellular smartwatch, or do you still prefer to use a phone, even in a tiny size? I think for most people, the Galaxy Watch will be a more practical choice, but the Palm Phone is a fun choice for those that need to put down their phone from time to time without giving up the convenience of a smartphone entirely.
A phone for ants
Does slightly more than a smartwatch, but less than a typical smartphone.
If you're not a fan of watches, the Palm Phone is a decent, but flawed device that takes the place of your primary phone. It doesn't have great performance or battery life, but it has serviceable cameras for taking photos in a pinch and works off of your phone number.
A phone for your wrist
Ideal for workout sessions and grocery runs, though it doesn't take photos.
For most people, the Galaxy Watch will be a better option. Unless you need a camera, the Galaxy Watch offers all basic features you'd need from a smartwatch, along with multi-day battery life. As an added bonus, it saves space in your pocket.
Sign up for Black Friday email alerts!
Get the hottest deals available in your inbox plus news, reviews, opinion, analysis and more from the Android Central team.
Hayato was a product reviewer and video editor for Android Central.