Our readers want more microSD card support, not less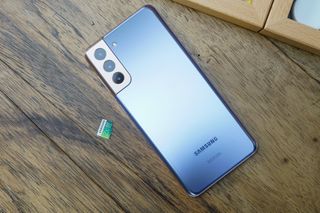 (Image credit: Android Central)
What you need to know
We asked our readers if they prefer to have support for expandable storage in their smartphones.
More than 75% of responses indicate that they'd prefer to have the option.
Recent cloud server outages may have affected trust in the cloud.
Over the weekend, we asked if our readers cared if their smartphones included support for expandable storage. Between more devices dropping support for microSD cards like the Galaxy S21 and recent outages affecting users' access to cloud services, we wanted to know exactly where our readers leaned towards when it came to expandable storage.
Of nearly 2500 responses, 76% voted that they would rather have the option for expandable storage than not. This is interesting because support seems to be waning amongst the best Android phones, similar to the 3.5mm headphone jack. That said, nearly 17% of responses indicate that internal storage is enough, which makes sense now that more devices are launching with 128GB and go up from there.
Fewer responses seemed happy to rely on cloud services like Google Photos.
One reader, M1DLG, comments that microSD cards help them skirt the various entities pushing for cloud subscriptions to save and access files you own.
However, some readers highlight how not everyone needs tons of storage and that the newer smartphones tend to have enough for them to get by.
As long as the phone has 128 gb of internal storage or more as the IPhone 12 mini I have does, I don't care.

But if it has less than that, then I would need a phone with a microSD slot.As long as the phone has 128 gb of internal storage or more as the IPhone 12 mini I have does, I don't care.

But if it has less than that, then I would need a phone with a microSD slot.— Jovan #RepealFOSTA (@CSRA_prsn) December 12, 2021December 12, 2021
And while some users are content relying on the cloud, there are arguments against it. Outages, for one, are a significant factor in whether or not someone wants to trust their files to companies like Google and Amazon. However, as one user points out, the lack of adequate broadband access in part of the U.S. makes this option less feasible for many.
Of course, fewer phones supporting expandable storage via microSD cards limit one's options when it comes to backing up data. However, there are plenty of microSD alternatives for Android phones that offer robust storage options.
That said, moving away from microSD cards seems to be as concerning for many users as the removal of the 3.5mm headphone jack was as OEMs continue stripping away features from their devices.
Storage on-the-go
(opens in new tab)
SanDisk 512GB Ultra Dual Drive Go
Small, fast, and versatile
This SanDisk USB stick is the perfect storage companion for someone looking for a microSD alternative. It's compact but powerful, with 512GB of storage and read speeds of up to 150MB/s. Additionally, it features USB-C and USB-A ports and can be hooked to a keyring so you won't lose it.
Get the Android Central Newsletter
Instant access to breaking news, the hottest reviews, great deals and helpful tips.
Derrek is a long-time Nokia and LG fanboy who loves astronomy, videography, and sci-fi movies. When he's not working, he's most likely working out or smoldering at the camera.
Expandable storage makes sense. When the Galaxy S21 Utlra came out, and it didn't have expandable storage, I immediately jumped on the 512gb model (and i'm glad i did, they are hard to find now).
if you are someone that takes a LOT of video (especially 4k), you NEED a lot of storage. Sure, that video may sync to the cloud after you have taken it, but you NEED that storage to hold it in the first place. Having expandable storage gives you much better options based on your needs.

And imagine trying to stream that 4K video to watch it from your phone.

SD cards are too slow, no need to negatively impact my phones performance.

You could make the case that more storage is a replacement for memory cards, but cloud storage is a 1st world response at best. Wifi is sketchy in many people's homes in rich countries, forget it in parts of Latin America, Middle East, Africa and Asia. If I ran out of space and couldn't increase the available space, I'd look to what I don't really need not relying on the slow load times of browsing photos that are stored online. Cloud storage is just a poor argument for not needing local storage.

Having an SD card was a godsend when travelling because I could easily transfer thousands of files from one phone to another. I couldn't use my Chromebook because I've always found ChromeOS completely unreliable bizarrely for connecting Android phones too. I could've used something like Samsung Smart Switch, which uses Wifi Direct, but that requires setting up an app and it doesn't let you transfer off of a Galaxy, only to one. p.s. No such thing as a phone with a headphone jack. Is it really that hard Internet to call a port a port? No one calls it a USB-C jack.

There is. In audio, jack usually refers to the female connector. We don't say USB-C Jack because USB-C doesn't use a Jack. But I do agree to an extent...I usually say 3.5mm port.

Really? For years and years they were headphone jacks, and microphone jacks, and electric guitar jacks, and phone jacks (ever see a manual switchboard?). They were jacks before there were cell phones.

It's moot it's not coming back on premium phones, eventually Sony will follow suit.

Just like the headphone jack, SD is history. One thing nice about Samsung (at least on the S21U models) is that 256 was only 50 bucks more and for 40 buck a person can purchase a small device to download photos/videos if needed.
However, the greater majority of people do not need more than 128gb because if the phone starts filling up, they are not far from a laptop or other computer to store and save or close to a connection for cloud storage

I would prefer an SD Card but as internal storage has gotten substantially larger (256 and 512 GB) it isn't as necessary.

It's a crime that they kill internal storage, then price gouge you on internal. But even if the price was on par with an SD card, I still like the convenience. Not to mention being able to take pics with a real camera, then view them back on the phone or tablet immediately.

Definitely bring it back, give the option to us, especially on the Ultra models.