New HTC Flyer update brings 'improved performance'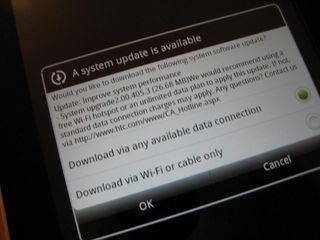 A new firmware update has been released for the HTC Flyer, bringing the 7-inch tablet up to version 2.00.405.3. HTC promises "improved system performance" in this new OTA, and before you ask, no, this isn't the fabled Honeycomb update. Once you've got the new software installed, your device will still be running Android 2.3.3. To get your tablet updated, simply head to Settings -> About Tablet -> Software Updates, and tap "Check now".
So far we're noticing slightly better performance across the board on the new Flyer firmware, especially in the launcher with live wallpapers enabled. Be sure to let us know in the comments if you've spotted any surprises in the new version.
Source: HTC Support (opens in new tab)
Android Central Newsletter
Get instant access to breaking news, the hottest reviews, great deals and helpful tips
Alex was with Android Central for over a decade, producing written and video content for the site, and served as global Executive Editor from 2016 to 2022.
Can we get some user opinions of this update?

Well mine says there is no update... So idk how to update it

The Trace keyboard seems to have improved a lot. Still not quite as easy to use as Swype, but a big improvement on before.

Mine still says "your tablet is up to date"...hmm!

I was Jude on the phone with HTC support. After about 15 m.minutes of digging it seems as though the update was for pre release versions of the tablet. Alex is yours a test or pre release model?

He said HTC reps got the update but again they were pre release.

Well that explains why I haven't seen an update, but I must admit I was looking forward to an update so soon.

Per a phone call to HTC support: this update is only for the UK version of the Flyer. The guy on the phone (who seemed pretty knowledgable, imagine that) said that the UK was running an earlier, slower version. He doesn't expect an update to the US version until the Honeycomb release, which he anticipates won't be for another month or two.

When I saw the.uk on the support site link I figured the same thing. My guy wasn't sure it was uk only. But I bet the pre release versions had the same problem. O well getting honeycomb soon will be nice.

Well, now I'm confused. I had also emailed HTC support prior to making the phone call and just got this answer: -----
I'm sorry to hear that your Flyer hasn't updated. The current version of the software is indeed 2.00.405.3 and is an over-the-air update. The updates are sent out in waves and the release dates are different depending on the area of the country that you live in. I would suggest powering the Flyer off and then back on and using the "Check Now" feature again. If this doesn't help, you can change the date to 3 in the future and then try the "Check Now" feature again. This has been known to work but can't be guaranteed. If this does not help, you will have to wait until it is available in your area but shouldn't be very long. Updates normally take up to 2 weeks to update all devices across the country. If you have any further questions, please feel free to contact us again.
----- My current software number is 1.36.1540.32. So unless the US and UK use different version numbers, maybe there is an update for the US Flyer.

This update makes it look like a better buy - http://www.amazon.co.uk/gp/product/B004WJ0N0M/ref=as_li_ss_tl?ie=UTF8&li...

So is the US Flyers going to receive an update or not, the rep I talked to basically confirmed he knew nothing.
Android Central Newsletter
Get instant access to breaking news, the hottest reviews, great deals and helpful tips
Thank you for signing up to Android Central. You will receive a verification email shortly.
There was a problem. Please refresh the page and try again.