OPPO's under-glass selfie camera is the beginning of a massive 2020 phone trend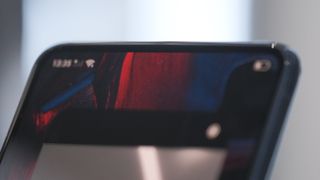 (Image credit: Daniel Imek| Twitter)
What you need to know
Selfie cameras are migrating under the display soon.
OEMs like Xiaomi and OPPO have been working to eliminate the notch by moving the front camera and hiding it as part of the display.
A live OPPO prototype shows how this would work in practice.
OPPO announced at MWC Shanghai 2019 that it would be bringing its under-display cameras to smartphones in the near future, and that seems more likely than ever. This week, OPPO shared prototypes of devices with the new in-display camera.
The new under-screen camera system blends nigh seamlessly with the front of the phone, only appearing visible in certain angles. During day to day use, you'd probably be hard-pressed to even remember it was there.
It's the end of 2019 and our selfie cameras have gone from rote to interesting. Now they flip, twist, and do all sorts of interesting things just so we can have a full-screen display. But all these little tricks, as novel as they may be, were only ever intended to be temporary.
Smartphone OEMs have been racing to deliver the first truly futuristic looking phone, and in-display cameras are one large step towards that. This isn't to say that devices shouldn't use bezels if the need calls for it, but that list is getting shorter and shorter.
At the same time, the race for in-display cameras recalls memories of a similar race for in-display fingerprint sensors. Hopefully, OEMs take that into account when building their next-gen devices. Going off OPPO's earlier "near future" proclamation, we'll probably start seeing announcements of devices sporting this around MWC 2020.
OPPO gives us a first look at its in-display camera tech.
Get the Android Central Newsletter
Instant access to breaking news, the hottest reviews, great deals and helpful tips.
Won't mean anything until Apple invents this technology.

Yup, bec when Apple does it they do it better and cooler that sets the trends for others to follow And to add to this Apple was already rumored to be testing these ideas /designs back in 2016 for their 10th anniversary of the iPhone. Obviously, the tech wasnt developed or mature enough then which was abandoned.

Yeah, like when Apple brought us bezel-less displays that had more bezel than phones with regular bezels...

LMAO, how did Apple do Qi wireless charging "better"? Plus, with every iPhone iteration, Apple's playing catchup with their cameras to the best, with the best being on Android. Time for you to kneel and face west to worship at the altar of the fruit.

Apple will just wait till it's perfected, then copy it. As they always do.

Please fix the title of the article from glass to display. All selfie cams are under the glass. Also the world would be a better place if they just did away with selfie cameras!