Opera Max can now save data on streaming tunes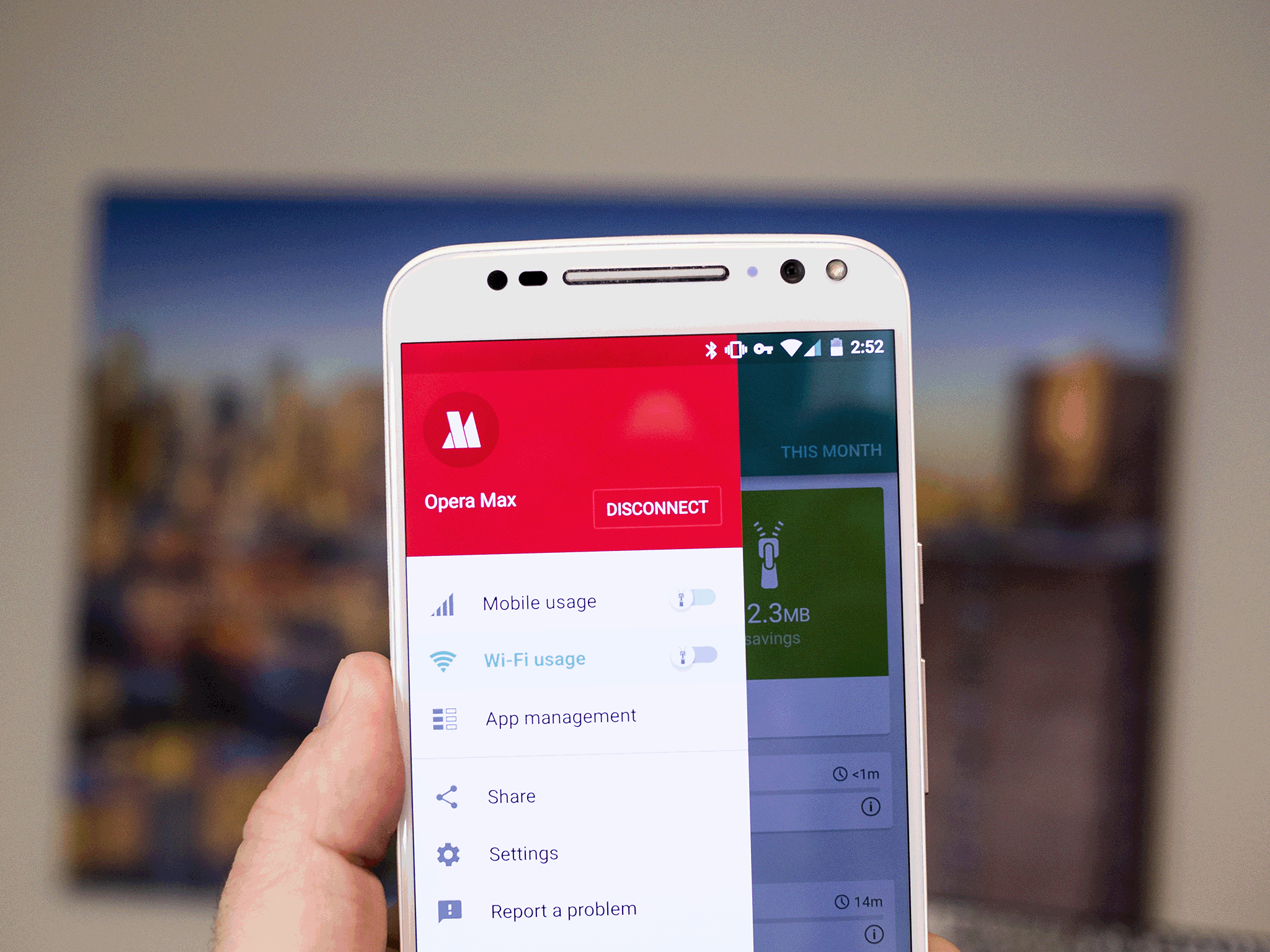 Opera Max, the Android app that can help you reduce mobile data usage across various apps and services on your phone, has today announced a new feature sure to please music lovers everywhere. Streaming music is a big data user and now Opera Max can integrate with some of the leading providers to help you still get your tunes but use less data while you're filling your ears.
The services available to take advantage include YouTube Music, Pandora, Slacker, Gaana and Saavn. By using Opera Max with any of these services its said you'll save up to 50% of your data compared to using them without.
Opera Max can already offer data savings on video streaming and the technology behind this is similar. It uses optimizations powered by Rocket Optimizer, managing streaming audio traffic and can convert the streams to a more efficent, AAC+ codec from MP3 and MP4. The benefit to AAC+ being a quality sound delivered over a low bitrate connection.
Opera has done great work to date in the field of data compression, and we recently took a look at both Opera Max and Opera Mini for Android to experience first hand the data saving capabilities. If this sounds like something for you, grab the app from the Google Play Store at the link above.
The full press release follows.
Opera Max is the first to offer data savings for music and video apps
Android users can now stream twice as much video and music with Opera Max
Oslo, Norway - November 23, 2015: Music lovers are able to listen to their favorite streaming music apps on the go while using less mobile data. Opera Max, a data-management and data-saving app for Android phones, is the first app in the world to optimize streaming-video and -music apps, reducing data usage.
One month after introducing video savings for YouTube and Netflix apps, Opera Max, in its latest version, now offers data saving on music apps including YouTube Music, Pandora, Slacker Radio, Gaana and Saavn. This means users of these apps can enjoy data savings of up to 50% with Opera Max.
"More and more people love listening to their favorite music with apps; however, these apps are among the major data hogs consuming users' mobile data quickly," says Sergey Lossev, Product Manager at Opera Software. "Now, we have added audio compression for these music apps so that people will feel free to stream music without having to look constantly for available, free Wi-Fi coverage. This is particularly helpful for users with limited data plans."
Data compression technology will increase usage of music apps
According to the report from Next Big Sound, 1 trillion audio streaming plays so far in the first six months in 2015. That averages out to 140 streams for every single human on the planet. Usage of streaming-music apps has increased substantially, with the growing adoption of smartphones, especially in emerging markets. However, listening to streaming music or online radio for 9 hours would take 1 GB of data. It could easily burn through users' data plans if they were streaming through mobile networks.
Opera Max uses streaming audio optimization powered by Rocket Optimizer, which manages streaming audio traffic in the same way that it optimizes video traffic. It supports both MP3 and MP4 stream formats, and it can also convert streams to the more efficient AAC+ codec, which is able to deliver high audio quality over a low bitrate connection to any compatible device.
Lossev adds, "We keep fine tuning the streaming-audio-optimization technology in Opera Max, so people can save more data while enjoying good audio quality. Pandora, Slacker Radio, Gaana, Saavn, and YouTube Music are the first five apps that passed our quality-assurance test, but we will support more music-streaming apps in the near future."
Opera Max gives users data savings of up to 50% across most apps and browsers, including video apps, such as YouTube, Netflix, and IMDB, among others on mobile networks as well as on Wi-Fi. This app also helps users monitor and keep count of how much mobile internet or WiFi they have used, on a monthly or daily basis, giving them better control over their data plans.
Opera Max is available for users with phones running Android 4.0 and above. It is free to download from Google Play.
Get the Android Central Newsletter
Instant access to breaking news, the hottest reviews, great deals and helpful tips.