ooVoo review - a group video calling alternative to Google Hangouts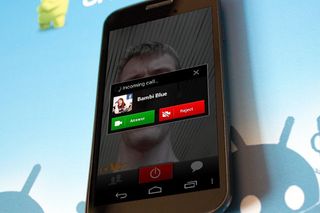 The video chat client ooVoo has recently updated to include a home screen widget and text messaging during video calls. ooVoo's main bragging point with this update is that it can support four-person video call on mobile, if for whatever reason that's a regular thing you need to do.
Users can make calls easily from the mobile app, either to land lines (provided you pump some credit into your account) or to users on Facebook or ooVoo. While you're on a video call, you can send and receive text messages, which is handy for web links, phone numbers, or e-mail addresses that pop up during conversations. ooVoo users can set their status to online, busy, away, or invisible, and include a custom status message if they like.
Style
ooVoo is laid out simply with a series of tabs along the bottom, in a very readable black/white/grey color scheme with orange highlights. ooVoo takes up a permanent spot in your notification menu unless you opt not to automatically start the app. There's also a home screen widget for quick access to your ooVoo contacts.
Overall, the style of the app isn't particularly exciting. There aren't any screen transition animations, though navigation is functional and sensible.
Function
ooVoo has a great suite of settings for ensuring that you aren't going to be perpetually bothered with instant messages or calls - a real danger when hooking into Facebook. Privacy settings can limit visibility and ability to call, plus there are tailored sound settings for all of the major alerts.
The implementation of video calling through Facebook isn't particularly elegant. Facebook doesn't actually open up its native video calling capabilities to anyone but Skype, so ooVoo has to send a link to Facebook users over Chat, and then they have to initiate the call through their Facebook app. The first go-around usually requires those users to do a fair bit of set-up as far as browser and app permissions go. There's also a desktop app available if you want to video chat with 12 people simultaneously. There isn't much Facebook integration beyond the messaging side; it would be nice if you could tap a user's picture in ooVoo and have it launch into the Facebook app, or at least their profile on the mobile site.
The video call quality is fine, with the usual amount of lag. You can only invite extra people to an existing call if they're ooVoo members, which is a bit of a pain. There are a few problems, though. The camera feed isn't improperly mirrored, resulting in backwards text. Stability isn't great; I had a few crashes, and sometimes calls simply wouldn't go through.
Pros
Cons
Clunky implementation of Facebook video calling
Iffy stability
Bottom line
While novelty of mobile group video chats has lost some luster since Google Hangouts have become available, ooVoo is staying fairly fresh by offering messaging options for Facebook. Of course, Skype has a huge presence on mobile, and also has a deep partnership with Facebook, but they have yet to bring screen sharing to their Android app. ooVoo also matches Skype in features like native address book syncing, and calling to outside phone lines (provided a user has credit).
If you've already got Google Plus and Skype installed, ooVoo won't have much to offer, but if you only have one or the other, there will be a few features here that might be worth your time. If you don't have either, ooVoo's covers a reasonable video feature set across both. Personally, 4-way video calling isn't something I do often, but if that's the killer feature for you, and for some reason you don't like Google Hangouts, ooVoo is a solid alternative.
Android Central Newsletter
Get instant access to breaking news, the hottest reviews, great deals and helpful tips
Simon has been covering mobile since before the first iPhone came out. After producing news articles, podcasts, review videos, and everything in between, he's now helping industry partners get the word about their latest products. Get in touch with him at simon@futurenet.com.
just want to let yall know how much of a joke i think it is to register for this place. capital letters and freakin punctuation for a password? to post a comment on a tech blog? do you guys want hits or what? yall may think its important to have extreme security but most of us do not. most of us have a single password for sites like these and then more secure for email and even more so for the banks. in order to remember what the fk my password is... i just now had to enter in my pw for my bank account. which is rediculous. lighten up your login security. /end rant. but i think yalls podcast is the best. this is the only place i come for pure android news. but i rarely comment because of the hoops i have to go through in order to login. which lessens your hits. which lessens the padding in yalls pockets. and i am only one out of millions. just sayin.

What are you talking about? I don't have punctuation in my password. and how does your comment apply to this article precisely? If you are going to use 'yall' can you please use the appropriate punctuation affiliated with it? It is a contraction that works as a pronoun, and y'all or you all is proper, not 'yall'. I don't have any complaints about the site, and the comedy of some of the users can be quite entertaining.

i was extremely happy to fulfill your entertainment quota for yesterday. but while you are hammering down on me for my 'lack of giving a fk about my typing prowess' issues... check your own house. sign out of here and re-register. maybe that will fill your quota for today. let me know so i can send you a bill.

I have been using ooVoo for months now. My dad lives over 600 miles from me and we only see one another a couple of times a year at best. He and I can talk and he can see his grandson too. I had used Skype for years but as of late, its call quality has really taken a hit. That seems to be a running theme with Microsoft products. In the end, the quality is really bad. Skype has been unable to negotiate a stable video and voice signal at the same time between the Ohio Valley where I live and the South Carolina coast where my dad is. ooVoo works great thus far. Let's hope they keep up the great work!

I love the Google product, since everyone I know already has an account. When you have stuff like this one, it is hard to get everyone on the same page.

I've been using ooVoo with Bitrix24 (which is also awesome and free). Sooo much better than Skype.

In addition to hosted solutions from Oovoo, you may want to consider a RHUB web conference server http://www.rhubcom.com
Android Central Newsletter
Get instant access to breaking news, the hottest reviews, great deals and helpful tips
Thank you for signing up to Android Central. You will receive a verification email shortly.
There was a problem. Please refresh the page and try again.