OnePlus' relentless launch cycle is hurting its software updates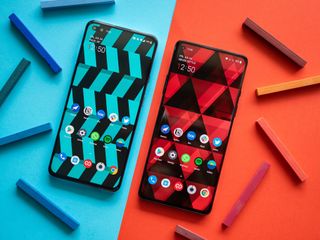 (Image credit: Apoorva Bhardwaj / Android Central)
OnePlus' phone strategy resembled Intel's tick-tock model: every summer, we got a new flagship phone (tock) that was followed by a T series refresh six months down the line (tick). OnePlus started off with this model back in 2016 with the introduction of the OnePlus 3T, and it continues to this day; the OnePlus 9 and 9 Pro debuted in March 2021, and the OnePlus 9T will be unveiled sometime in the month of October.
For most of its existence, OnePlus had to deal with just two phone launches a year. But that dynamic has changed in recent years as the company started focusing on the high-end category, going after the best Android phones. OnePlus released five phones in 2019, six phones in 2020, and we already got five phones in the first half of 2021: OnePlus 9, 9 Pro, 9R, Nord CE 5G, and the Nord N200. The Nord 2 is also on the horizon and is slated for a launch sometime in the month of July, and we'll get at least two other phones in the fall launch window.
In short, OnePlus is launching more phones than before, and while that's good news for consumers — the Nord series makes OnePlus' clean software interface that much more accessible — there is a looming issue: software updates. For the longest time, OnePlus led third-party manufacturers in terms of updates, rolling out platform updates and security patches on time.
But that is not the case in 2021. OnePlus has consistently struggled to deliver software updates on time this year. The Nord N10 and N100 were unveiled back in October and went on sale in January, and as of mid-June, neither device has received the Android 11 update. There's no telling when these phones will be updated to Android 11 either, with OnePlus instead focusing its efforts on its numbered flagship series.
What's even more egregious is that the Nord N10 and N100 will get just one platform update to Android 11, and after that the software updates are limited to quarterly security patches that will be rolled out until the start of 2023. OnePlus says the policy is to account for the fact that these are budget-focused devices, but that reasoning just doesn't make sense. Samsung doesn't seem to have issues rolling out long-term updates to its budget Galaxy A devices, but OnePlus is using cost as an excuse to get out of delivering two platform updates.
Then there's the fact that phones that have received the OxygenOS 11 update based on Android 11 had numerous issues. The OnePlus 7, 7 Pro, 7T, and 7T Pro were plagued by a litany of problems following the stable Android 11 update, including excessive battery drain, framerate issues while gaming, overheating, interface lag, Bluetooth connectivity problems, and so many more.
The problems were so severe that a decent chunk of users rolled back to OxygenOS 10 just so they could use their phones. OnePlus eventually rolled out another update to fix most of these issues, but a recurring theme with OxygenOS software updates in 2021 is that they're buggy. OnePlus doesn't have nearly the same amount of engineering resources as Samsung or Xiaomi, and the fact that it now has to deliver updates to over a dozen devices means its limited workforce is stretched thin.
The main contributor to this problem is the sheer number of devices that OnePlus is releasing. After catering to enthusiast users for the first five years of its existence, OnePlus is now clearly going after the mainstream segment — the budget Nord series is a testament to that.
Before the introduction of the Nord, OnePlus only used Qualcomm's flagship Snapdragon 800 series chipsets on its phones, so getting the requisite drivers and integrating those changes when a new version of Android rolled out was relatively straightforward. But with the Nord series, OnePlus is using Snapdragon 700, 600, and even the 400 series, and that adds several layers of complexity when it comes to software updates. Combine that with the fact that OnePlus didn't increase its global headcount by any significant amount and you start to understand the scale of the issue.
Then there's the fact that OnePlus continues to guarantee two platform updates and three years of security updates for its numbered flagship series. With Samsung rolling out three platform updates and four years of security patches for its flagships and mid-range phones, OnePlus is decidedly on the backfoot here, and it just doesn't have the resources to match Samsung in this area.
So where does that leave OnePlus in 2021? The company is clearly emulating Samsung's budget strategy, and that means we'll continue to see a wave of phones in the Nord series that don't differ too much from their predecessors. That has already played out with the Nord CE 5G: the phone is nearly identical to the original Nord, featuring the same 90Hz panel and similar internal hardware, but with an inferior camera and plastic design.
There's no meaningful savings to be had with the Nord CE in terms of price, so it really isn't clear why the phone was introduced. Same goes for the Nord N200; it is nearly identical to the N100, and it will also get just one platform update. OnePlus became a fan favorite over the years because of its insistence on a clean interface and fast updates, but the changes to OxygenOS 11 and the upcoming tweaks to OxygenOS 12 illustrate the brand's changing priorities. Combine that with a lackadaisical attitude toward updates and you get a brand that's very different to the one that endeared itself to enthusiasts from the very beginning.
That said, with OnePlus now formally integrated within OPPO, things may change for the better in the coming months. OnePlus has always relied on OPPO for the production and distribution of its phones, and the new integration should see better collaboration on the software side of things as well, with the manufacturer touting faster updates. While that may indeed be the case for OnePlus' numbered flagships, I don't see the status quo changing for the Nord series anytime soon.
Get the Android Central Newsletter
Instant access to breaking news, the hottest reviews, great deals and helpful tips.
Harish Jonnalagadda is a Senior Editor overseeing Asia at Android Central. He leads the site's coverage of Chinese phone brands, contributing to reviews, features, and buying guides. He also writes about storage servers, audio products, and the semiconductor industry. Contact him on Twitter at @chunkynerd.
Ive got a Nord and I think Im heading back to the Pixel 6 when it launches.

The main thing that gets me is the stability issues along with the security update posture. I don't care about platform updates, but I NEED security updates in a timely fashion. Google and Samsung are the only ones left doing it now :(

For me things will only get worse with OnePlus with updates and it makes sense that with OnePlus churning out more phones that updates are getting worse but even as this article pointed out, the rot began in 2019 and the move away from near stock Android to Samsung was the final straw for me is just one of a number of reasons why I'm switching to a Pixel and sticking with Pixel with the 4a 5G.

They are trying to outdo motorola (lenovo) with the sheer number of devices they are releasing, and lack of updates for said devices.

It's no coincidence that since they've started releasing more phones as well as rhe partnership with Oppo that OnePlus updates have become slower and slower, Case in point, my OnePlus 7T didn't get a stable Android 11 update until last month in May. That's 8 months after Google released it back in September 2020 and even then the security patch (March 1st) was 2 months out of date.

I recently bought the OnePlus 7T brand new for $295 and I still haven't opened it after reading about the countless issues the phone has had with the latest software and the slowness of OnePlus to address these issues. I decided I'm going to sell it and will stick with my Pixel 4A. I hope more websites start writing about this and maybe get OnePlus' attention. Finally Settled, the new OnePlus slogan.

A wise decision selling your OnePlus 7T your 4a is better value and will be guaranteed updates and quickly, I fell for the hype with OnePlus and wish I'd gotten a Pixel instead and that will be rectified with a 4a 5G very soon.

You might have to wait on the 5A. It seems the 4A 5G is out of stock everywhere. It's a shame I won't even get to try the OnePlus device not even once but it just doesn't seem worth it based on what I have been reading.

They didn't spend enough time bug checking Android 11. Can't use Android Auto since update on 7pro

Was just about to buy an 8T....thanks for this article.

Yeah when the phone is the current phone they're good with updates for 3 months but even then the security patches are a month behind and them the updates dry up and your shinny new OnePlus gets forgotten about, especially when they release the newest OnePlus phone and them releasing more phones like the Noord has significantly made updates even less of a priority for them.

I got on the One Plus bus.. or tried to. 3 different devices... 3 of the same issues. All software related. Went and got a Galaxy Note instead.

Unfortunately this isn't some new phenomenon. Oneplus has been doing poorly with updates for quite a while now. Even when I had the 6T updates severely lagged behind. It's just an inferior Samsung clone at this point.