OnePlus 7 Pro users are reporting 'ghost touch' issues with the display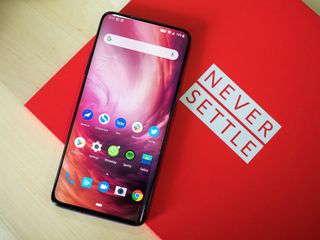 (Image credit: Android Central)
What you need to know
Multiple users are reporting 'ghost touch' issues with the OnePlus 7 Pro.
We've encountered the issue on one of our units.
It could be a software issue, or an underlying problem with the display's digitizer.
The OnePlus 7 Pro launched earlier this week to much praise around its QHD+ 90Hz display, monster internal specifications, and relatively competitive price point. Its launch isn't without issue, however, as it appears some OnePlus 7 Pro devices are suffering from 'ghost touches' that results in intermittent random touch events which take place at the top of the screen without user input.
Multiple users are reporting that sometimes, when within an app or typing on the keyboard, the phone will tap something at the very top of the screen. Sometimes it's only for a second, other times for a good few minutes. The issue appears to be random and intermittent, and the problem sometimes renders either the top left or top right of the display unresponsive to touch until the screen is turned off and on again.
It appears the issue is worse on some devices than others, with many reports citing the CPU-Z app as a great way to test your phone to see if it is suffering from ghost touch problems. For reasons unknown, the CPU-Z app triggers ghost touches much more frequently, leading some to believe this is a software issue that can be fixed with a software update.
We can confirm at least one of our units has these ghost touch issues. It's only happened a couple of times in my four days with the handset so far, the first time in WhatsApp for about 5 seconds, not a big deal. The second time it happened, it lasted about 2 minutes and was affecting every app I was in, including the home screen. It makes navigating and typing on the keyboard incredibly difficult as the phone thinks you're tapping away on something else.
Check out our OnePlus 7 Pro review
It's unclear if this issue is software or hardware related at this time. We're hoping it's just a software bug that can be fixed with an OTA update. For now, we've reached out to OnePlus for comment and will update this article once we hear back. In the meantime, are you suffering from ghost touch issues on your new OnePlus 7 Pro? Let us know in the comments.
Get the Android Central Newsletter
Instant access to breaking news, the hottest reviews, great deals and helpful tips.