OnePlus 6 vs. OnePlus 3T & OnePlus 3: Should you upgrade?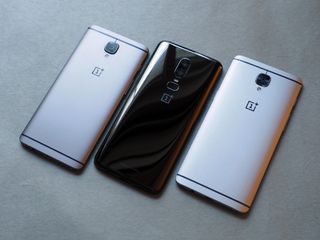 Unlike most manufacturers, OnePlus focuses exclusively on the mid-range segment, preferring to introduce new models once every six months rather than compete across price tiers.
While the strategy has served the manufacturer very well in recent years, the six-month release cycle means a new phone — with upgraded hardware — is always around the corner. The OnePlus 6 is the latest device from the company, coming just six months after the launch of the OnePlus 5T.
The OnePlus 6 introduces several improvements over its predecessor, including a new design, upgraded internals, and a new camera, but there isn't a strong enough reason to upgrade as the 5T is still a very capable device. However, if you're coming from the OnePlus 3 or 3T, the answer isn't as straightforward.
OnePlus' 2016 phones have aged well, but the industry has moved to the 18:9 form factor, and the company has made significant advances in the camera department this year. So should you make the upgrade from the OnePlus 3/3T to the latest flagship? Let's find out.
OnePlus 6 vs. OnePlus 3T vs. OnePlus 3: Specs
Swipe to scroll horizontally
Category
OnePlus 6
OnePlus 3T
OnePlus 3
Operating system
Android 8.1 Oreo
OxygenOS 5.1.3
Android 8.0 Oreo
OxygenOS 5.0.2
Android 8.0 Oreo
OxygenOS 5.0.2
Display
6.28-inch AMOLED, 2280x1080 (19:9)
Gorilla Glass 5
5.5-inch Optic AMOLED, 1920x1080 (16:9)
Gorilla Glass 4
5.5-inch Optic AMOLED, 1920x1080 (16:9)
Gorilla Glass 4
Chipset
Octa-core Qualcomm Snapdragon 845
4x2.80GHz Kryo 385 + 4x1.70 Kryo 385
Quad-core Qualcomm Snapdragon 821
2x2.35 Kryo + 2x1.60GHz Kryo
Quad-core Qualcomm Snapdragon 820
2x2.15 Kryo + 2x1.60GHz Kryo
GPU
Adreno 630
Adreno 530
Adreno 530
RAM
6GB/8GB LPDDR4X
6 LPDDR4
6 LPDDR4
Storage
64GB/128GB/256GB (UFS 2.1)
64/128GB
64GB
Rear camera 1
16MP, 1.22μm, ƒ/1.7
OIS, EIS
Dual LED flash
4K@60FPS, 720p@480FPS
16MP, 1.12μm, ƒ/2.0
PDAF, OIS
16MP, 1.12μm, ƒ/2.0
PDAF, OIS
Rear camera 2
20MP, 1.0μm, ƒ/1.7
None
None
Front camera
16MP, 1.0μm, ƒ/2.0
16MP, 1.0μm, ƒ/2.0
8MP, 1.4μm, ƒ/2.0
Battery
3300mAh
3400mAh
3000mAh
Charging
USB-C
Dash Charge (5V 4A)
USB-C
Dash Charge (5V 4A)
USB-C
Dash Charge (5V 4A)
Water resistance
Splash resistant (no IP rating)
No
No
Security
Fingerprint sensor (rear)
Face unlock
Fingerprint sensor (front)
Fingerprint sensor (front)
Audio
3.5mm jack, AptX HD
Dirac HD Sound, Dirac Power Sound
3.5mm jack, AptX HD
3.5mm jack, AptX HD
Connectivity
Wi-Fi 802.11ac , 2x2 MIMO, Bluetooth 5.0
USB-C (2.0), NFC
GPS, GLONASS, BeiDou, Galileo
Wi-Fi 802.11ac , Bluetooth 4.2
USB-C (2.0), NFC
GPS, GLONASS, BeiDou, Galileo
Wi-Fi 802.11ac , Bluetooth 4.2
USB-C (2.0), NFC
GPS, GLONASS, BeiDou, Galileo
Dimensions
155.7x75.4x7.75mm
177g
152.7 x 74.7 x 7.4mm
158g
152.7 x 74.7 x 7.4mm
158g
Variants
Mirror Black, Midnight Black, Silk White
Gunmetal, Soft Gold, Midnight Black
Graphite, Soft Gold
What's the same
Both the OnePlus 3/3T offered top-notch internals for their time, and they've aged very well on this front. The Snapdragon 820/821 can still handle everyday tasks without breaking a sweat, and the 6GB of RAM is more than sufficient for multitasking.
All three phones also run Oreo, although the OnePlus 6 is on Android 8.1 Oreo while the older OnePlus 3/3T are on the Android 8.0 Oreo build. That said, OxygenOS is just as fluid on all three devices, and you get a similar user experience, although a few features — like the navigation gestures — are missing from the older phones.
The OnePlus 3/3T offered great value back in 2016, and while the cost of OnePlus devices has gone up over the last 18 months, the OnePlus 6 is still a bargain compared to the likes of the Galaxy S9+ and other flagships. That's particularly true in markets like India, where the OnePlus 6 costs just over half the price of the Galaxy S9+ or the Pixel 2 XL.
While the screen size has changed dramatically over the last two years, the resolution and quality of the AMOLED panel itself is the same. In short, OnePlus continues to offer some of the best displays in its category.
Another area where things haven't changed over the years is battery life; in spite of varying battery capacities — 3000mAh on the OnePlus 3, 3400mAh on the OnePlus 3T, and 3300mAh on the OnePlus 6. All three devices last a day on a full charge, and when you do need to top up your OnePlus phone, there's Dash Charge. OnePlus' proprietary charging standard continues to be one of the best around, allowing your phone to charge up to 60% from zero in just 30 minutes.
What's different
The main difference in the OnePlus 6 from its predecessors is the design — both at the front and the back. While the OnePlus 3/3T sported physical home buttons, the OnePlus 6 offers an all-screen front, with a notch at the top to maximize screen space.
The switch to the 19:9 form factor has allowed OnePlus to fit a larger display in roughly the same chassis as the OnePlus 3/3T. The slim bezels on the OnePlus 6 make those on its predecessors look huge by comparison.
Image 1 of 2
As noted above, the panel quality hasn't changed much over the last two years, but the thin bezels lead to a much more immersive experience when interacting with the display. The notch is an ungainly blot on an otherwise sleek front, but you can at least hide it from the settings.
The OnePlus 6 costs $130 more than what the OnePlus 3 launched at just under two years ago, and with the phone breaking the $500 barrier, it needed to look the part. OnePlus switched out the metal design for a Gorilla Glass 5-encased back, and has rolled out new color options.
The OnePlus 6 is available in a piano black finish that's dubbed Mirror Black, as well as a Midnight Black edition and a new Silk White option. The latter two variants have a matte texture at the back, while the Mirror Black edition has a glossy finish.
The new materials combined with rounded corners and the overall fit and finish make the OnePlus 6 feel every bit as premium as other flagships available in the market today, and it justifies the added price tag.
The other notable upgrade is the camera: both the OnePlus 3 and 3T had capable shooters, but they were found to be lacking when it came to low-light shooting conditions. The OnePlus 6 addresses that issue with a larger imaging sensor and better software processing. There's also a secondary sensor that is solely used for adding depth of field information to photos, leading to better background blur in portrait mode shots.
OnePlus 6 on the left, OnePlus 3T on the right.
As you can see from the photos, the OnePlus 6 has much better dynamic range, true-to-life colors, and significantly less grain. The third photo (with the Pacman characters) highlights the differences well — the OnePlus 6 managed to capture the surface's texture as well, whereas the OnePlus 3T smoothed out the finer details.
Should you upgrade?
If you're still rocking a OnePlus 3/3T, it's time to upgrade to the OnePlus 6. The phone offers a much more premium design, vastly improved camera, upgraded internals, and an immersive screen.
Furthermore, the OnePlus 3/3T have picked up two platform updates, so it's unlikely either device will make the switch to Android P once it becomes available later this year. So if you're looking for platform updates, you'll have to make the switch to the OnePlus 6.
Overall, the OnePlus 6 is a worthy upgrade over the OnePlus 3 or the 3T. OnePlus devices usually retain their value very well, so you should be able to get a few hundred dollars for the 3 or 3T, which will make upgrading to the OnePlus 6 that much easier.
Get the Android Central Newsletter
Instant access to breaking news, the hottest reviews, great deals and helpful tips.
Harish Jonnalagadda is a Senior Editor overseeing Asia at Android Central. He leads the site's coverage of Chinese phone brands, contributing to reviews, features, and buying guides. He also writes about storage servers, audio products, and the semiconductor industry. Contact him on Twitter at @chunkynerd.
That 3T was no slouch of a phone. I gave mine to my daughter when I upgraded, and certain aspects I miss: dash charge (RIP to that branding) and the OS. Near stock, with useful added features is the way to go. As much as I love the V30, I miss those two aspects the most. FFC was probably overkill at the moment, now it's almost standard...

The question is: OP3/T with gcam HDR+ vs OP6 stock camera.

it's really a good question.
i hope that the best will be OP6 with gcam :)
now i have OP3, tomorrow i'll receive OP6

I've read reports that the gcam app won't run on the OP6 because it doesn't support the SD845 chipset.
Probably until Pixel 3 comes out bundled with new gcam version.

Nope. The OnePlus 3T was their best phone. Price was right, no notch and a 16:9 display. It's been downhill since. The Pixel 2 (small one) is the best phone at the moment unless you like Samsung.

Why the 3t and not the 5? The 5 is a better phone in every way except looks.

For me personally the screen. I don't like that skinny display.

The 5 had the exact same display as the 3. They didn't switch to a 2:1 ratio until the 5t.

I hate back fingerprint button after using op3. And I still prefer op3 and lower navigation rather than onscreen buttons

The 5 had a front fingerprint sensor, and capacitive buttons below the screen. As I said, it's the same screen layout as the 3/3t.

OP3 forever (or until the battery goes). Camera is good enough for kid pictures. 820/6GB still do everything. 16:9 is fine. Front finger print is preferred (by me). The longer my OP3 lasts, the better my next phone will be. May be leaning towards Pixel if the oneplus $30/6mo price bumps continue.

Yeah, they can pry my OP3 from my hands when it dies. Best phone they've done - almost no difference to speak of from the 3T, and it came in at a lower price. Some of the reasons to switch in the article are downright stupid. "Immersive" (aka NOTCHED) screen is not a reason to upgrade. A couple of new camera tricks ... meh. I've never had complaints about the camera on my phone. What auto can't do, manual mode and RAW can take care of. "Premium design"??? PUH-LEEEEEEEASE!! I fscking HATE glass backed phones. I've owned ONE, the Nexus 4. Loved the phone, HATED the glass on the back. The metal builds of the 3/3T/5/5T were great. Glass != premium in my world. Updated internals ... I suppose? But I still struggle to find anything the 820 and 6GB of RAM can't handle easily. Maybe I'm not picky or vain enough to see a need to upgrade if my OP3 still works better than the day I got it. Call me crazy. (Everyone else does.)

+1. The OnePlus 3 was probably the best value phone OP made to date, and I can say that mine still feels as fast as when I first got it. The 6GB of RAM and 64GB of storage that seemed crazy overkill when it first came out have helped it (and will continue to help it) remain relevant in an industry full of minor improvements. I'm sure the OP6 is very nice, but it's a better upgrade for people who just need the latest and greatest. Value-wise? No need to upgrade.

Yep. It's worth upgrading just for the battery life increases.

Meh.. Wife had a 3T still works just fine. Not upgrading yet

Waiting for the 6t. My 3t can hold out for a few more months. Still in excellent condition.

Gotta agree with most of the above statements. My 3T is still going strong. You have to remember it's only 18 months old. I'll keep it at least until the 6T.

Just curious. Looked at my battery setting and it says last full charge was 143 days ago. Have they really had these phones that long?

Much more likely that the default build date is 01/01/2018, which was 143 days ago.

The 3T is a great phone. 16x9 display, no notch, great camera when using the Google HDR apk, and a Front Fingerprint sensor. The speaker could be better, but I don't ever really use it. I will probably use this phone until the battery life is untenable. Then I will likely suck it up and go with the smallest phone Google is offering at the time. I am done with the two-year life cycle of phones when it comes to updates. A good phone should be able to last you at least 3 years when taken care of.

I agree ... my Nexus 4 lasted 3 years before the battery went to hell. I'd love to see 3 years of software out of OnePlus, but they've really stepped up their game since the OP3 ... they've been pretty awesome with the updates, especially if you're on the Open Beta. Be nice of stable got the security updates a little more frequently.

Will consider upgrading to 6T from 3T. That will be 2 solid years. Strange but they skipped the 4

Not strange, just Chinese.

The OnePlus 3T was my favourite phone from OnePlus but if I was interested in the OnePlus 6 then it's a no brainer but I'm interested in the Pixel 2 XL which to me is the best Android phone at the moment and will stick with the Pixel brand it has my favourite version of Android but i definitely like Oxygen OS and Google could definitely learn some things from OnePlus when pondering what new features to add to Android Q.

Stay away from this failure

I'll put it this way. I gave my 3T to my son about a year ago. I asked him last week how it was doing and if he wanted a new phone. His answer, which he said right away was, "What for?". Good point kid, good point.

I think that sums up 99% of the population.
This site is full of people who view phones very differently.
I buy phones for my employees and when a new batch comes in, I'm the only one who gets excited.
Most if not all just hate the hassle of upgrading.

My OP3 is still going strong, but one of the kids needs a phone...it might be time to pull the trigger. I can't stomach $800+ for a "flagship", I'm not wild about snapdragon 6xx series phones, and oxygenOS offers real improvements over stock instead of bloat/fluff so there isn't much that can compete with the OP6. I'm not wild about the glass back - but it's going in a case, I hate the notch - but they have a very good solution to hide it, no wireless charging - dash is faster and doesn't heat the battery, no IP68 - would be nice, but not a necessity.

Im using a OnePlus 3 and it still working perfectly without any lag and has a good battery life also. The pictures in the article don't convince me to buy a OP6! So decided to stick with my OP3

Did OnePlus pay for this crappy article? The OnePlus 3 is a great phone and there is almost no reason (other than maybe battery wear) to upgrade to a notched, glass body phone. A slightly better, but still crappy phone camera? Maybe the 6t won't have a notch and will be aluminum, then maybe I'd consider, but with the much higher prices, I can't think of a single reason why I'd upgrade from my 3.

128 GB 3T is still going strong, so I'll hold out and see if the 6T goes notchless. Price is starting to creep up to hurt a bit... not quite the no-brainer it was back then.

I doubt this writer's intention. Premium design? Are u reviewing a phone or a fashion jewellery, so a stupid glass back that is fragile is considered premium now!! It even lacks wireless charging. No IP certification for water resistance.
A fake secondary camera that does nothing. My OnePlus 3 can do better bokeh with Gcam.
Notch and Chin on the bottom.
Last year's small battery.
Fingerprint on backside and smaller that 5T.
No dual Bluetooth.
No Audio Dac.
A single tiny loudspeaker along with a weak vibration motor.
Plus the upgraded price to fund celebrity endorsements, ads and flying reviewers to their London event for positive reviews.

People in these comments sound cheap or broke af

This comparison just showed me how great 1+ phones age and that the 1+3T is a damn beast.

I feel tempted to buy the matt black +128/8gb version, but my galaxy S7 still suits my needs for now.