One of these Android Oreo statues is not like the other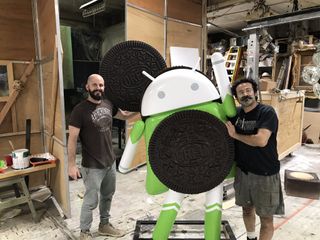 There aren't many Android faithful who have been able to make the trip to Mountain View to see the impressive gathering of statues Google has commissioned to commemorate each launch of its OS, but those who have been are in for a treat. These larger than life statues are an amazing journey through the history of Android, and are a ton of fun to grab a photo while standing next to your favorite.
The new Android Oreo statue will make a nice addition to the collection, but this year some statue selfies will be different from others. That's because there are actually two different Android statues this year, and they are not as similar as you might think.
Get more Android Oreo in your life with our full 8.0 review!
Google's New York unveiling of Android Oreo revealed a statue that slid open and animated. The eyes were glowing, the head seemed to glide into place, and it was on a single pedestal to make the character look like it is flying. It's a fantastic statue, but the angular design and electronics seemed like a wild departure from the previous creations on display. This prompted a call to the mastermind behind all of the previous Android statues, who filled me in on the details.
Giovanni Calabrese has been building custom sculptures and props under the name Themendous for 23 years now, and his work on the Google Campus all have a similar look to them. The material he uses has survived years in every kind of weather, but they are all stationary and rigid statues on the Google Lawn. While Giovanni is responsible for the Android Oreo statue you see at Mountain View today, Themendous is not responsible for both statues.
So, how can you tell the difference? Well, aside from one being in New York and the other Mountain View, the Themedous Oreo has a more natural-looking round shape and is surrounded by giant Oreo cookies. The other statue is boxy and a little brighter, complete with lights in the eyes and a smaller stand to chill on.
Will you try to grab selfies with both statues? Sound off in the comments!
Android Central Newsletter
Get instant access to breaking news, the hottest reviews, great deals and helpful tips
Going this week, so excited!

I really don't like the Android statue this year. 😔

me neither, kind of weird looking.

Yeah, it looks like the Green Power Ranger time-traveled to the 80's and stole a kid's Halloween costume made out of a trash can's top lid covered in chocolate.

So what about all the talk that it would be difficult to use Oreo because of licensing, etc, etc (a la KitKat). Anybody heard of there is a marketing connection or licensing fees, etc?
Maybe bugdroid stamped on the Oreo cookie with green filling?

I wouldn't mind buying a new Android device and it coming with some oreos.

It's not talk, it's a fact. Obviously they were able to secure a licensing deal, but you can't just use a trademarked name without the owner's permission (which, in most cases, requires licensing fees). Details, however, have not been made public. But rest assured, there IS a licensing deal between Google and Nabisco.

They had to order two statues because at the rate they're getting torn down in the US they wanted to have a spare . . .

someone's tearing down android statues?
Android Central Newsletter
Get instant access to breaking news, the hottest reviews, great deals and helpful tips
Thank you for signing up to Android Central. You will receive a verification email shortly.
There was a problem. Please refresh the page and try again.