Official VLC for Android build enters beta, if you can get it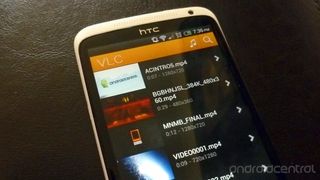 We heard from VideoLAN a couple of weeks ago with suggestions that an official VLC build for Android was finally nigh. Well, nigh becomes today, as the first official beta of VLC for Android is available for download from Google Play right now. It comes boasting, as we would expect, a pretty impressive list of features and support:
Plays all files, in all formats, like the classic VLC.
Audio and video media library, with full search.
Support for network streams, including HLS.
Supports Android from version 2.1 (platform-7).
Supports ARMv6, ARMv7 and ARMv7+NEON.
Subtitles support, embedded and external, including ASS and DVD subtitles.
Multi audio or subtitles tracks selection.
Multi-core decoding, for Cortex-A7 A9 and A15 chips.
Experimental hardware decoding.
Gestures, headphones control.
For anyone who isn't familiar, VLC is an extremely powerful, open-source, media player, that can pretty much play any type of media file thrown at it. An official build for Android has been a long time coming, but there have been several, unofficial builds to play with. We've been using one for quite some time now, and the results are pretty impressive. True to its word, we've yet to find a video that has stumped it. And, despite expecting bugs, it has proved surprisingly stable thus far. Bodes well for the official build.
There are a few conditions though. This is the NEON version only at this time, but other builds will be coming that support a wider range of devices. And, VideoLAN has published a list of recommended devices to try out the beta on, but it's not a compatibility list, so go take a look. But, do be warned, we are seeing a big old list of incompatible devices.
From what we've seen so far, there's every possibility it's a location based issue and not an actual device incompatibility. The Samsung Galaxy Nexus is listed as a recommended device by VideoLAN, but on the American side of the Atlantic, we're seeing the "cannot be installed in your device's country" message in both the U.S. and Canada.
It's also important to note that this is an early beta, and it's likely to be full of bugs. But, it does come with a homescreen widget. Things will change before the final release too. In any case, it's finally here, and the developers are keen for users to join in the testing, and engage with them in their official forums.
For the full rundown, hit the source link below, and head on over to Google Play to grab yourselves a copy. We know a lot of you guys have been waiting on this one. We're going to go away and have a good look ourselves
Source: VideoLAN; Download: VLC Beta for Android (opens in new tab)
Android Central Newsletter
Get instant access to breaking news, the hottest reviews, great deals and helpful tips
"we're seeing the "cannot be installed in your device's country" message in both the U.S. and Canada" Now you know how it feels like to live in europe hehe :)

The said part, the US version of my HTC One X is not compatible...

Yeah, that and the Evo LTE and the USA version of the SIII. Strange they would not support the S4 chip, since that is top of the stack right now in high-end USA phones.

It will not support your phone ONLY if you get it from the market. The market is enforcing this issue. Get it from somewhere else. Look around for some alternative download source.
VLC has always had some issues with patents in some countries, and Google doesn't want to become a lightening rod for lawyers right now.

Play is telling me this is incompatible with my Galaxy Nexus. :(

VLC is like WinZip. Its late to the android party and there are other players out there that do everything they've listed for a lot longer and with a wider range support.

Please name a single app that will play ANY video format in ANY resolution. I have yet to find one and would eagerly like to check it out.

I've had zero problems with MX Player.

You lucked out. There are lots of reports that MX Player won't work for certain formats on many different devices. If the Codec is on the device it will work, but it does not contain any of its own versions of codecs that are under heavy patent protection.
It will use these if it can find them, and lots of phones and tablets come with them but not all. VLC has its own.

I have MX Player and it has a hard time with certain MKV and higher res mp4 files. I have already had better luck with this early beta VLC than I ever had with MX. Just copied a 720p bluray rip of my collectors edition Avatar and it played amazing. Same with a 720p bluray MKV of my Cowboys and Aliens.

There are NO "other players out there" with reliable DLNA s/w and acceptable codex enablers. This is no accident. The Googs and VZW's of this world don't make the $$$ unless you $tream it from "The Cloud" or buy from the online store. It is heresy to play USB-stored media on your Androids or, heaven forbid, feed it to an HDTV via Nexus.

If there was a finish line for the smart phones then you might be right. Any improvement to Android or it's apps is welcome until the platform is dead. That is unless you have a better app that you've made for us all to try.

Not available for my main devices:
Razr
Xyboard Or my testing devices:
Galaxy Nexus
Xoom

Says 'not available' for Epic Touch 4G. Anyone have a link to the APK?

Here's the link to the APK direct from VideoLAN's web site. I couldn't get it from the store for my Galaxy Nexus (maybe has something to do with Jellybean) but after downloading/installing on the Nexus and the Transformer Prime it works beautifully.
http://nightlies.videolan.org/build/android-v7-neon/VLC-debug.apk

This APK? http://nightlies.videolan.org/build/android-v7-neon/VLC-debug.apk

Bah! Beat me by 20 seconds!

You might want this one for Tegra 2 devices
http://nightlies.videolan.org/build/android-v7-tegra2/VLC-debug.apk

https://twitter.com/videolan/statuses/219753251598385154 "The BETA is not available in USA and Canada. It is available everywhere else..."

"BETA is not yet in North America, because we do not have access to enough devices from there. This will change in the future, hopefully..."
https://twitter.com/videolan/status/219905346196615168

Thanks for the link!! It works great on my GS3 playing a 4gb mkv file!!

You can download the APK for this at the VLC site :P. Thats what I did

Installed APK on my Touchpad. Plays audio fine on all formats I tested, but lots of video artifacts when playing MKV files.

It works great on the HTC Rezound.

This VLC player is eating all the candy from all the others players. Im loving it
Android Central Newsletter
Get instant access to breaking news, the hottest reviews, great deals and helpful tips
Thank you for signing up to Android Central. You will receive a verification email shortly.
There was a problem. Please refresh the page and try again.