NVIDIA Shield Tablet receives KRACK fix and November 2017 security patch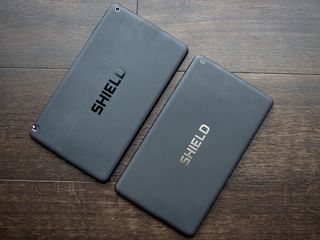 In October, an NVIDIA employee confirmed via Twitter that neither the Shield Tablet or Shield Tablet K1 would be updated to Android Oreo. This didn't come as much of a surprise considering the age of each device, but that same employee also noted that another Nougat-based update was in the works.
That update is here today as part of the Shield Tablet Software Upgrade 5.3 (opens in new tab), and although there's nothing revolutionary here, there are a couple important security patches that we're really thankful to see.
Included with this update is not only a fix for the KRACK Wi-Fi vulnerability that has the potential to be rather damaging, but there's also an upgrade to the November 5, 2017, security patch that was just released earlier this month. For hardware that's over three years old at this point, that's mighty impressive on NVIDIA's part.
In addition to those security-focused updates, there's also a fix for connectivity issues with Zagg Bluetooth keyboards, as well as general stability and other security optimizations.
The Shield Tablet Software Upgrade 5.3 is available for both the Shield Tablet and Shield Tablet K1 now.
Joe Maring was a Senior Editor for Android Central between 2017 and 2021. You can reach him on Twitter at @JoeMaring1.
Wow, I'm glad I bought this tablet. Still use it every so often.

I remember when it came out and I now wish I'd gotten it. It's one of my few regrets in the "I didn't buy that" department. These tablets are impossible to find new anymore, plus are outdated now. I've been wanting for a refresh to get a tablet I can draw on for a long time, and this is the one that came the closest to what I wanted with Android. Alas, it doesn't look like I'll make it, and will have to break down and get an iPad Pro (which is cheaper than the surface pro alternatives). Ironically, with the Pixel prices as high as they are I'm also seriously contemplating an iPhone for the first time, at least for my wife.

Hope nvidia make another tablet

I wouldn't buy an Android tablet from any other company, really. If Google were to make another Pixel tablet, it would be much more expensive than I'm willing to spend on something as unnecessary as a tablet, and no other OEMs care about tablet OS updates at all.

Yeah i agree with you, i do have the samsung tab s2 which is great and will be recieving the oreo update sometime in 2018.

My son and I still use our Shield tablets everyday - probably the best Android tablet ever made. My only issue with the Shield is the LTE version being tied to AT&T and having to wait months for AT&T to approve any update. It's galling for a device that AT&T never sold nor subsidized. We'll see what happens with this update - it shouldn't be a big deal since it's mostly a security patch, but with AT&T you never know.

Looking forward to this update.... Nothing yet..... But await we shall....

I keep looking at this bugger on Swappa and other outlet's thinking this might not be a terrible thing to pick up. But, keep thinking it is so old that it is best I hang onto my cash. But Nvidia keeps updating the Shield K1. This has to be the best supported Android device ever. If by some miracle they actually push Oreo onto this I might have to go ahead and burn the cash on a used unit.

I still use my K1 some but not really a lot. It does come in handy sometimes but I really just use my Pixel 2 XL for everything. I like the fact that Nvidia keeps it updated and I hope they keep up the Practice with the Shield TV.

I guess the LATE version will get the update in Summer of 2018

Did anyone actually check with Nvidia if they were releasing this update, because it doesn't look like it. No release notes on their website about it now, but briefly there was something up about the 5.3 update before. Looks like they've pulled the update.
Android Central Newsletter
Get the best of Android Central in in your inbox, every day!
Thank you for signing up to Android Central. You will receive a verification email shortly.
There was a problem. Please refresh the page and try again.