NVIDIA jump starts your Shield gaming with $25 Play credit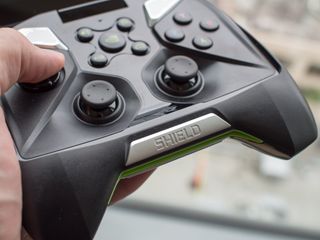 After slashing the price of the Shield handheld Android gaming console down to $199 from the recent $249 price cut, NVIDIA is back at it again to kick start your gaming with a $25 credit from the Google Play store. If you're not into spending all that credit in one place on games, you can buy other digital content from the Play store as well, including music, TV shows, movies, magazines, apps, and books.
Unsure if the Shield is a right fit for you? Be sure to check out our review of the Shield before you buy.
Hit the link (opens in new tab) for the promotional offer of the $25 Play credit.
The Shield debuted at a price tag of $299 and has since seen its price slashed to $199. Does this steep discount coupled with $25 in credits to the Play store stir some temptation in your inner gaming self? Let us know if you decide to buy the Shield given the incentives.
Source: Android Community
Get the Android Central Newsletter
Instant access to breaking news, the hottest reviews, great deals and helpful tips.
Is there still a promotion for Shield if you buy a qualifying GeForce GTX card?

I want one of these to go with my Moto X. Posted via Droid Razr M on the Android Central App

i want one so back, but thats portal talking....

Do I sell my PS Vita and buy this? Posted via Android Central App

Naaaaah Posted via Android Central App

Yea. I'd buy a controller for my Android phone/tablet before selling my vita. No reason to not have access to the PSN store anymore. Posted via Android Central App

Ok thanks Posted via Android Central App

Didn't they just announce the shield 2 (?) Sometimes soon? They might be just trying to empty the inventory. Posted via Android Central App

They have not announced the Shield 2, although there was a recent FCC filing that hints at what might be the next Shield. That said, the existing one is still an excellent device! I use mine daily Posted via Android Central App

That's what it was then. Thanks for eating it up. Posted via Android Central App

I have a Shield. The thing is I don't use any of the PC streaming features so it is basically a handheld gaming unit mostly for emulators. In my opinion it makes more sense, both financially and from a practical standpoint, to just buy a small controller for your phone/tablet unless you are going to make use of the PC streaming. The performance in emulators isn't as good as a Nexus 5 or 2013 Nexus 7 either for what it is worth. KitKat screwed up something with performance on the Shield and it hasn't been fixed. I recommend the Steel Series Free controller. It is very small but the buttons and dpad feel great. I do want to try the Moga Pro but that is much larger so I'm not sure. I have also used a PS3 controller but I don't like having to use additional apps like sixaxis or whatever.