NVIDIA announces gaming-capable Shield Tablet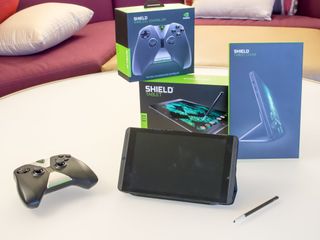 Pre-orders open today at $299, launching in the U.S. and Canada on July 29th
NVIDIA is expanding its Android-powered device portfolio today with the Shield Tablet, a gaming-focused Android tablet with some seriously impressive specs and features. The Shield Tablet comes in as a spiritual successor to the Tegra Note 7, with the distinct difference that this is part of the Shield family — meaning it is manufactured by NVIDIA instead of a partner and is dramatically more focused on gaming capabilities.
The Shield Tablet is also one of the first devices to run the latest Tegra K1 processor, NVIDIA's latest high-powered chip capable of amazing (by any standard) graphics and processing power. Paired up with 2GB of RAM, the Tegra K1 enables some pretty wonderful gaming at 1920x1200 resolution on its 8-inch display, whether it's a title from Google Play, a Tegra-optimized game from NVIDIA or one being streamed from your PC using GameStream. The Tegra K1 has plenty of headroom left over when playing these games as well, giving you the option of outputting 4K video to capable displays, as well as streaming your gameplay to Twitch.tv and supporting multiplayer gaming with multiple controllers.
To offer the best possible gaming experience, NVIDIA is launching the Shield Tablet with a pair of first-party accessories — the Shield Wireless Controller and Shield Tablet Cover — that combine to help take your mobile gaming to the next level. The Shield Wireless Controller connected to the Shield Tablet over Wifi Direct, offering latency lower than Bluetooth and two-way (headphone and mic) audio, while the Shield Tablet Cover connects to the tablet with magnets and props it up in three different positions depending on how you want to enjoy your games or other content.
More: NVIDIA Shield Tablet hands-on and impressions
The Shield Tablet isn't all about gaming though, and is a fully-capable Android tablet running Android 4.4.2 with very few customizations. Everything that's been added to the software experience is done in the name of performance and efficiency, including the comprehensive support for the Shield Wireless controller, video output for both mirroring and set-top modes, and DirectStylus 2 support. You're also getting a 5MP camera on both the front and back of the Shield Tablet, as well as a pair of huge stereo speakers on the front bezels for when you're not wearing headphones to game.
NVIDIA is dramatically improving its pricing, distribution and accessory availability this time around as well. The Shield Tablet will be available on week from today, July 29th, in both the U.S. and Canada, with Europe following on August 14th and other regions worldwide in the fall. Pre-orders open today from a variety of popular retailers, including Newegg, Amazon and of course NVIDIA directly.
The base model of the Shield Tablet has 16GB of storage and will cost $299, with the 32GB LTE model setting you back $399. The Shield Wireless Controller is $59, and the Shield Tablet Cover is $39.
More: NVIDIA Shield Tablet specs
NVIDIA Launches World's First Tablet Built for Gamers
SHIELD Family Expands as World's Most Advanced Mobile Processor, 192-Core Tegra K1, Serves Up Unmatched Tablet Experience, Amazing Gaming
SANTA CLARA, Calif. — July 22, 2014 — NVIDIA today launched the newest members of the NVIDIA® SHIELDTM family — the SHIELD tablet and the SHIELD wireless controller.
Designed and built by NVIDIA, SHIELD Tablet is the ultimate tablet for gamers, delivering unparalleled gaming performance made possible by the world's most powerful mobile processor, the NVIDIA Tegra® K1, and frequent software updates that bring new features and improved performance.
The SHIELD tablet is built for gaming, featuring a bright, 8-inch, full HD display, booming front- facing speakers with rich sound, and an optional cover that both protects the screen and can be used as a stand to support the device. To transform the tablet form factor into a serious gaming machine, NVIDIA has built the SHIELD wireless controller, which provides the precision, low latency and ergonomics that serious gamers demand.
The SHIELD tablet offers optional LTE for gamers to take their online gaming anywhere. And to ensure the device delivers the richest gaming experience, NVIDIA will provide regular, over-the- air software updates.
"If you're a gamer and you use a tablet, the NVIDIA SHIELD tablet was created specifically for you," said Jen-Hsun Huang, president and chief executive officer at NVIDIA. "The SHIELD tablet delivers unique gaming capabilities to keep even the most avid gamer deeply immersed, anywhere they play."
As with the original member of the SHIELD family, the original SHIELD portable, the SHIELD tablet is the portal to compelling content that gamers will love, including over 400 SHIELD- optimized Android games, as well as the ability to wirelessly stream users' PC gaming libraries.
The SHIELD tablet's gaming capabilities are powered by its Tegra K1 mobile processor, with a 192-core GPU that taps into the same NVIDIA KeplerTM architecture that drives the most extreme gaming PCs.
String of World Firsts
The SHIELD tablet provides a range of firsts for a tablet:
PC Streaming: First to stream games from a PC desktop or notebook, from anywhere in the home – using NVIDIA GameStreamTM technology to stream from systems powered by an NVIDIA GeForce® GTX 6xx series or greater GPU.
Cloud Streaming: First to stream PC games from the cloud. Gamers can access the NVIDIA GRIDTM cloud gaming beta, available exclusively to SHIELD owners in Northern California, to instantly stream a library of high-quality PC games, and then save them in the cloud.
Twitch and NVIDIA ShadowPlayTM: First to feature Twitch – the leading video platform and community for gamers – which is also integrated with ShadowPlay, an advanced game-capture tool that lets users save and stream their greatest gaming moments. Gamers can stream titles from the SHIELD tablet to friends and foes worldwide. SHIELD Tablet also includes a 5MP front camera to enhance the image of the gamer overlaid on the Twitch gamecast.
Console Mode: First to feature NVIDIA Console Mode, which takes your tablet gameplay to your big screen TV. Console Mode transforms the device into a full living-room gaming and entertainment experience. Gamers can set up their SHIELD wireless controller, sit back on their couch and play Android games, browse the web and watch their favorite movies — all in native 1080p HD.
Controller for Serious Gamers, with Ultra-Low Latency Wi-Fi
The SHIELD wireless controller is the most advanced device of its kind, allowing gamers to boost performance with ultra-low latency Wi-Fi Direct connectivity with up to four wireless controllers to game along with friends. It is the first precision controller designed for both PC gaming and Android, and features a gaming headset jack, built-in touch pad, volume control and revolutionary voice command and search.
Best Stylus
A stylus allows tablet experiences that touch-only tablets can't match, and the NVIDIA DirectStylusTM 2 technology on the SHIELD tablet is a game-changer. Twice as responsive as its predecessor, DirectStylus 2 technology enables the first GPU-accelerated 3D painting experience, a new capability where pigment and paint mix and bleed physically, in real time, and the palette is naturally illuminated in 3D as the user adjusts the light source.
Aspiring artists can use DirectStylus 2 to capture the attitude of every stroke on the SHIELD tablet, take notes with the integrated apps and handwriting recognition, or get creative with the NVIDIA DabblerTM app's hyper-realistic watercolor and 3D Paint oil painting.
Dynamic Sound
Ensuring that every game, song and podcast sounds incredibly crisp and clear, NVIDIA PureAudioTM technology delivers dynamic sound through front-facing stereo speakers and a dual-ported bass-reflex enclosure.
Versatile Cover
The sturdy, optional SHIELD tablet cover does more than just protect the tablet. It offers a variety of flexible stand positions to make gaming and entertainment more enjoyable.
Preloaded with NVIDIA SHIELD Hub and Trine 2
The SHIELD tablet comes preloaded with the NVIDIA SHIELD Hub app, the center of the gamer's SHIELD experience. The app offers one-touch access to over 400 SHIELD-optimized Android game titles, along with Google Play, where gamers can download thousands of apps, including Netflix, Pandora and more.
Also bundled is the popular Frostbyte game Trine 2: Complete Story. Originally a huge hit on PlayStation, Xbox and Steam, the game is now optimized for great gameplay and graphics on the Tegra K1 processor.
Pricing, Availability and Accessories
The SHIELD tablet comes with either Wi-Fi connectivity, or Wi-Fi and LTE. It's available in 16- and 32GB, with MicroSD (up to 128GB), starting at $299. The SHIELD wireless controller retails for $59. The SHIELD tablet cover retails for $39.
The SHIELD tablet, wireless controller and tablet cover are now available for preorder in the United States, Canada and select European countries. Preorders in the United States are available at shield.nvidia.com, Amazon, Best Buy, Fry's Electronics, GameStop, Micro Center, Newegg and Tiger Direct, and in Canada at Canada Computers, Memory Express, NCIX and ThinkGeek.
More information, including product specifications, is available at http://shield.nvidia.com/.
Get the Android Central Newsletter
Instant access to breaking news, the hottest reviews, great deals and helpful tips.
Andrew was an Executive Editor, U.S. at Android Central between 2012 and 2020.