Nova Launcher updated to version 2.0 with tons of new features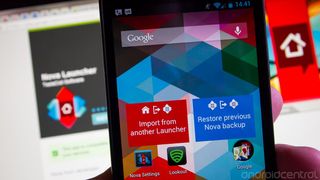 Popular homescreen replacement Nova Launcher has just hit version 2.0 with a whole bunch of notable feature adds and improvements. The free version gets most of the improvements including custom wallpaper cropping, increased maximum desktop grid size and an infinitely scrolling app drawer setting. There's also a fix to force wallpaper scrolling on U.S. Galaxy SII (S2) variants, as well as a setting to force the phone to keep the launcher locked in memory.
As for the paid "Prime" version, users can now set custom icon sizes and use their swipe actions on any homescreen, rather than just on the main one. You can give the new features a try by downloading Nova Launcher at the Google Play Store link above.
Andrew was an Executive Editor, U.S. at Android Central between 2012 and 2020.
Apex includes app hiding in the free version, Nova doesn't. 'Nuf said.

Agreed - I bought the paid version of Apex because I found the two of them to be about the same, but I appreciated that the free version was more full-featured.

I have paid versions of both Nova & Apex & very much prefer Nova. I especially like the way they handle tabs in the app drawer.

How is that "nuf said"? I find there to be a lot of important features to a home launcher. I own both, and use Nova for a reason.

What's the "reason"? Or is it a secret?

I have the paid version...its okay but I use ADW paid and its much better.....

I have always wanted to like ADW, but it never really delivers (even the latest version).

Delivers? What? Some excellent reasoning given here and everywhere in this discussion for preferring this or that or the other! Not.

I've had this for a while but never really used it. I've used the stock Launcher most of the time, but I just imported all of my stuff to Nova 2.0 and configured everything to be super fast and beautiful. It fixed some of the biggest problems I had such as having to go to Google Now just to find an application.

I got it here: http://www.behance.net/gallery/iPad-Retina-Wallpaper/3516257 Lots of great ones available.

Thanks for the update. Nova Launcher is by far the best of all of the Android launcher options.

Apex and nova both are great.I bought both but nova is more battery optimized and has less drain thats why i use nova as default for now

How do you tell? I've never seen the launcher being listed in the battery users status.

Using Apex on Gnex and Nex7 but this looks promising. No flame comment. Members here are power users and will find you if you make posts like "first" when you happen to find a post right after it is put up. I couldn't care less but it offends daily drivers. It is a poor manners on a forum. I run a site so I know. Peace to all. Happy New Year.

Sorry but the homescreen part in the article is incorrect "As for the paid "Prime" version, users can now set custom icon sizes and use their swipe actions on any homescreen, rather than just on the main one" You could always do this as a Prime user. The new update allows any icon on any of the desktops to have a swipe gesture.

Ah, but can you have swipe gestures in the free version? Apex users can. Swipe up for Google Now = win on devices with capacitive buttons.

Used apex n' nova. Without a doubt Apex all the way!!!

Funny how we all have different opinions! Glad we have the privilege of having the ability to make these choices! I think it really comes down to personal preference. As a former webOS user, Nova has options that are comfortable to me. But had I not had that experience, who knows! I don't actually think one is truly better than the other, they just give us the subtle choices we want to meet our preferences.

I paid for the previous premium version, but after finding it to cause my phone to lag I dropped it. I also found that the widget selection UI was very weak, I longed for the standard UI for widget selection. These two items caused me to remove the app. So does the new, and improved version resolve the lag problem and address the weak-@ss widget selection UI? I know I could download the app and check to see but not worth it if these weren't issues weren't addressed.

What phone are experiencing lag on, and what do you mean About the widget selection UI? It's the same UI as stock Android.

I prefer Nova to other launchers in part because of the unread message count feature, the ability to transfer my stock homescreen settings over automatically, etc. I'm running 2.0 now, and really like the way it looks with my icons at 110%. I would alternate between Nova and stock before (I actually kinda like Touchwiz), but this new version will probably keep me using Nova.

I don't know about other launchers but Nova 2.0 has a feature i have waited for a long time. You can now assign tap-actions and swipe actions to folders. I have several folders with several apps. Most of the time i launch the same app in that folder (the gallery for example is in the same folder as goggles, hdr camera, paper camera and pixlr, but i launch the gallery 9 out of 10 times). So now when i tap the folder it launches the gallery and when i swipe up at the folder, it expands the folder and i can pick any of the other apps.

I didn't realize you could do that... assigning swipe/tap options are awesome!

I need to read the features more closely. I didn't realize you could do that to folders. Since reading your post, I went back and reconfigured all my folders. Like you I have several folders that has that 1 app that is used most often. This is an awesome feature.

I love Nova.. There are so many options with these things though, you never use half of the them!!

I purchased Nova Prime when it was sale a while back. I'm running CleanROM 5.0 on my GS3 with the TouchWiz launcher. Any harm/negative effects of installing and running Nova?

I had Nova running with CleanRom for a couple weeks. It ran smooth and fast for me. No issues at all.

I've had Nova on my One X for a few months and have loved it. Unfortunately, the 2.0 update seems to have caused some significant lag on my phone. It's especially noticeable in the transition effects - it's just not as smooth as before. Maybe it's time to check out another launcher.
Android Central Newsletter
Get the best of Android Central in in your inbox, every day!
Thank you for signing up to Android Central. You will receive a verification email shortly.
There was a problem. Please refresh the page and try again.