Note-taking alternatives now that Evernote is more expensive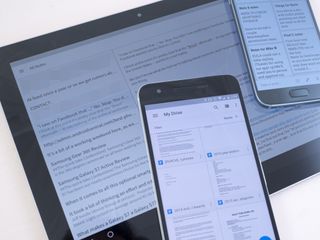 Now that Evernote is raising prices for its Plus and Premium plans — and limiting the free basic sync to just two devices — perhaps you're in the market for a new note-taking app.
Well, we've used more than a few around here. These are the note-taking apps that keep us taking notes, day after day.
Phil Nickinson — Simplenote
I don't mind spending money on good apps and services. But I never particularly found Evernote to be all that great at either, and it definitely was more than a little pushy on the paid thing. I write most everything in Simplenote. It's basic as basic gets. No formatting. Some basic sharing. And while I loathe needing a separate log-in, it syncs across multiple platforms. So what I write on the Mac is available to me on my Android. And it works great offline and is much faster than a browser.
Download Simplenote (free) (opens in new tab)
Jerry Hildenbrand — Google Keep
I don't mind spending money on things like note-taking apps either. But the app that works best for me happens to be free — Google Keep. I can synchronize my notes across all my devices, including the computer on my desk, as well as sync individual notes with anyone who has a Google account. With the ability to insert pictures, numbered lists and web content as well as create ordered lists and use stylized text, Google Keep does everything I need when it comes to taking notes.
Download Google Keep (free): (opens in new tab)
Andrew Martonik — Google Keep (and Docs)
Any time I need to take some serious notes, for anything that's going to add up to more than a few sentences, that all goes into a fresh Google Doc — but if that's the case, I'll usually be using Docs on a laptop. I'll rarely go through the extra steps of getting a new Doc started on mobile.
For on-the-go notes, it's all Google Keep for me. I don't need any fancy features or advanced tools — heck, I barely use all of what Keep has to offer — I just need a place to dump snippets of information throughout the day and have it sync to my other devices. I never have more than about 10 Keep notes at any given time, and don't need notes with tons of formatting, images or anything of that sort. In this case, the simplest app wins for me.
Download: Google Keep (Free) (opens in new tab)
Daniel Bader — Google Keep
I still use Evernote, and plan to continue to pay for the Plus account indefinitely. But I also understand that many people will be turned off by what is clearly a strategic imperative to hedge against a dwindling paid subscriber base or slowing user growth. But I realized today that I only use Evernote for longer-form note-taking, or archiving things like business cards and documents, as its image recognition software is excellent.
For shorter notes, I've begun defaulting to Google Keep which, though now richer in features, is still as simple and straightforward as it was when it first launched. Like Evernote, it is a cross-platform play, which means it's accessible on any device, including the web and on iOS. But Android is where it shines, with a beautiful Material Design interface and a great widget that drops me right into the note screen.
Download: Google Keep (Free) (opens in new tab)
Richard Devine — OneNote
I never really bought into Evernote, frankly, as it never seemed to fit my workflow. If I'm doing anything that requires a decent amount of note taking and research, I use OneNote by Microsoft. The basic app is free to use and will sync across phones, tablets and PCs through OneDrive. If you're an Office user on top, you can use OneNote alongside the other products to get the most from it. It's a powerful tool that allows you to break down your content by notebook, giving you absolute control over your organization.
Perhaps most importantly, though, OneNote is platform agnostic. You can use it everywhere you might want to, including your wrist. There are mobile apps for Android, iOS and Windows Phone, as well as a touch friendly app for Windows 10 tablets and full desktop clients for Windows and Mac. Just like Evernote, you need never worry about what piece of equipment you buy next, OneNote will come with you. They're all really nice apps, too, which is the icing on the cake.
Download: OneNote (Free) (opens in new tab)
Alex Dobie — Google Drive/Docs
I use Google Keep for simple lists and short notes, but if I'm in a meeting, interview or press conference situation, Google Docs — as part of Google Drive — is where I do most of my note-taking. Docs might lack some of the immediacy of Keep, but the rich editing interface on phones and tablets makes it an easy way to take notes on the go — for example, at an event — before transforming them into a full-blown article for Android Central. Also useful: The ability to create home screen shortcuts to specific documents, ideal for quickly hopping between docs on the go.
Download Google Docs (opens in new tab)
I was using Keep for almost everything, but I switched my shopping list over to the Echo. It's just too convenient to add something without pulling out the phone. I do wish that Amazon would put out a separate app just for the shopping list, though-- the Alexa app is super-slow to load for just getting to a simple list.

I use If This Then That to sync my Alexa shipping list to Todoist. Much better than using the Alexa app. Posted via the Android Central App

"OK Google Add milk to my Shopping list."

I'm quite a heavy Keep user, and my only wishes were that there wasn't a limit of characters you can have in a note and that the widget looked prettier.

I looked at keep, but at the time, I had just been burned by end of life on two different Google apps and couldn't see putting all sorts of stuff onto Keep, which had no revenue stream. That's why I still pay Evernote. I need it to be permanent.

Keep seems pretty permanent to merits still get regular updates with more functionality and UI tweaks Blackberry Priv
Nvidia Shield "Portable"
Sony Xperia Z3 Tablet Compact

I use Keep not only for basic notes and reminders, but also for my workout log. The only "advanced" feature I use is color coding my workout notes to be blue.

Try Jefit Posted via the Android Central App

Google Docs, all the way! Posted via the Android Central App

S-Note FTW. I wish it wasn't Samsung-only, though, or that it had a web interface for when the phone isn't available. I like OneNote, BUT it's lacking the amplified section to write with passive Stylii that many have.
Also sucks that Evernote sync from S-Note counts as a device :( Shame on you Evernote! Shame on you!

I love S-Notes on my Note 10.1, but yeah, Sammy only is a pain! I found Squid (formerly Papyrus) to be quite good, and it actually has pen recognition, which is hit or miss on some apps. There are paid features, but if you run it right, you can just buy individual features and not have to do a subscription model. They've made it trickier, but it's still possible, and way better than EverNote EverWas.

I use Keep like a Post-It note. Quick short little reminder type things. But, my main notes app, is Onenote. So much you can do with that app.

I am pretty much the same. Keep is great for post-it notes and lists. OneNote for everything else.

Same use for Keep, I cannot see how you can use for long notes. I'm switching to OneNote from Evernote Posted via the Android Central App

Color Note for post-it type stuff, but using Keep more and more. Posted via the Android Central App

Yeah, I'm a little surprised Color Note didn't get any love. Posted via the Android Central App

I swear by ColorNote! It takes notes and that's all I want. I keep my shopping lists, packing lists, account numbers, reminders, all kinds of things in this app. It syncs across multiple devices, allows password protection of sensitive content, and lets users organize notes by color, alphabetically, by date created, by date modified, etc. It had a widget and even allows backup via SD card and/or encrypted cloud backup. I've used this app for years over different phones and never had a problem using/retrieving my info. Since 2011, ColorNote has been a "must have" app for every Android phone or tablet that I've owned. Posted via the Android Central App

Keep is all I need, notes should be simple. Nexus 6P

I just upgraded to Evernote Plus just in time, but now I'm pondering if I want to continue using the service after a year. The main thing I like about Evernote is the web clipper extensions for Firefox and Chrome. I clip lots of articles into Evernote notebooks. I suppose I could use Pocket to do the same, but does anyone know of a similar feature in other note apps (like One Note) or maybe some extension that can clip into Google Docs for later retrieval and searching?

google.com/save allows you to save like bookmarks with an extenstion, and google keep does have an extension to save urls as well.

I thought about that, but the extensions only exist for Chrome and I primarily use Firefox.

OneNote has the same type of clipper extension for Chrome--don't know about Firefox, but I assume so. I just switched from Evernote today.

A quick look through the apps at One Note shows it does have a web clipper for Firefox. I think I found my replacement for Evernote.

Onenote for the win Posted via the Android Central App

I switched from keep to One note a month ago and it's been great Posted via the Android Central App

one note is the best Posted via the Android Central App

Tried to get into OneNote- Until I went to export a note as a PDF in the Android version- Not available. It is in the IOS version, shame, really almost was the one with drawing as well. If they get that feature, Im all in.

Google Keep and or S Note Rodeo time, time to get er on down the road.

I personally use OneNote for more extensive notes and Wunderlist for to-do lists. I have considered switching to Evernote a couple of times, but every time there is something stopping me.

Does MS OneNote work on Chromebooks/Chrome OS?

Found out there is a ChromeOS extension for OneNote.

I think that's only usable online. Though with Android apps coming to Chrome OS, this shouldn't be a problem in the long term.

You would have to use the web version, which is an enormous fail because there is no global search. Once we have Android apps in ChromeOS, Onenote might be competitive with Evernote. Personally, I am a heavy Evernote user and already happily pay the Plus subscription.

If you have a Samsung NOTE phone, OneNote is amazing. OneNote has gone through the trouble of programming the option to use your stylus. Whip out the stylus, and you phone becomes a slick note pad and it works instantly and without any odd formatting. (Evernote does not work very well with the stylus at all...annoying as heck)
I'm a Microsoft365 subscriber, so it's perfect.
If Google Docs could handle handwritten, stylus input, I'd give it a look.
The advantage of a stylus for note taking is that you can more easily engage in a conversation (professionally) while taking notes from the conversation. Tapping out words on your phone while talking to someone is socially awkward and requires far, far more focus on the phone....and more error prone.

In the spirit of the title of this article, I would like to point out that as Keep does not have a desktop client, there is no reason to switch from Evernote to it because of the new pricing scheme. The Evernote web client does not count against the 2 device limit. You can access the Evernote web client on any computer just as you can the Keep web client.

No opinion on Evernote, but Keep runs in a browser on the desktop. I do most of my list-making on the desktop and it automatically stays sync'd with my phone.

all of the same is true of the web version Evernote.

This article had me reconsidering Keep, but this seals One Note for me. A web interface is nice and all but I really like a dedicated program. Posted via the Android Central App

No desktop client, but it does have a Chrome extension. That's good enough for me!

I don't really understand the draw to pay for taking notes. I started using a generic notepad app, which was not backed up online. I have graduated to Google Keep, which I can use across my Android/iOS devices, and it's "free", aside from selling my soul to Google.

The heck with that. Bye bye Evernote.
Just switched to OneNote as a result of Evernotes recent pricing changes. OneNote makes it very easy to switch from Evernote with a OneNote Import Tool. I didn't see anything like that for Keep so OneNote it is. Seems very much like Evernote so far, but it's free!

I've been using both Evernote and onenote, but with the recent change i just uninstalled evernote. i do understand their need to make money, times are tough, but it's just not worth that much for me. The onenote import tool didn't work for some reason, so i just copied important notes manually and trashed the rest. i use it for most everything, research, blogging, screenshots etc. for household shopping lists & to do lists, i use BBM Group Lists (which is shared with the wife, so we can both add & cross off items). I believe Whatsapp also has a similar feature, although never tried it there.

I think Drive is enough. Not fond of having another app (Keep) running in the background.

The one big missing feature of Keep is versioning. If you delete text and then hit one more key, the original text is gone forever. And sometimes I can't even find one undo level. I'll be migrating some of my Evernote files to Google Docs and One Note (I'm already using OfficeLens, so I won't feel my notes are too scattered.)

I'll have to look in to transferring all my stuff from evernote to an alternative. Tho I only use it on my phone, so there isn't a rush for me...it said I was over on my devices , so I went in and deleted old phones N5, S2, N4 and GN. Posted via Serenity

Bander Notepad has been my note app for many years. Posted via the Android Central App

I keep reading good things about OneNote and want to like it but so far it is leaving me uninspired. Maybe I'm just dense, but after using Evernote for years, I find OneNote incredibly non-intuitive. For starters, can anyone definitively answer four questions for me? 1. How do you move a note to another notebook? For the life of me, I cannot figure out how to do this. What am I missing? 2. The way I understand it, OneNote uses storage space in OneDrive. Am I wrong about this? I have over 4500 notes in Evernote that add up to about 18 GB and that is more than OneDrive gives you for free. 3. How do offline notebooks work with Android? With Evernote, for example, I have a "Northeast" notebook with around 800 notes in it of trail and hike descriptions, maps, etc. and they add up to several GB in size. I certainly don't want ALL of those on my phone. When I plan a week-long hiking vacation, there may be perhaps 30-40 of those notes that I want available offline so I simply select them and move them to a new offline notebook for the trip. Afterwards I simply move them back to the folder they came from. 4. Can you select multiple notes and merge them into one?

1. On desktop you right click the note and either select move or copy. On mobile long press the note and you will get the option to either move or copy.
2. There is a limit on Onedrive but you can always buy more storage.
For more info: https://blogs.office.com/2013/11/12/top-10-things-you-didnt-know-about-o...

Thanks! As for storage, I see that 50 GB in OneDrive is only $1.99 a month, so that is only half the new price of Evernote Plus. It will take a long time before I hit 50 GB of notes! Though it does seem worth noting that Evernote doesn't seem to have an upper limit - only that the Plus account limits you to uploading 1 GB per month (and 10 GB per month with Premium, though I can't imagine many people use anywhere near that much). I guess I left out some info and should have been clearer on the moving notes question. Though I do have a dual-boot Linux/Windows box that I would certainly use the desktop applications as a one time thing to import notes from Evernote to OneNote if I ever go that route, I do pretty much ALL of my computing with Chrome OS and Android these days. Can you move notes using the web interface? That is actually the only interface I have experimented with so far. However, it is nice to know that it is possible with the Android apps.

The web interface is almost exactly the same as the full desktop app. There is very little you can do in the client that you can't do in the browser. I LOVE that I can sign in on any computer browser to get my notes, make changes, etc.

Do you know if it is possible to move notes to another notebook on the web interface? I have been unable to find that.

I've only been using OneNote for a day, but: 1. To move a note, long press the note's entry in the page list. You'll get a menu with "Move Page". 2. Although I think there's some way to force local storage, if you want multi-device access you'll want that data on the cloud somewhere, and seems likely you're going to incur some ongoing subscription somewhere for 18 Gb of data. 3. It looks like you have granularity at the notebook level for what gets synced to your device. I've got 14 distinct notebooks, and could elect to sync or not sync each. Don't think you can do it on a finer scale though (sections in a notebook, pages in a section). 4. There doesn't seem to be a built-in way to merge notes other than cut and paste. But googling came up with a plug in for the desktop client that is a very comprehensive looking toolkit that has this (along with dozens of other tools). Google "Gem for OneNote". I'm still noodling around getting used to OneNote. One clear improvement over Evernote is table handling, which is pretty rudimentary and grim in Evernote - and I've got a lot of tables in my notes. OneNote has much better formatting, and while I haven't tried it yet, even allows you to embed an Excel range. If that works well, it'll help me a LOT.

Thanks for the additional info. It helps. On point 2, I definitely want everything synced to the cloud because I would not be using it on a Windows machine except the initial import. I would use it entirely with the web interface and Android app. What I am mostly concerned with is having fine-grained control over what is available offline on Android vs what is available only with a data connection. In other words, I only want modest amounts of info downloaded to the phone and accepting that the remainder of my notes would only be available when I'm online. That is I want and need it to work more or less the same way as Evernote in that regard.

If you had a notebook titled "Synced with Android", you could move notes that you want synced there, managing everything from the desktop client. But I'm kind of thinking that for your use case, Evernote is probably best, particularly given your very large dataset - you'll end up paying *someone* for storing that, so why not the Evernote folks.

Google Keep is NOT EVEN IN THE SAME LEAGUE as Evernote!!! OneNote is the ONLY true and legitimate competitor that is better in places than Evernote. Saying Keep is a viable alternative to Evernote is like saying a Horse and Carriage is a viable commuting vehicle to replace your Mercedes E, it's ridiculous! Keep is good for say, putting URLs, lists, and snippets of text. It's an awful service for GIFs, photos, Articles, and anything longer than a single paragraph. OneNote handles all of them much better. Granted, it SERIOUSLY needs work in scaling properly to the screen of mobiles - it's either too zoomed in or out to read comfortably. Also, it helps that I have a (gasps) Windows Phone phone... This phone has the AC App.

I mainly use Keep for notes, although the interface seems clunky to me. That needs an overhaul. Seriously. Wunderlist for 'shopping lists' etc. Their widget is supreme to Keep. I too don't mind paying for good apps. But I don't see one that is up to Keep or Wunderlist... I tried OneNote, but their isn't an easy way to set reminders without having Outlook installed. No reminders, not a good client for me. Posted via the Android Central App

I also use Keep for quick notes. Longer notes I usually write in Hover note. The floating window lets me stay in a PDF or similar and still take notes without leaving the app. I then sync everything with Dropsync or Drivesync. The dev has apps for other storage solutions as well. Works well enough for me.

Anyone who likes the open source path can give Laverna a try. They have an Android client coming out "soon"

So I spent about 3 hours yesterday and today figuring out the OneNote situation. Apparently, for some insane reason, MSFT has two onenote programs for the desktop; one is just called "OneNote" and one is called "OneNote 2016". I originally installed the 2016 version and used the import tool to bring in my 1,600 evernote notes. I consolidated my 30-ish evernote notebooks that were imported into 2016 into just two (work and personal). SO, I pull up the app on my Nexus 6p and notice all of the original imported notebooks are still there on the app - no consolidation like on the desktop app. Ok, so I do some searching and figure out to log into MSFT OneDrive online to check it out. No syncing there either. To make a long story short, I finally figured out the regular onenote app (not the 2016) is what appears to be syncing for me, at least with the online version and online OneDrive. So, I do this all over again with the regular onenote app, check the online ondedrive and onenote, and everything matches. Yay! So now I click on the onenote app on my phone and get the following message box popping up: "Can't connect to the erver. Check your internet connection and try again." The only button for me to tap on that box is CLOSE, which closes the app. I have uninstalled, rebooted, and reinstalled the onenote app on my nexus 6p 4 times now and nothing fixes it. I even turned off two-factor authentication in my MSFT account online and uninstalled the MSFT app from my phone. No dice. I am ready to cry, set myself on fire, and jump out my window. Does anyone have any suggestions?

Put a kiddie pool full of water outside the window.

I've got the built-in Windows 10 OneNote running happily alongside the desktop app OneNote 2016 on my home computer, both syncing against MS OneDrive with no problem, along with Android clients on a phone and a tablet, and a desktop client on my Windows 7 work computer. In each OneNote instance, you just need to open all the notebooks (it'll find them on your MS Account's OneDrive) and sit through the (slow) initial sync process.

So I think it is the slowness of the syncing that was getting me. Here at work we are running windows 7 (yeah) and I cannot even download the windows-10 regular onenote app. After fixing everything at home I got to work and signed out of the onenote 2016 app. I signed back in and it pulled down the updated notebooks. BTW, for anyone reading this that may be experiencing the same issue as me with the android app, here is how I fixed it. I installed onedrive, then I reinstalled onenote. When I went into onedrive and clicked on a onenote folder it took me to the onenote app. This method worked, and I can now get into onenote directly. Just gave it a shot to see if something would shake loose and I was lucky. Also, the kiddie pool would be filled with gasoline. If I'm on fire, and jumping out a window, I'm finishing the job!

I tried all the apps that are mentioned even those in the comments. Evernote is still much better than all. Granted some folks have made good examples of corner cases but Evernote does all of those features in one product. It's hard to overlook how well Evernote integrates this features and still is easy to use. I've tried many times to find an alternative for Evernote because I've always been sure they would start to charge but still they are the best and worth the cost

One thing I forgot to mention is the tight integration Samsung has with Evernote on its Snote. Having the snote auto load all notes gives it the power of Evernote search and filters while using the better suited snote for hand written noted

I understand why someone wouldn't want to pay for "taking notes", but I feel compelled to point out that Evernote does a lot more. If you only need to take quick notes, etc, then I agree that paying for the premium service doesn't make sense. I've heard this, and many other arguments against Evernote many time. I've been using the paid version of Evernote for years. I've also been using Microsoft OneNote for years. I'm definitely a "pen guy" and love taking handwritten notes in OneNote on a tablet and phone (Note5). I know you can do that in Evernote, but I prefer OneNote for that. I find both - OneNote and Evernote - useful, but for some things Evernote simply works better for me. I just can't seem to get as comfortable with OneNote. Perhaps I'm not enough of a OneNote power user to get the most out of it. For me, it feels like Evernote is better at allowing one to throw everything against the wall and quickly find what you need later, i.e. no need to spend too much time organizing. The ability to tag in Evernote gives me the option to build notebooks later if I feel the need. I also feel like Evernote does a better job managing PDFs and other documents when compared to OneNote. Google Keep just never clicked for me. Tried it, but just never got comfortable with it. Seems to work best for quick, disposable notes or lists; at least in my mind. Admittedly, it's been a while since I've used it. Perhaps it's time to give it another look. With all that said, it boils down to your own personal needs and whether or not you're willing to pay. I'm personally willing to pay for Evernote because it fits my needs. Considering that it's cheaper than many streaming music services, i.e. Google Music, Spotify, Groove, etc, it's difficult for me to complain about the cost.

Centrallo Posted via the Android Central App

Google Keep for personal. And we use One Note at work.

My note taking is limited to grocery lists and to-do notes. Keep works for me for these simple tasks.

I did a fair amount of testing on OneNote, and liked it a lot. Almost everything I do with Evernote can be done with OneNote, and the things that can't, mostly just work differently. Unfortunately, OneNote is incapable of clipping pages unless it's allowed to inject tracking code (which phones home to Microsoft) on the web page you want to clip. So, non-starter, there, for me. If you're OK with that, it might be your Evernote-killer. Google Keep essentially can't clip web pages. That makes it useless to me, personally.
Android Central Newsletter
Get the best of Android Central in in your inbox, every day!
Thank you for signing up to Android Central. You will receive a verification email shortly.
There was a problem. Please refresh the page and try again.