Nokia is once again partnering with Zeiss to make its cameras stand out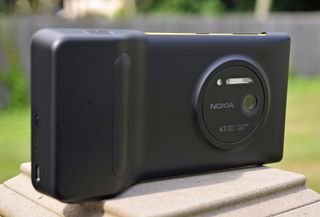 Nokia's lengthy collaboration with Zeiss resulted in some of the best cameras in the smartphone segment (RIP Lumia 1020), and that partnership is kicking off once again. HMD Global — the company with the exclusive rights to Nokia's brand name — has announced that it has signed an exclusive partnership with Zeiss to deliver the "ultimate imaging experience possible on a smartphone" and set "new imaging standards within the smartphone industry."
Nokia teamed up with Zeiss over a decade ago, bringing several innovations to this industry, including the first multi-megapixel mobile phone, PureView, and more. By rekindling its partnership, Nokia is looking to once again raise the bar for smartphone cameras:
From Arto Nummela, CEO of HMD Global:
The Nokia phones that already made their debut this year — the Nokia 3, Nokia 5, and the Nokia 6 — are aimed at the budget segment, and it looks like the Zeiss optics will be reserved for Nokia's oft-rumored flagship, the Nokia 9. Earlier leaks showed off two dual 13MP cameras at the back, and Nokia alluded the same in a tweet announcing the partnership with Zeiss:
It'll certainly be interesting to see what comes out of Nokia's renewed partnership with Zeiss, considering camera quality is a key differentiator in the high-end segment.
Harish Jonnalagadda is a Senior Editor overseeing Asia at Android Central. He leads the site's coverage of Chinese phone brands, contributing to reviews, features, and buying guides. He also writes about storage servers, audio products, and the semiconductor industry. Contact him on Twitter at @chunkynerd.
So excited for the Nokia p9 or whatever the top flagship will be called. I just hope they deliver! If they can produce camera phones like the Nokia of old on Android they can own this sector.

There won't be any letters in the name. Nokia doesn't do that and the very few times it did, the letter is an N ;)

Nokia N95 Damn, I remembered that thing.

What about the E series, the correct statement would be since it moved to windows phones with its Lumia lines it hasn't been adding Letters to the naming.

The E series wasn't a series of consumer devices, they were made for enterprise.

They also had the C series but that was way back then.

I'm not surprised. Nokia has had a very good relationship with Zeiss over the past decade or so, with great offerings like the 808 PureView, Lumia 1020 and 1520. While technically the partnership was with Microsoft since the sale, since they're not making phones anymore, it only makes sense to go back to the Nokia brand. I hope that they can do post-processing similar in style to PureView.

Actually the partnership with Microsoft wasnl never signed. They delivered the optics for the 950/950XL because there was already a commitment. But Microsoft never showed any interest in continuing that partnership (hence why no Surface ever came with Zeiss lenses). Besides, the PureView tech remained in Nokia's hands anyway (as I've said time and again) and such a technology was co-developed with Zeiss. Meaning that if Nokia licensed the tech, another OEM could achieve the same results even without the lenses themselves. So Microsoft had no real advantage anymore.

Basically, we'll see PureView again? Me want. Seriously, I remembered when if you wanted a superb camera on a phone, you'd go with a Nokia. I want to see it happen again, although the competition is tougher now.

Yeah, pretty much. I'm not sure what happened to the PureView branding since Microsoft did buy the name. I'll have to ask around. But apart from the name, yes, ai expect PureView results (besides, Juha has been back at Nokia for a while now ;D).

Awesome! Now's also a good time to perhaps make that camera app a little easier to operate. I tried the Nokia 5 and that could definitely use some refinement to the app.

Oh definitely. The current camera app is atrocious. I really hope they just import the old Lumia camera UI which some other brands have since so lovingly ripped off.

Perhaps full Camera2 compatibility would be great. Would open up more photographic possibilities.

On the Nokia 3 camera2api is all locked. That *has* to change. Hopefully the only reason it's that way on the Nokia 3 is because of the processor.

Microsoft continued to use the PureView name on the 950/950xl but now that Lumia have ended I'm not sure if Microsoft or Nokia still have the rights to the name. I'm pretty certain Nokia still own the actual technology and patents behind the name though.

Glad to see a rather rare upbeat side from you.:)

I was under the impresion that MS acquired the pantents regarding PureView and they kept it. Anyway, I hope we see many NOKIA devices with Zeiss. I was about to buy NOKIA 6 (I am using a NOKIA Lumia 920 for 4 years now) but after this announcement I am not sure I will buy it...

1 - No, Microsoft never bought any patents. They entered a non-exclusive licensing agreement with Nokia when the deal was signed. But the patents remained all at Nokia. 2 - If you're looking to replace the 920, skip the Nokia 6 and wait for the flagships. The Nokia 6 is not a worthy replacement for the 920 (actually, even the flagships will have a hard time doing that). If you ask me, Nokia should definitely pick up the 920, update the internals, replace the OS and release it again. The phone was that good.

The 920 was an outstanding phone! But then again so was the N8

I still kind of miss my 920. Still one of the best phones I ever owned. A lot of people like to hate on windows phone, but I liked it. If it had more apps, and MS didn't abandon it, I'd still be using it.

Game over for all the other smartphone cams!!!! Google Pixel? Not even a chance

Pretty much this. I don't think there's any disputing it based on Nokia's past efforts with their camera performance.

My primary phone is a Lumia 950XL but I also have a Pixel, and an iPhone 6s. You can do a lot of spec comparison, but my personal impression is the Lumia gives me the best performance. I had the opportunity to do a little (very little) comparison recently. Had some great horned owls in the trees in my backyard. Probably 30-40' from the deck. You had to look hard to see them as they blend in very well. I took shots with all three cameras, like any normal user would, just plain full screen, some zoomed. Once the shots were taken I used each camera's native editing features to zoom and crop. I also pulled the files off and played with some software on my Surface. Nothing fancy. The Lumia shots allowed the greatest option for reframing while still maintaining good clarity. The other phones were good, but I couldn't quite get as much detail. This is very subjective, sure. I was a Lumia 1020 owner and that device was phenomenal. My 950XL says MS on it, but it's a 'Nokia' and those guys are at HMD now.

My 950xl is finally going into permanent retirement next week as it's got a few faults now and being a real pain. It's been semi retired to a work phone or back up many times over the past year or so but I kept going back to it purely for the camera and for me personally gave better and more detailed photos than the iPhone 7 plus, Galaxy s8 Plus and LG G6 I've had lately. I'm going back to a regular Galaxy s8 as a stop gap until I see what Nokia gives us (hopefully soon)

When is this Nokia 9 coming out? They made the best phones back in the day.

I've got my eyes on this for sure. Can't wait to see what they bring.

Anxiously awaiting this phone. 3 more payments and my pixel goes up for sale never to look back! Been a nightmare since day one and 3 phones later

I hate to tell you "I told you so" but... Wait, no I don't. I told you! ;)

Does any other phone brand carry so much good will as Nokia? A lot of it may be nostalgia, but is there anyone who doesn't want the N8/9 whatever it is called to be brilliant? I loved my Lumia 1020, as well as the many previous Nokias I've owned, and if this one can pack in decent audio along with a camera that is true to their legacy then I would be very very interested. I just wish they would offer one in a polycarbonate body - so practical and I loved the look and the feel of the 1020. It'll be glass or metal though, sadly.

I hear you on the polycarbonate body. I really miss high-quality poly (specifically Nokia or Motorola-grade poly - no one else made plastic look and feel as good as those two manufacturers). It's easily the best phone chassis material.

The Nokia 3 uses aluminium and polycarbonate and the thing feels more premium than the G5 did. And than any of Sony's Xperia phones have felt since they ditched the glass designs. So yeah, I'll take polycarbonate over cheap full body aluminium phones any day too.

Great news to wake up to! I've always rooted for Nokia!

Thank god.. Came to android off a lumia icon. Got the Verizon stylo 2. Phone is all good works great and snappy, camera way I mean way sucks. Was fixing to drop a few bucks for the lg v10 for the better camera but ill stick with the stylo 2 now till the Nokia release. Those pure view cameras will spoil you in a hurry and I want another one. Quoting " there is a god " looking up right now... Lol

Isn't that a cheap, low end phone? Not really a good comparison.

If anyone can shake things up, it's Nokia. C'mon, Nokia, put the hurt on Samsung! We need some disruption in this market - it'll be better for everyone, Samsung included.

Man the 1520 took arguably some of the BEST low light RAW images. It was 2 years ahead of any S7 or iPhone 7 images. Nokia always did what they do the best IMO. Now I'm torn looking forward to this or the the Note 8. Ugh.

Wow. If they can pull it off it'll be great. Unfortunately I have a bad feeling that it will be a great phone that nobody will have a chance to get here. Camera tech is no longer the driving force behind flagship phones, while certainly it matters which it does, if it does not look like a Galaxy phone the tech writers and reviewers will drive it to a early grave. Polycarbonate backs and bezels... OMG OMG OMG... A bigass camera hump... For Shame... Lol lol lol... This is what we will hear irregardless of how great it is... I miss my 1020 with the bigger battery add on, just as I miss my 1520.. I don't miss it's os at all.. Great phones lousy operating system and company. Both took exceptional pictures. I hope that they pull it off... Mac

Whatever they do, they better do it fast.

Very much in agreement with Aweso. We need this phone like yesterday

I just hope this isn't timed with the iPhone release and the Pixel 2 release and is released much sooner

I'm in line!!!! I miss my 1020. I wish they just created a 1020 with fast guts, same 41 mp camera setup, size, etc.....Come on nokia...call it the Nokia image classic! I am down for one of those with android on it for sure!

A faster 1020 was all I wanted from MS. Carrying 950XL, but would switch to Android for a 1020 level camera.
Android Central Newsletter
Get the best of Android Central in in your inbox, every day!
Thank you for signing up to Android Central. You will receive a verification email shortly.
There was a problem. Please refresh the page and try again.