Nexus Player makes its exit from the Google Store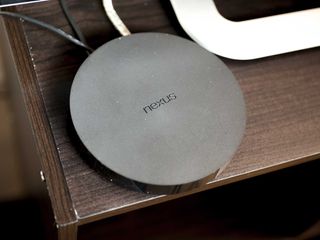 Google is no longer directly selling the Nexus Player, its premiere Android TV set-top box that launched alongside Google's second (and more successful) attempt at entering the living room.
If you visit the Google Store now, the Nexus Player is no longer listed under the TV & Audio (opens in new tab) section, and its direct link (opens in new tab) no longer works either. Meanwhile, the Nexus Player remains out of stock across online retail outlets, so your best bet for securing one now would be in-store.
Regardless, if you are interested in getting your hands on an Android TV-powered set-top box, you have arguably much better options. Xiaomi recently announced plans to launch a 4K Android TV box of its own, and NVIDIA's Shield Android TV still remains an impressive option.
See NVIDIA Shield Android TV at Amazon (opens in new tab)
My biggest issue with buying totally into google devices is the lack of support for whatever they introduce. It's like they don't have a game plan, which is frustrating for someone like me. Hey guys, if you want to be in this area then, put a gameplan and strategy together that will last longer than a year or so. So glad I did not sell my AFV when this launched.

What do you mean in terms of support? Android TV (especially on the Nexus player) is still getting frequent updates, and they announced new features for TV last week at I/O.

Which was 4 years ago, and everyone who ordered one got their money back. There's worse ways to drop hardware than that. And he's making those complaints on an article about a device that's actually been well supported.

Being well supported but not sold anymore...... Posted from my Nexus 6/Nexus 7 2013/Surface Pro 3

And? As far as we know, it's still going to get software updates, at least until fall of next year (Android N is a given for it at that point).

Yeah, Google has to offer a replacement. Posted from my Nexus 6/Nexus 7 2013/Surface Pro 3

I don't disagree, but saying the Nexus Player has been completely abandoned is just false. Posted via the Android Central App

It definitely needs a replacement. Posted via the Android Central App on my Nexus 6P

To be fair that doesn't count for the reasons Tom stated Posted from my Nexus 6/Nexus 7 2013/Surface Pro 3

They might just be dropping the one hardware SKU because there are cheaper alternatives or better alternatives at the high end (like the Shield with 4K, if you need it), or because there's a replacement coming, but software wise it continues to be well supported since it shares a basic platform with a number of other devices. They seemed committed to Android TV at I/O, you need some sorta TV centric device if you wanna integrate Home with the TV as they seemed to do during the demos, and I'm not sure Chromecast would be enough for that... /shrug I still use mine more than the Fire stick, tho i feel both were pretty good values.

I use my Nexus Player every day. It was an affordable gateway to Android TV for me last year. The Shield looks great but pricey. Can't wait to see how the new box compares. Posted via the Android Central App

I agree. I have no complaints about my nexus player. I would guess that most who complain about it don't even own one. Posted via the Android Central App

Yup. I watch baseball (MLB.TV) on it every day!
Still kind of odd right after I/O...

Scored mine for $50 bucks. Use it daily. Love it. Posted via the AC App on my Nexus 6P

About time, it's outclassed by the SHIELD anyway. Hopefully a new version is on the way. 4k, GigE, more storage maybe. Posted via the Android Central App

Won't be missed :) vzw Moto XPE/N7

At this point if you can still find one it's a bargain. Clearanced at $25 at Target and it was $50 at Walmart and now reportedly down to $25. If you can find any on retail shelves anymore in the clearance sections / endcaps at either retailer. For $50 I don't see why anyone would get a Shield unless you HAD to game - Xiaomi's box will offer cheaper 4K when it comes most likely, and for $50 there's nothing that runs Kodi or Android TV better. For pure content consumption at $50 though, Roku still leads everyone IMO.

Love my $40 Nexus Player. That was one cheap way to get cable TV in my bedroom with no need for running cables and no equipment rental fees from the cable company. Posted via the Android Central App

I got the 4k HDR Nvidia Shield TV, it's way more advanced than the Nexus player & gets updates quick as well Google should come out with a new Nexus Player 4k that includes more storage & a better processor for gaming. Image if Google came out with a game console Competitor super powerful like the Nvidia shield tv. By the next generation of Android O they need an Xbox & PS4 Competitor. Google could easily get the major Developers to bring the newest games like Call of Duty & etc console games to the Android platform. Posted via the Android Central App

Android TV is the real product for Google. They have hardware partners making better products like the Shield and other companies like Sony building the platform into their TV's. Posted via the Android Central App

Bought 2 Nexus players last year ($40 each at WalMart) to replace my crap out Apple TV'S and love them both. Really an under rated device Posted via the Android Central App

Love my Nexus player, then again only paid $30 Posted via the Android Central App

Not wanting to sound like a Fanboy but I love my Nvidia Shield with Android TV, I just wish UK TV channels would give it and Live Channels more love, then I could cut the cord alot easier. Hopefully Google is cooking up something new to replace the Nexus Player. Posted via the Android Central App

I've got a couple of nexus tvs that i use for plex and youtube mainly plus for casting to. I haven't had any major issues but i guess that now AndroidTV seems to be taking off with tv manufacturers there's less demand for Google to do one.

i assume Android TV is still being supported? Half the reason I bought my TV.

If they make another, they should make it a Qi charging plate too, I mean it looks like one. Of course that would mean having Nexus products that actually have wireless charging. Posted via the Android Central App

I don't understand the hate for the Nexus Player. I have one and so far it's been receiving all the updates just as my Nexus 9 and 6P. It's still working great and has all the apps I need. Google is clearly still supporting and even still developing and pushing Android TV with the new Android TV specific features in N and the announcements in IO.

I sold my NP and grabbed a shield a few months ago. I would still have the NP if it had a wired Ethernet connection. Whatever Android TV device I'm using, it gets used everyday.

Yeah, the lack of wired Ethernet is definitely a shortcoming of the Nexus Player, especially with it's poor wifi, I had streaming issues, particularly on Hulu due to the wifi, and that's with the nexus player being about 6" from the router, fortunately it was an easy problem to fix with a micro usb Ethernet adapter, plugged that in and problem solved. I'd love to get the Shield TV but the price is steep and with the Ethernet adapter on the Nexus Player it's hard for my to justify it, though it would be since if I got one I could move the Nexus Player to the bedroom and ditch the Chromecast.

My only issue with it has been the lag when using the remote for voice searches. It's terrible, but other than that it's been pretty awesome.
Android Central Newsletter
Thank you for signing up to Android Central. You will receive a verification email shortly.
There was a problem. Please refresh the page and try again.