Nexus 5X versus the original Nexus 5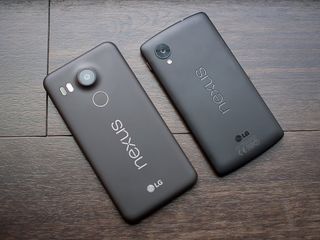 At the time of its launch back at the end of 2013, the first Nexus 5 was a bit of a revelation. Following up on the inexpensive wonderment of the Nexus 4, LG cranked out another budget-friendly phone in partnership with Google that ended up being quite a hit with both average consumers and hardcore Android enthusiasts alike.
Two years later, we have the Nexus 5X, once again coming from a partnership of LG and Google, with naming and design clearly harkening back to the somewhat-inexplicable nostalgia toward the original Nexus 5. Understated design, simple materials and a "value greater than the sum of its parts" mindset have all carried over to this phone from its predecessor.
Have these two companies paired up to make a worthy successor to arguably the best-received Nexus of all time? We're going to explore just that.
Nostalgic hardware
"LG's second Ne​xus is the best phone you can buy for $350," said our review of the Nexus 5 back in 2013, and those are some big shoes to fill. Of course anyone who owned or used a Nexus 5 will know that that value didn't come from its outstanding hardware chops — far from it, as the Nexus 5 was squarely in the "passable" arena of external build quality. And really, it's the same story all over again on the Nexus 5X.
The phones are nearly identical in materials and build, with soft touch coatings layered on completely plastic exteriors, dotted with buttons and ports where necessary. The only real identifiable differences are the symmetrical speaker grilles on the front, and change in camera design on the back, of the Nexus 5X. To be fair to the newer model the Nexus 5X does seem to exhibit a bit better fit-and-finish, though the improvement isn't dramatic — it's still just serviceable hardware, and it's expected to simply fade away and let you experience the software.
Perhaps one of the reasons we were all so willing to put up with the less-than-stellar build on the Nexus 5 was its size — even in 2013 and '14 a 5-inch display felt compact compared to the growing average screen size, and the Nexus 5 was very small even for its screen size. The Nexus 5X is compact for its day as well at 5.2-inches, though symmetrical bezels on the top and bottom have boosted its overall footprint a bit. It's still super easy to slip into a pants pocket or grasp in one hand, and that's important to a lot of people still.
Simply adding a little bit of physical size to the screen isn't the only thing that's changed here, though. Display technology has advanced notably in the past two years, and the LCD panel in place on the Nexus 5X is considerably nicer than the Nexus 5. Though both phones are the same 1920x1080 resolution the Nexus 5X is brighter and has more accurate colors, and doesn't exhibit the light bleeding from the edges of the screen often found on the Nexus 5.
Internally, things have made a pretty predictable progression. The Nexus 5X has a Snapdragon 808 hexa-core processor, a step above the Snapdragon 800 quad-core in the 5, along with the expected bumps in things like radios and sensors. The questionable choices? RAM and base storage, which stick at 2GB and 16GB, respectively, two years later. We've also lost Qi wireless charging, which is a hard-to-explain loss. (If we had to guess, we'd blame thinness.)
The Nexus 5X has also taken a few more steps forward in the hardware department, namely with its absolutely wonderful fingerprint sensor, an improved speaker and jump to a USB-C port. Each add something extra to the hardware experience, and remind you that this is a modern phone when you set it alongside the Nexus 5.
Software and performance
When you set the two phones next to each other, both running Marshmallow of course, you actually can't immediately find a speed increase on the Nexus 5X over the Nexus 5 when just launching and thumbing through various apps. That's really a credit to the Nexus 5, which runs Android 6.0 at quite an amazing pace. Sure apps launch just a hair faster on the 5X, but it isn't something that'd be noticeable if you weren't running a side-by-side comparison.
The Nexus 5X starts to pull away when it comes to multi-core performance, such as gaming or scrolling and interacting with heavy web pages and apps with lots of content. That's really what the newer generation of processor is going to give you by default, and in typical Nexus fashion we'd expect the Nexus 5X to only get faster in subsequent updates.
Where the differences really come out is in battery life. The Nexus 5X's 2700 mAh battery is over 15 percent larger than the Nexus 5's, but you're getting far more than that amount of longevity. Even a brand new Nexus 5 (i.e. one not run into the ground over two years) doesn't stand up to the full-day battery life available on the Nexus 5X, and if you've ever owned a Nexus 5 you know this is one of that phone's critical issues.
Now one of the main reasons why you may have had a Nexus 5 in the first place is software updates. Google (generally) does a pretty great job keeping its Nexus phones up to date for years after their release, but that well has to run dry at some point. We venture to guess the Nexus 5 is in for one more major release of Android — that'd be the N release, presumably — before being cut off, as we've just seen with the Nexus 4 only making it to Lollipop. Of course the Nexus 5X is two years further down the road and slated for multiple big Android releases in the future.
Camera prowess
For all of the similarities you can draw between the Nexus 5X and 5, the camera has taken a large jump in quality. Despite losing OIS (Optical Image Stabilization) on the Nexus 5X, we've gained resolution — 12.3MP up from 8MP — along with larger individual pixels and improved image processing. The end result is and important jump in camera quality, with the Nexus 5X being able to take better photos in a variety of situations.
While the Nexus 5 pretty much required the use of HDR+ processing to get a good shot — and in the end could definitely take some great ones — that's no longer the case on the 5X, and your average non-HDR+ snapshot is pretty solid as well.
Much like the rest of the software experience the Nexus 5X hasn't dramatically improved the speed at which it captures photos, with HDR+ images still taking a while to process and general camera performance being simply good and not exceptional. But the bump in image quality can't be overstated here, and while we wish OIS was still incorporated like on the Nexus 5 there can't be many complaints here — it's clear that Google has finally taken cameras seriously with the Nexus 5X (and Nexus 6P).
A steady (albeit unspectacular) progression
With two years separating the release of these phones, it's somewhat tough to evaluate how well they stack up against one another. The Nexus 5 was a standout offering for the end of 2013 (and through 2014 as well), and anyone who owned one is likely to agree. The Nexus 5X has improved solidly over its predecessor with a better screen, longer battery life, new hardware features and a markedly better camera, though we wouldn't blame you for expecting a larger progression in terms of build quality and overall performance.
And in the end, it's worth noting that the Nexus 5X retails for only $379 unlocked, just $30 more than the Nexus 5 debuted at when it was released. Keeping that it mind the rate of improvement seems understandable, though the Nexus 5X is at a bit of a disadvantage here as it has stiff competition of great inexpensive unlocked phones that the Nexus 5 never had to face. The 5X is also being pitted against another Nexus, the 6P, launched at the exact same time starting at just $120 more, which also raises our expectations for what it should be.
It's true, the Nexus 5X may not be the low-cost wonder that's a dead easy buying decision like the Nexus 5 was. But in attempting to fill the undeniably-large shoes of its predecessor, the 5X has done a pretty good job overall. This is a solid second take on a great original device, even if it falls short of being spectacular in itself.
Get the Android Central Newsletter
Instant access to breaking news, the hottest reviews, great deals and helpful tips.
Andrew was an Executive Editor, U.S. at Android Central between 2012 and 2020.