A new NVIDIA Shield TV just stopped by the FCC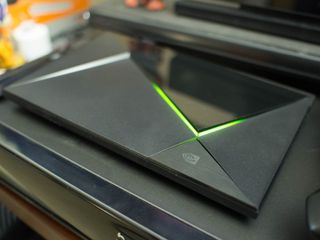 What you need to know
The FCC has a listing for a new NVIDIA Shield TV Android TV box.
It will have a new Tegra processor and previous leaks show it will run Android 9.0 out of the box.
There is no release date as of yet, but the previous Shield TV was announced at CES 2017, so we might see the new one at the next CES event in January.
It looks like NVIDIA is getting closer to releasing a new NVIDIA Shield TV, at least according to a recent FCC listing. The FCC filing in question labels the device as the "NVIDIA Corporation SHIELD Android TV Game Console P3430."
This comes on the heels of a new NVIDIA Android TV box popping up on the Google Play Developer console back on June 17. From that leak, we learned the new box (codenamed "mdarcy") would be running Android 9 Pie with an updated Tegra processor.
Thanks to the FCC listing, we've now also learned that the new processor being used is the Tegra X1 T210 B01 made by NVIDIA itself.
While there is no other new info in the FCC filing for the updated Android TV box, there have been previous reports of NVIDIA working on a new controller and new remote. Considering some of the complaints about the current NVIDIA Shield TV remote (opens in new tab), it would be nice to see an improved one when the new Android TV box launches.
Unfortunately, there is no word on when we can expect the new NVIDIA Shield TV to launch, but the last one was shown off at CES 2017. That exact Shield TV is still on sale for $180 and up (opens in new tab), over two years later. Perhaps, NVIDIA will decide to launch the new one at next year's CES, or maybe we could get lucky and see it in time for the holiday season.
Regardless of the launch date, all of this should give fans of Android TV a reason to get excited. The NVIDIA Shield TV has long been the flagship of the Android TV world, but the last one was launched almost two years ago and is starting to show its age.
A refreshed version of the Android TV box with updated hardware could help breathe some more life into the Android TV platform — especially as new apps continue to be added, such as the recent long-awaited release of NBCUniversal's apps.
Are they going to lower the price? Because this doesn't look like it's going to be completely new hardware.

That is my guess. At its core it is the same box they've been selling since 2015. Switching to the Nintendo Switch varient of the SoC would save them some cost, due to the large quantity the switch ones are made in. They can cut corners here and there to bring the manufacturing cost down, and sell it for less. Kind of like what you see with the consoles in the middle and end of each generation.

Hope they move to a different wifi soc as this in house design leave much to be desired if it doubles as a direct reciver

I don't think they will as there is pretty much no competition for what they're offering. This will just increase their profit margins.

Probably just a production modification to use the same chip that's going in the revised Nintend Switch. Nothing exciting here I'm thinking.

Maybe that's a poorly worded headline.

I have one of the original ones and it's still front and center in the living room, due to the fact they keep supporting the unit. Honestly, I can't think of another electronic tech more complicated than a smart light bulb that has lasted this long. Unless they screw something up I wouldn't hesitate to upgrade, even just as a show of support. Mostly to squeeze a bit more speed out of it. :)

If I can get a Shield below $100 this year (probably on BF) then I will def pull the trigger on one.
Android Central Newsletter
Thank you for signing up to Android Central. You will receive a verification email shortly.
There was a problem. Please refresh the page and try again.