The new iPhone SE is no reason to switch away from Android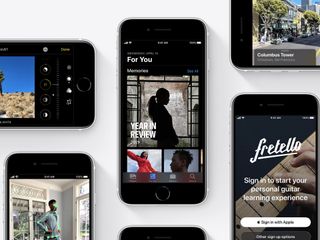 (Image credit: Apple)
Unless you've been living under a Galaxy S20 Ultra-sized boulder for the past few days, chances are you've heard about the iPhone SE (2020). The phone was announced on April 15 and met with a lot of fanfare, seeing as how it brings the power of the iPhone 11 Pro to a compact form factor with a much lower price.
In a lot of ways, the iPhone SE is fully deserving of all the attention it's getting. Harish argued that the SE basically killed all other value flagships, largely thanks to Apple's A13 Bionic processor.
The A13 Bionic is a big deal. Along with offering flagship-level speed and performance, it also ensures that the iPhone SE will stay updated with the latest version of iOS for years to come. Factor that in with a reliable 12MP camera, day-long battery life, IP67 water resistance, and Qi wireless charging, and it's easy to see why this $399 phone has a lot of folks talking.
Here's the thing, though. While the iPhone SE is a phenomenal purchase for people with an aging iPhone 8 or older, it doesn't make much sense for anyone that uses and prefers Android over iOS. That's not to say that Android is objectively better than iOS, because it's 2020 and it's about time you accept that both platforms have their strengths and weaknesses. Instead, it's meant as a word of caution.
Let's say you have an old Android handset and are in desperate need of an upgrade. You really like Android and don't have any reason to switch away from it, but now you're seeing all this hype about the iPhone SE being such a great deal. You decide to pick it up, start using it, and quickly realize that iOS is a much different beast than what you've been used to for the past few years.
All the customization features you're used to on Android? Those don't exist on iOS. Like being able to set third-party apps as your default web browser, navigation app, etc.? iOS doesn't let you do that. All of your paid apps and games from the Google Play Store? Those don't transfer over to the App Store.
iOS is a good operating system, but if you know that you like Android, there's no sense in forcing yourself to switch and having to put up with a bunch of unnecessary headaches — especially when there are so many options out there for low-cost Android phones that aren't pieces of junk.
Google's Pixel 3a is perfect example. It has a very similar price compared to the iPhone SE and has everything you could ask for in a no-frills Android phone. The OLED display looks awesome, performance is plenty fast, the 12MP camera is shockingly good, and Google guarantees software updates through May 2022.
You could also get the Moto G Power, which comes equipped with three rear cameras, a clean build of Android 10 with some fun customizations from Motorola, and an insane 5,000 mAh battery that allows you to use the phone for up to three days on a single charge. If money's especially tight, you can even pick up something like the Nokia 2.3 which offers about as barebones of an experience as they come in exchange for a dirt-cheap price.
In a lot of ways, the iPhone SE is superior compared to other value-focused smartphones — there's no question about that. However, if you need to throw away the operating system you're used to and settle for one you don't like, is it really a good purchase?
It'd be a different story if there weren't options for good and cheap Android phones, but that simply isn't the case. The market is filled with endless options, you just have to look a little harder since not all of them are as well-known as Apple's latest handset.
So, yes — the iPhone SE is an excellent deal. If you want an iPhone and only have $400 to spend, it's the best purchase you can make. For anyone that happens to prefer Android, though, it's just doesn't make any sense.
Pixel SE
The operating system you know and love
There's a lot of buzz around the iPhone SE, and rightfully so. It's a fantastic device for the money, but if you're not a fan of iOS, it won't do anything for you. Enter the Pixel 3a. Google's mid-range handset delivers a fantastic user experience at a price you'll love — all while touting a clean and fluid build of Android 10.
Sign up for Black Friday email alerts!
Get the hottest deals available in your inbox plus news, reviews, opinion, analysis and more from the Android Central team.
Joe Maring was a Senior Editor for Android Central between 2017 and 2021. You can reach him on Twitter at @JoeMaring1.