The iPhone SE 2020 basically just killed the Pixel 4a and other value flagships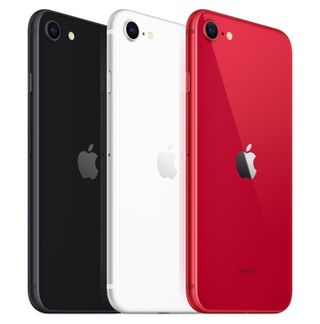 (Image credit: Apple)
There's no shortage of value flagships on Android, and this segment witnessed a meteoric rise in the last three years. A value flagship like the Pixel 3a XL (opens in new tab) gives you access to decent internals and a great camera for under $450, and brands like Samsung, Xiaomi, Nokia, and Motorola have plenty of options in the mid-range category.
Apple is now looking to turn the segment on its head with the iPhone SE 2020. The phone made its debut earlier today for $399 for the 64GB variant, and you get a lot for that asking price. The iPhone SE 2020 is powered by the A13 Bionic — the same chipset used in the iPhone 11 series — and there's also a reliable camera, IP67 water resistance, wireless charging, and 18W wired charging.
There's a lot to get excited about, and I'll start with the chipset. The A13 Bionic is the most powerful mobile chipset available today, and it outmatches every other chipset, including Qualcomm's latest Snapdragon 865, Huawei's HiSilicon Kirin 990 5G, and the Samsung Exynos 990. Apple started designing its own chipsets a decade ago, and it allowed the company to eke out the maximum amount of performance and integrate those gains into the software.
Get an iPhone SE with Mint Mobile service for just $30/mo (opens in new tab)
The fact that you're getting the best mobile chipset in a phone that costs $399 is incredible. To put things into context, there's no equivalent on the Android side that is powered by the Snapdragon 865 for under $600, and you have to consider that Qualcomm's chipset isn't as fast as what Apple is offering with the A13. Oh, and before I forget, Apple is offering free Apple TV+ subscription for a year to everyone picking up the iPhone SE.
Google, in particular, has its work cut out with the Pixel 4a. The mid-range phone is set to debut in the coming months, featuring a 5.8-inch FHD+ display, Snapdragon 730, single 12.2MP camera at the back, and a 3080mAh battery. The Snapdragon 730 is a very capable chipset, but it is far from the best in the industry.
Then there's the fact that the iPhone SE has IP67 water resistance and wireless charging, two features that have been relegated to "true" flagships in recent years. Xiaomi started offering wireless charging on its Mi flagships last year, but they start at over $500 and don't have an IP rating. What I'm trying to get at is that the combination of features on offer with the iPhone SE is unmatched on Android. There's also a 128GB of the phone that's available for $449, and a 256GB option that is debuting at $549.
The iPhone SE also presents Apple with a unique opportunity to make inroads into the Indian market. The phone is making its debut in the country for ₹42,500 ($555) and ₹47,800 ($625) for the 128GB option, and that's exciting for a lot of reasons. Android dominates India thanks to device makers like Xiaomi, but over the last 18 months Apple started gaining momentum on the back of strong iPhone XR sales.
The iPhone SE offers a more powerful A13 Bionic chipset for ₹10,000 ($130) less (the XR is powered by the A12), and when you consider the fact that both phones have the same camera optics, the SE becomes that much more enticing. The iPhone is an aspirational product in India, and the fact that the SE is offering the same A13 chipset that's featured in the regular iPhone 11 — which costs more than double — makes the phone immediately stand out in India's premium segment.
The biggest selling point with the iPhone SE is the software updates. By using its latest silicon in the device, Apple is all but guaranteeing the same update cycle as the iPhone 11 series, and that means the phone should get updates for four years or more. Meanwhile on Android, it is a big deal if phones in this segment get two platform updates.
Let's talk about another part of the iPhone SE that is of interest: the design. Apple is essentially using the same chassis as the iPhone 8, with the phone offering the same 4.7-inch IPS LCD display and Touch ID authentication. The internals have been overhauled, with Wi-Fi 6 and Gigabit LTE connectivity.
This is a win-win for Apple: the company already makes tens of millions of A13 Bionic chipsets for the iPhone 11 series, so it isn't starting from scratch here. Then there's the fact that by reusing the iPhone 8 design, it is saving on manufacturing costs, allowing the company to eke out more profits.
Overall, the iPhone SE lowers the barrier for entry into Apple's ecosystem. But there are no real trade-offs here, and the fact that you're getting the A13 Bionic combined with IP67 dust and water resistance, wireless charging, a reliable camera, and four years of software updates makes the iPhone SE a game-changer.
I didn't think we would get to a point where an iPhone offers more value than Android phones, particularly in the mid-range segment. But that's exactly what's going on with the iPhone SE. Let me reiterate: you're not only getting a phone with reliable hardware, but you're also getting great software and more updates than you would on Android, all for $399. If you're in the market for a mid-range phone in 2020, you should absolutely consider the iPhone SE.
iPhone SE 2020
With the A13 Bionic under the hood along with IP67 water resistance and wireless charging, the iPhone SE turns the value category on its head. There's no Android equivalent to the kind of power you're getting here, and when you consider the fact that you get at least four years of software updates on iOS, the iPhone SE is a fantastic alternative to Android phones.
Android Central Newsletter
Get instant access to breaking news, the hottest reviews, great deals and helpful tips
Harish Jonnalagadda is a Senior Editor overseeing Asia at Android Central. He leads the site's coverage of Chinese phone brands, contributing to reviews, features, and buying guides. He also writes about storage servers, audio products, and the semiconductor industry. Contact him on Twitter at @chunkynerd.
Lawd geezus this is a very tempting purchase. Need to know if they offer 128GB.

They do! The 128GB variant is $449, and there's a 256GB option for $549.

HA! LOL! I read the title and immediately laughed at the fact that you are basing this entire article on leaked (unconfirmed) information about Pixel 4a and still saying the iPhone SE has already beat out the Pixel 4a.

they do and at a good price too! it's probably the one most people who take photos and videos should get.

Be careful, You'll be able to open Facebook half a second faster on the SE2 but that fraction of a second comes at great cost because that phone is lacking the upcoming Pixel 4a in almost every single way otherwise....and the SE2 will be more expensive if you want the fast charging that's included with the 4a.

Just stop dude. You keep repeating the same info like a trollbot. We get it. You really want people to get a Pixel. I left ios years ago and I've had an android phone for about 4 years now but I'm getting an iPhone SE because I know a great deal when I see one. It's just common sense.

Going on 3 weeks with my new iPhone. Don't miss android at all

Google services on an iPhone. It's like I never left.

RY, your comment is very interesting and spot on. My iPhone XR is all Google and Microsoft, rarely use Apple apps. Yes, Apple apps are high quality, however I prefer using Gmail than Apple Mail. Apple iWork is a extremely capable set of apps, therein I have hundreds of files. However, most everyone I communicate with use either Google suite of apps or Microsoft apps, rarely do I see a Apple user using iWork. So for updates and having access to all Google and MS apps, I am staying with Apple hardware. Now, if Samsung would extend their major OS updates as does Apple of course willingly I would give them a go. Purchasing a expensive cellphone knowing for two years only Samsung will update it OS makes one not-right-bright.

The argument will then go into well iOS sucks because I can't customize it with themes and whatnot. Which is fine and irrelevant to my use cases as I spend most of my time on device in apps rather than looking at things updating on a home screen. Wow, you made all your icons red? Slow clap for you. One of the biggest advantages that Apple has is their scale with less SKUs. Samsung would have to cut a lot of devices out of their lineup in order to do updates the way Apple does updates.

None of it is as good if you can't set your own default apps. Let's face it, you never really valued all of the Android options, choice and control in the first place if you don't miss that on iOS.

Google's apps can open other Google's apps. I never said it was perfect. It's just not as hard to switch back and forth from iPhone to Android when you're in the Google ecosystem.

It's murder if the second gen iPhone SE has the 12MP wide from the iPhone 11. It's just assault if it's the 12MP wide from the iPhone XR.

It's the same camera setup. 😏

...the same as the XR or the 11?

Both have the same ultra wide sensor and processing engine, the difference is in the extra camera sensor on the 11. So if you keep with the same wide angle sensor, both or should I say all three phones will perform the same.

Both have the wide sensor. The 11 gains an ultra wide. But apparently the 12MP wide sensor on the XR is not the same as the 12MP wide sensor on the 11.

as far as they know on apple centric sites it is. there are software differences and processing differences but the sensor itself is the same. Not to worry, the sensor is the setup from the 11.

It's not. There's no night mode. It's more likely that it's the XR camera.

No it's not. Quit spreading false info. Developers talked about it on reddit and looking like it's the same sensor as the XR due to the portrait things.

No night mode/low light performance on the SE 2 for some weird reason and the selfie is a very old 1.2 mp camera. Other than opening an app a fraction of a second faster the Pixel 4a will beat the new SE on most all fronts, including cameras.

Apple's spec page shows a 7MP ƒ/2.2 camera.

Apple just won the war... With 5 years + of updates you'd be mad to buy anything else...

"I didn't think we would get to a point where an iPhone offers more value than Android phones, particularly in the mid-range segment. But that's exactly what's going on with the iPhone SE. Let me reiterate: you're not only getting a phone with reliable hardware, but you're also getting great software and more updates than you would on Android, all for $399. If you're in the market for a mid-range phone in 2020, you should absolutely consider the iPhone SE." at $400 and security support for let's be honest here 5, 6, 7, years, this offers WAY more value than anything Android in the mid-range segment if not any Android phone.

Not according to leaks of the upcoming Pixel 4a. Other than being able to open an app a fraction of a second faster the new SE will fall short in just about every metric to the Pixel 4a...and we know that the Pixels see fast updates with 4 major OS versions in it's life and another year of security patches after that.

So what will the 4a have over the SE other than maybe the camera with Google's AI? Less resale value, less support, much lower end processor. Not to mention pixels get 3 years of OS updates. Apple usually gets 4-5 years of major OS updates.

RY iPhones offer better value than Android phones period with with the longest software support of any phone and it just works. And mid range simply can't compete with the iPhone SE 2020 for value, specs and software support.

Except that not everyone wants iOS.

Only have of the US does.

And the other half doesn't.

And is there anything wrong with that?

And the half of the UK does as well.

Yeah, and iOS will not be the only shortcoming the SE has what compared to the Pixel 4a.

@Ampo2222 The Pixel 4a will only win in screen and Google's software isn't even the best Android experience anymore let alone being on par with iOS and the 4a will have more shortcomings than the iPhone SE by far

Why? The Pixel 4a leaks show a much better quality and better designed phone overall and it will have very good performance to go along with 4 major OS versions over its life and another year of security patches after the OS updates end.

Apple wins again with the iPhone SE 2020 and has affectively killed off Android in the value flagship segment now and to add insult to injury for Android phones, no Android phone in the price range of the SE 2020 runs Qualcomm's latest and greatest SoC and even Qualcomm's latest and greatest SoC (the Snapdragon 865) is no match for the A13 Bionic chip Apple ? which is the same processor as in the iPhone 11 series and Android and Apple has outsmarted Android OEMs again.

Apple's scale is part of their innovation.

@Ry exactly, Apple has shown time and time again that you don't have to be first to innovate, it's about getting it right.

The new SE will open Facebook half a second faster but that's about it for advantages. The upcoming Pixel 4a is set to "kill" it in just about everything else and it will be cheaper with fast charging included.

@Ampo2222 For one the Pixel 4a won't even have a flagship processor like the iPhone SE 2, it won't have the long software support that the SE 2 will enjoy and the SE will be available in more storage configurations than the Pixel 4a, oh and don't forget the Pixel 4a will be discontinued in a year compared to the iPhone SE 2. Apple has killed the Pixel 4a and it's light's out for the Pixel 4a.

🤣🤣 same comment every time 😂😂

@Ry If this were a fight the Pixel 4a would be down and out in the first round again the iPhone SE 2 😂😂😂😂.

That means half a second less time needed to endure Farcebørk.

Blah blah blah blah blah. Stupidity. There just too many options with Android and not everyone can do ios. Nobody is getting killed calm down

Oh yes they are, the Pixel 4a and all other Android mid range phones just got owned by Apple bwhahahahahahahahaha.

If only I didn't already have so much investment in Android (apps, game saves, etc).

While you would have to start again with your games on iPhone which I understand in regards to apps and game saves, at least with an iPhone your games are saved on the cloud with iCloud unlike Android where as I'll have to start again. Which is frustrating and is one of a few reasons why I'm going back to iPhone in a few months.

My Android games are saved in a cloud.

Ummm...Google Play Games. Works just like I cloud ..

Lol yup. Pretty sure he's an iPhone user...

True. But that doesn't really help going from Android to iPhone.

Not every game has to Google Play Games, especially my most important game, Football (Soccer to you) Manager Mobile 2020 which isn't saved on Google Play Games so I would have to start again if I changed Android phones, with iPhone I don't have this issue thanks to iCloud.

"It sounds crazy to say that Apple including its expensive new chip in its budget phone makes sense, but it does. Apple has but a single processor to design, manufacture, support, store, and deliver." THIS IS WHAT NEEDS TO BE DONE ACROSS THE BOARD Maybe exynos could finally be good that way 😂

They don't though. The A12 at the very least will continue on and people would not notice the performance difference. Apple could have made a much better quality phone overall, like Google is doing with the Pixel 4a, if they saved money on an older chip still in production.

The 2 things I was looking forward to with the 4a was a bigger oled screen and the camera. All that said with the SE it just kills it. Granted it's an older design, but otherwise everything else is new, So we have the security of device longevity for 4 years, Yes 4 years of updates. Modern hw with something no mid range seems to have in qi charging. All for the same cost as the lower performing 4a. I love Android but in these times I know where i'm putting my cash and it's not Google.

4? Wouldn't surprise me to see 6 or 7 years on the new SE.

Realistically 5. Not more.

If rumors hold, 2015 devices like the iPad mini 4 and iPhone 6S will make it to iOS 14, making it to 5 years of support. With how much headroom Apple has been including in their chipsets, I don't think it'll shock anyone to see 5 to 7 years of support for A13-based devices. Even still 4 is better than a generous 2 years of support that some Android OEMs (barely) give.

I think the bottleneck will end up being ram down the line. The processors inside even the Iphone X still aren't really being fully pushed.

Nope. The SE display is old as dirt and a cheap LCD. Same with the ancient 1.2mp selfie. Even the main camera had been gimped with no low light performance included. Same with fast charging, also not included. In fact, other than opening an app half a second faster the new SE will fall short in overall quality of the upcoming Pixel 4a in almost every possible way....and it will cost more if you want the fast charging feature that is included with the 4a.

It has a 7MP front-facing camera.

I currently vacillate between a 4-year-old iPhone SE (64GB) & a 32 GB Nokia 7.1. I'm more of an Apple user but see the merits of Android as well. Especially the AndroidOne program offering 2 years of system updates & 3 years of security updates. I have researched the new iPhone SE more thoroughly than others on this forum, it would seem. I can assure you that the new SE DOES come with fast charging, it just doesn't ship with an 18W fast charger.
I am getting a 128 GB SE (2020), 64GB isn't enough to hold all my music & all photos at full resolution. In the case of the new SE's fast charging, I'll just use the Nokia 7.1's 18W charger.
Another bonus is iPhone 7/8 cases are much cheaper & more varied than new SE ones (I will NOT use a phone without a case).

Most of the people I know that have iPhones don't update them.

They auto-update now so this comment is null and void

They can be set to auto-update. Many, however, are not set to do so. Plenty of folk just keep asking me what the red badge on their settings app's icon means.
At least three of my associates have recently "updated" to the iPhone 6 because it was a newish phone from the carrier and only tacked a few bucks a month onto their account. These things will get an occasional update to iOS 12, there as one recently.

They're set to auto-update by default, unless you manually go in and turn it off, which really you have no reason to.

Wow, a lot of iPhone lovers here. Sure it's an awesome phone at an awesome price, if you can deal with iOS. Me, I cannot, and I've tried. The Pixel 4a will still take as good if not better photos. Will have a bigger screen with smaller bezels. Will still get 3 years of updates. Will still get great battery life. And will still have a superior OS, in my eyes.

This, exactly. I also do not get along with iOS, so none of this matters to me. Is this still Android Central?

Not sure why these articles are even written here. For years, Apple apologists have raved it's about the experience with Apple and iOS. Now it's the processor is better than yours. Who cares, the experience for many on iOS is garbage. My 3a and S20 experience are great. The average buyer doesn't care about 5 years of updates, hell they don't care about updates at all. That's just phone geeks. It's a great way to get clicks, though. ;-)

I agree I just don't like using iOS, otherwise this would look great to me.

I've used iOS for 2 years until 2015 when I first tried Android and I wasn't impressed, Lollipop was a buggy hot mess and made me want to go back to iPhone which I did in 2016 and got an iPhone 6s Plus but I quickly got bored and went back to Android and then I missed iPhone and went back in 2017 with a 6s Plus again and iOS 11 was a hot mess and along with the battery gate scandal it made me leave Apple for good and have been with Android ever since, I have a OnePlus 7T and Nokia 8.1 and love them both but do miss iPhone and most people I know are iPhone users and I miss the better app experience and being able to transfer my games via iCloud to continue where I left off which is one of a few reasons why along with the fact that messaging on Android is inferior to iOS which is another in a list of reasons I'm going back to iPhone with the iPhone 11 Pro Max. Plus I miss iOS which has improved a lot since I left in 2018 and I miss getting updates from day 1 with other iPhone users.

I didn't find the app experience better on iOS. We must use different apps.

@Wipey Z I don't like having apps clutter my home screen but I made use of creating folders for my apps on iOS before and will do so again.

I've never loved the layout of Apple phones.. so much easier to customize an Android phone and transferring files are so easy to do. Peripherals are so much cheaper to buy vs the proprietary ones offered by Apple. I'll stick to my Android ecosystem any day.

I still don't love the current iPhone layout but folders have helped me - I use a one screen setup for all apps.

There are third-party peripherals for the iPhone, I actually use a third party charging cable as the Apple ones aren't that good quality

IPhone has done it again eh. I myself even tempted since I usually like to have a back up phone (usually another midrange android) but man this is one is such a good bargain. I love smaller phones. Another reason being the resell value is usually really good even after several years on iphones. My understanding is updates are usually what at least three years? My only two complaints are why even release a 64Gb version that's useless. And also no headphone jack?

If Samsung came out with a phone that size with that screen (forehead and chin included) with a single rear camera, the best Android chip, wireless charging, IP67 rating, 4G only, no SD slot, and non of their fancy software tricks starting at $400. Well everybody here would crap on them and that phone! By the way Pixel was never in a war with the iPhone. If it hurts anybody it will be Samsung.

It's hurts One Plus also, who picked the wrong year to go all wanna be flagship. People aren't looking for bells and whistles right now. People want respectable specs, great value, battery life and to know the company still respects their purchase with long term updates. Good news is, Samsung and Google will likely counter this move, and then the rest of Android will follow. No one but geeks are going to buy 1,000 phones or even $699 phones without a great deal attached. I don't know a single person not worried about their finances right now.

Exactly... I don't get why people are praising this full of compromises phone.

Every android phone is comprimise

Every phone has compromise

Because it's $399 for a 64GB SKU with the 128GB one being $449 and having essentially identical core hardware with the iPhone 11. No, it's not exactly the most exciting phone Apple has made. But that's still a solid deal for those who want an iPhone but either don't want to pay a ton or still want the older iPhone 8 design.

I would never buy an iPhone. Even if it grows me wings and let me fly! All you switchers are just traitors! 😂😂😂

I'm not sure you count in this discussion, neither do I.

ha ha i love fanbabies use of the words traitor etc in these threads....great entertianment from the triggered.

Sorry I don't use iOS so I don't really care what price in comes in at.

More or less Spec for spec it's an iPhone 7. Yes updated chip, means new os...now this has 4k recording which was app dependent on older iPhones (starting with 5 or 6 I remember). I mean why is this so expensive? Get an Iphone 7 for less.. Sure, updates are off and Apple has throttled down its performance but why spend the extra money on an se since it's going to happen to it in the next cycle? And that screen.. Geez.. They just took the iPhone 7 and changed the chip.

I totally disagree. I have an iPhone 11 pro and a Pixel 4. The so called faster iPhone chip is not at all noticable when using the phone. I would argue some apps are faster on my Pixel 4. I'm sure the A13 is super fast but as it stands right now, IOS is definitely not talking advantage of it

Test them against each a year from now, two years from now. See which one still holds up. There's a reason people continue to buy even older iPhones, while us Android fans have to upgrade every year or two.

IOS 14 would have to make use of Apples processor for me to actually care

iOS makes full use of the processor when it needs to, this is one of the reasons why iOS gets more battery life out of the same sized battery than you would get on Android

Small body with outdated looks. None of my friends or family are interested in this one.

Well, Apple didn't make it to impress. The SE was specifically designed to satisfy those who preferred the iPhone 8 design because they either preferred its size, fingerprint sensor and/or the lack of the display notch. The fact that it's essentially a recycled iPhone 8 chassis also does help the price. They have the iPhone 11 if you want a more "current-gen" body design.

Having switched to iOS in 2018 I can honestly say even though it has it querks it's been my main phone and I can't see myself going back to android full-time. I still have a Pixel 2 XL and Mate 10 Pro just to keep up with android updates but I just love the simplicity of IOS ease of use and apple pay with Wallet has become indispensable to me.
Still love Android will always be my first love but you don't always settle down your first love. This SE is really putting pressure on Android OEMs now, was looking to get my mom a ne phone and this will definitely be it.

Everything that accepts Apple Pay, excepts Google Pay so not sure how that's a special feature or "indispensable". Also what specific features does iOS have that makes it more simple or better "ease of use" than Android? Anything you can do on an iPhone can be done on Android.

I live in the UK and apple pay has higher limits due to better security, Google pay is cap at £30 apple pay doesn't have that limit also I can use it with my apple watch especially on the London underground just tap my apple watch and go. Apps are far more polished on IOS I get far less issues and this is with me having the same apps on my iPhone and Pixel. Little things like airplay I didn't know I need until I started using it, iCloud integration into services I use that just works. All these little things adds up to a superior user experience for me.

Try to face time or use imessage thelzzz. and get back to me.

The timing of this release was just a bit ironic, really. About a day before, OnePlus launched 2 phones, one that was a slim cut below typical flagship territory and one that's a legitimate flagship, from a company known for making phones with flagship features and even guts more affordable. And now you've got a company known for making phones with ultra-premium price tags releasing a phone with much of the same innards as its flagship but in an older body that can be had for a much lower price. They're not the exact same of course, just a bit of irony in that regard.

bye android.
this thing runs circles around the $1400 Samsung for $1000 less and will get 5 OS updates instead of 1 or 2 and then abandoned like all android devices.
WAY too much value in this phone to make any android phone worth buying. iOS is not $1000 worse than android OS . it may be a little more boring, but it solid, reliable and just works. all the time.
AND if you want Apple Care for LOCAL screen repair etc (when stores open back up) it ONLY 79 bucks!!!!! for TWO YEARS! again, Nothing on android is going to touch the warranty or the phone.

To say this "runs rings around" a $1400 Samsung is a little far fetched. Does it have a "faster" processor? Sure ... And is it better VALUE? Sure .. but on EVERY other front, a flagship Android or Apple device easily accounts for this. Camera - Check ( even mid range pixel 3a accounts for this camera ) Screen Quality ( forget size ) - BIG check RAM - check Facial recognition - check Storage Speed - Check Expandable Storage - Check Is this an absolute bargain entry point into iOS and a great value buy - definitely - does it fill its mandate? Most definitely .. bit let's not get ahead of ourselves and suggest this goes toe to toe with flagship phones- it doesn't and it isn't meant to.

I saw this title and thought it was a BGR article. #jussayin

Wow, you're right. It has also attracted a few Apple trolls...just like a BGR article.

That flagship iPhones can anticipate 4-5 years of updates is largely irrelevant to the majority of their purchases as those users typically upgrade every 2-3 years at the longest. Putting out a $399 phone that has the power to endure 5 years and should see that support is huge as the demographic that will invest that amount frequently keep their phones much longer. If it weren't for the fact that 5g will be widely available in 1-2 years (and certainly within 3) that would be the greatest selling point, and still is for those who anticipate having no functional use for 5g - but we still are a ways from understanding just how and to what degree real 5g coverage and performance will be able to change the way we function. As of this moment, it's tough to argue for anything else in that price segment unless a larger display is highly valued or one is highly entrenched in another ecosystem.
That said, in the current world, discretionary funds are pretty restricted for most people. I'm certainly not looking for anything new any time soon, and when I do it's likely there be a number of 5g options with solid, if not world-leading, performance, in or around that price range to choose from. But in a nutshell... Well done, Apple.

The competition doesn't really support their phones for 2-3 years though 😂

Except for the Pixel line, which is in the title of this article.

"That flagship iPhones can anticipate 4-5 years of updates is largely irrelevant to the majority of their purchases as those users typically upgrade every 2-3 years at the longest. " Not sure where you get your stats from, I know plenty of iPhone users who don't upgrade every 2 years. My sister works at a phone shop and she sees plenty of people with older iPhones

5 years of updates on what? A phone with a 4.7 inch LCD screen with iOS - that I'd hate looking at and using - DAILY(S Pen -loving Galaxy Note user in the house). No thank you. That's not good value for money for me. Quite frankly, I have no desire to even use a phone for 3 years.

But many people don't upgrade their phone every 2 years, so those software updates are invaluable to many

4.7 inch screen and iPhone 8 chassis? I'll pass.

Why is there a post on how a mid-range iPhone beats all Android phones on Android Central? Unless, it's to build up ratings?

As the title says because it's how this price for this iPhone could and will affect the Android mid-range market.

Thanks for the click I guess.

Agree 100%. I thought thought this was an April 1 prank.

iPhone SE 2 Value flagship killer .. Really..? Pixel 4a will have far better screen .better camera. Pure android experience with regular software update. iPhone SE 4.7inch LCD screen size is a big let down.

regular software updates for 2 or 3 years. instead of 5 or 6, but in 2 years the 4a will be labouring with the new heavy laden android OS while the SE will be still skipping along at full speed on the lighter more optimized iOS. it's a fact.

I've never used a phone longer than 2 years, and that's a fact. Perhaps you should toddle on over to iMore, and have a discussion with some other like-minded individuals. I mean, I don't mind giving Apple credit for this, or other things, but to keep preaching at people on an Android site about how much better iPhones are is a bit silly and trollish. If a person does not like iOS, like me, none of your points matter.

Just because you haven't doesn't mean other don't. 😂

Which means nothing to me. Thanks for the obvious info, though.

But it does mean that Android is bad for only having updates for 2-3 years, despite your buying habits

Just because you don't use a phone for longer than 2 years doesn't mean that Android should only support for 2 years, what about if I wanted to give an Android phone to a grandparent who probably wouldn't want to upgrade their phone until about 5 years later? I just couldn't, they're better with an iPhone

Google pixel 4a will have far better display and better camera then iPhone SE 2. with pure Google experience and regular software updates makes pixel 4a better option. IPHONE SE2 4.7inch screen is too small.

No it didn't. You forget there are millions of people that will never consider buying an Apple product regardless of price. I know I won't.

Any specific reason, Hairy Ballsak?

@Harry Ballsak you don't speak for millions around the world, it's more likely the other way around in that millions of people would love an iPhone but don't have the money so a lot of them "settle" on a cheap Android phone that is barely supported.

True, and I am one of those millions. Ever since being told by a "genius" that my iphone 6 was built and designed to protect me from myself, there are no apple products in our lives. (and, gasp, we live quite nicely with our other devices). My current Moto G6 will be replaced with the 4a and life will move on.

Why do people constantly comapre Apple to Android. Apple people are going to stick with Apple an Android people are going to stick with Android. I'm sure there is some small percentage of mobile bi-sexuals that swing both ways but how many is that?

and these comments coming from someone with a name like "harry ballsak" should be taken seriously! There are millions of people who move back and forth. They get sick and tired of phone x and move. Both from android to iphone and iphone to android. It's only a few fanboys here who would NEVER buy another platform.

For the most part he is right, the numbers show very few are interested in switching these days. That said, at this price point, users can explore the other side on the cheap if they're curious and I'm thinking that Google will supply the better phone overall in the 4a for those who do so. You'll be able to open Facebook half a second faster on the SE2 but that fraction of a second comes at great cost because that phone is lacking the 4a in almost every single way otherwise.

I have moved back and forth between iOS and Android and have been on Android exclusively for over 2 years now and I'm bored and want to go back to iPhone now as I miss things like garage band, iMessage and the day 1 updates with other iPhone users, I still really like Android but iOS does the things that matter to me better like a better app experience and far longer software support, far better battery life and standby time (there's no Android phone that beats the iPhone 11 Pro Max at battery life) etc. I still like Android and will always have an Android phone as a secondary device.

I switch often and being in the Google ecosystem makes this pretty easy.

Exactly, i mostly use Google apps so using Google on iPhone won't be problem for me as Google's own Gboad launched on iOS first and at the time I was an iPhone user and dark mode on YouTube launched first on iOS as well. It's ironic that Google tests new features for their apps on iOS FIRST and then being them to Android much later.

"With the A13 Bionic backed by IP67 rating, wireless charging, the iPhone SE changes the paradigm for value." Is this a joke? Lol. The Pixel 4a will be no slouch in performance and it reportedly has better IP 68 with fast charging included, unlike the SE2. Not to mention the Pixel 4a has much better OLED display quality that's bigger, better cameras with Night Mode/low light performance enabled unlike the SE2, a good selfie at 12mp vs the ancient 1.2mp on the SE2. The Pixel 4a will also have a much bigger battery, a modern design with much slimmer bezels, better multitasking with double the amount of RAM, more features and better software among it's advantages. Is being able to open Facebook half a second faster really worth what the cost of the A13 is in terms of relatively poor hardware and features you get in exchange? I don't think so! I figure that Apple was forced to use the A13 at the expense of a better quality phone overall because they have a surplus of them due to lagging flagship sales across the industry. Much like when Samsung "fined" Apple for not buying all the OLED displays that they ordered, Apple may have found themselves in a similar position with the A13 chip. Otherwise it makes no sense to use it when you couldn't tell the difference between it and an older chip and the money saved by using the older chip could have went towards a much better quality phone overall, like what Google is doing with the Pixel 4a.

For me, it's all about integration of my phone's Google Assistant, my Google Homes, and Chromecasts. I know you can use Google apps on an iPhone, but I love just telling my GH to remind me to XXX and have it show up on my phone later, or ask how long it takes to get somewhere and have directions sent to my phone. Also, the call screening feature of the Pixel is just amazing... I can't remember my last robocall. That said, to me the biggest temptation is that you can now buy a cheap iPhone and have access to their watch, which is so far superior to Wear that it'd almost be worth it.

In general, I agree with the author. I mean, you can nick pick and come up with some justification as to why the Pixel 4a is better buy. But Google is no Apple when it comes to hardware. Apple has a big advantage since it makes its own chips (i.e. it can dictate its own pricing), while Android OEMs are kinna stuck with Qualcomm (i.e. a monopoly). Using the Snapdragon 855 or 865 means higher pricing for any mid range device. Of course, no one can match Apple's customer support and timely OS updates. Personally, I would buy the 4a......when its price drops to $250 (and it WILL).

Apple's scale is unmatched. It's highly likely that a significant portion of the tooling to make this new iPhone SE is already done and paid for. SE will probably outsell the 4a 10,000 to 1.

Apple didn't kill anything, they sure put everyone on notice though. Part of Android's advantage was it's low barrier to entry (value), Apple seems to be creating more options for the value conscious among us.

Why do I still come to this site? All these articles covering iPhones. Now an article telling me to go buy an iPhone. If I wanted wanted an iPhone I would have got one years ago. We come here for ANDROID news! Not iPhone puff pieces. How about I hate IOS it drives me nuts. The phone could cost $10 and I still would not buy it. Will those new iPhone have night mode? Will it have my 8 years plus of apps and subscription's from the play store? Or will be a smaller iPhone which I don't like? Stop calling yourself AndroidCentral and rename yourself Techcentral that makes more sense. If the Pixel 4a is subpar then say so. Don't recommend I buy an Apple phone when I could have bought an Apple phone years ago and so could a lot of folks reading the site. We come here because we like Android not iOS.

I think a better question is if you know that they cover a bunch of other stuff and you don't like it, why do you come back here?

Thanks for the view I guess.

Well, Honestly, I dont like android. I don't like ios.

I can understand this point of view. I found faults with Android, and iOS has limitations, so there's a big desire to have a "third" OS. I know people who don't like Windows, and don't want to buy a Mac, so they use Linux. Jailbroken iOS is pretty nice, since you have the benefits of iOS without really any limitations, that's always worth considering, just take note of what versions of iOS can be jailbroken.

This is a win for everyone. Apple's new phone will (hopefully) compel everyone involved with Android to respond with something better.

That's the key word "try" in which Android OEMs won't include a flagship Qualcomm Snapdragon 865, water resistance or wireless charging for $400 which will have far more compromises than the iPhone SE 2, that's a fact.

Wow yall are slamming the iKool aid.

I'm happy that the iPhone SE 2020 makes a new iPhone more affordable, but I don't plan on buying another iPhone.

Wow, looks like Renee sent a bus full of commenters over here, lol. Apple did nail it with the features and price though. Throw a new chip in an old design, add a couple features, notch the price down, and watch them sell. Pixel fans will still be pixel fans, but this will make the 4a a tougher sell. Myself? Not interested at all. I just bought an iPhone 11 six months ago, and neither it nor it's camera were good enough to replace my Android. If the 11 didn't do it for me, the SE certainly won't.

There's nothing wrong with people liking both platforms, sheesh, you Android fanboys act like it's a crime to like Apple, it's not, I've always liked Apple but didn't want to admit it due to the disdain that most Android fanboys hold Apple to.

Please change the name of this site from AndroidCentral. So many articles are written that have absolutely nothing to do with the Android OS

iOS is great until it isn't. Start a download and realise that it stopped as soon as the phone locked. Click an email link in contacts and it tries to install apples email app instead of opening your preferred app. As polished as it seems, you venture outside Apples apps, and it begins to feel broken. I attempted the switch about a year ago and it only lasted a couple of months. The hardware was fantastic, the software experience outside of apples ecosystem, not so much.

I'm not sure what apps you used, but when I start a download it keeps downloading in the background and when the phone is locked. I've not experienced this "broken" feeling that you talk about, although I do use paid apps which are much better quality than the free ones

Indeed. The worst thing about the iPhone, Is Apple.

iOS's limitations haven't been that apparent to me in later versions. The main limitation I had was the lack of filesystem, but I think it was either iOS 12 or iOS 13 that fixed that. We have the Files app for browsing files stored locally on the device like a normal file manager, and I can download files through the browser. If I need to transfer files from my Mac, I can use AirDrop. If it's Windows/Linux, I can use a HTTP file server (probably other ways of doing it too). I can't get emulators, but there's a huge amount of classic games on the App Store (including good ol' DOOM). Third-party apps that you pay for which have good reviews have worked better than the integrated Apple apps for me. There's still the issue of default apps, but it looks like Apple is going to fix that as you can remove built-in apps now. Many apps have Google Cast support, so it works fine with my smart TV that doesn't support AirPlay, and there's apps on the App Store for mirroring with a variety ot TVs. iOS's limitations are decreasing with each version

I like both platforms, but don't want to return to an iPhone 8-like design. When it comes to value flagships, I'd rather have a midrange Android with a bigger and better display. I think I'd like the new iPhone SE more with a modern front and TouchID on the back.

My question is this: Why is this article even here? Who greenlighted this Apple advertisement on ANDROID CENTRAL? Wouldn't this article (and obviously the writer) be better suited for one of the many Apple sites out there? Wouldn't that make more sense? 🤨🤨 As a parting gift, my main observation in this is how many Apple/iOS lovers there are that take time out of there perfect day to come to Android world to comment on so many posts. 🤔🤔

Are you so insecure that you can't stomach a post about something other than Android? I feel like this is little kid approach to covering his/her eyes and pretending something doesn't exist. The funny thing is YOU took the time to comment on this post too.

Which gives these articles more views and impressions. lol.

Why would anyone ask, So many rhetorical questions?

Why settle for this, when for $100 more you can have a Pixel 4 for $ 499. A modern phone in every way.

I just preordered mine and I presently use a Note 9 which I have no intention of getting rid of. This is just too good of a value in the long-term and apple is brilliant in releasing this right now. The one negative I can think of for Apple with this release is proof that they've been overcharging their supporters for their higher end phones for quite some time but Apple has a history of doing that anyway. I almost wonder if either this phone was supposed to release at a higher price point or if it was supposed to release with lower specs? It's an amazing deal for a lot of people who need a dependable electronic device right now but who may not have the resources to get a more expensive phone due to the economy.

I had a Nokia Lumia 1520 that I used as a phone before my favourite apps either vanished from the Windows store or became deprecated through lack of support or updates. But my main use of that Nokia was its 20MP camera. When it stopped working (display issues) I went hunting for a suitable mid-priced replacement, eventually settling on a 32 GB Nokia 7.1. I do most of my phone work on my 4-yr-old iPhone SE, but its battery is shot, unable to get through a day without needing at least one charge.
The 7.1, though, in the same usage scenario, goes almost two days, understandable in that it's almost twice the original capacity of the old SE's battery.
It's great that I can keep up with the advances of a thoroughly modern & customisable Android OS with a decent-performing phone.
Sorry for the ramble.
My impressions of the new SE?
My 128 GB version should arrive in two days. I already have a cheap iPhone 8 case to protect it from my clumsiness plus I've taken out AppleCare+, something I only ever did once before, when the original iPad was released in 2010.
Android Central Newsletter
Get instant access to breaking news, the hottest reviews, great deals and helpful tips
Thank you for signing up to Android Central. You will receive a verification email shortly.
There was a problem. Please refresh the page and try again.