New Foursquare Android 4.0 app released with revamped design and more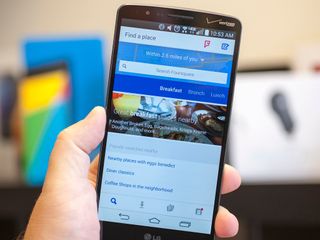 As promised a few days ago, Foursquare has released a new 4.0 version of its app for Android that includes a revamped design for the app, a new logo and more new features.
Here's a general description of the new app from the official Foursquare blog:
And sure enough, that's how it works. Fire it up and you'll be asked whether you like beer and tacos, or tacos and beer. Or beer. With tacos. And something about beer and perhaps tacos. And other foods, but those are the only important ones, really. You'll also be reminded that you'll need to use the Swarm app to actually check in to anything, which is still kind of annoying.
Snag the update in Google Play or at the link above.
Out of honesty, is Foursquare better than Yelp? I'm hoping to pick one of these up.

yeah, this seems to do everything that Yelp already does

I've been using Foursquare but then I started leaning towards Yelp. This new update brought me back to Foursquare though. The new discovery through tags is awesome.

I don't get the Swarm thing? Why have two app's? Posted via Android Central App

It allows each app to be smaller. They can also release new versions faster since there is less to test, etc. It also gives people more options if they just want a discovery app (Foursquare) or a check in system to get stickers, loyalty nods & friend tracking (Swarm).

I'm confused why 2 apes Posted via Android Central App

when a mommy ape and a daddy ape love each other very much....

+1 Lol! Posted via Android Central App

Wins the Internet! Posted via Android Central App via my Sprint Tab 3 LTE.

I love it when a grammar mistake can be joked about perfectly like that.

Never used Foursquare before, what is the main point of it?

As far as I know the main use of FS used to be to check-in places so your friends could see and you could compete for points and badges and become the mayor of a place if you checked in often enough. Then they added reviews and ways to search for places to go based on distance, category, etc. Then recently they moved the check-in functionality to a new app Swarm leaving only the review/search part. Very similar to Yelp. If you just want to check-in then just download Swarm and skip FS. Posted via Android Central App

Sad part is the badges and mayors seem to have gone by the wayside. That made the app fun to use. Now you check in and it just seems boring. I can use Facebook and Google+ and get the same satisfaction.

So that's it? Ehh, I am fine without it then. Posted via the Android Central App

Well the check in part and badges are all in swarm now. Since I only used foursquare for the check ims and such I uninstalled the last few foursquare apps because they don't do check in anymore. And I only use Swarm now. No reason to have two apps. OnePlusOne Special Edition

Check out both apps (FS and Swarm) Google Play feedback and Foursquare facebook page comments. Bet someone is thinking they made the wrong decision!!

I installed Swarm on my BlackBerry 10 via Snap/Google Play to give a try. Two app idea is terrible. Good thing is that FS didn't change the native bb10 app so I still get the original combo app. I hope they don't change the BB10 version. Posted via Android Central App on BlackBerry Z30

bb10 is probably the last on the priority list, expect it around 2018

I used to be a huge foursquare user. I loved the points, mayorships, and badges. Then they took away the ability to check in on the foursquare app and only available for the swarm app.
I shouldn't have to install another app to do everything that the first app used to do. Uninstalled the day they took away check-ins Posted via Android Central App

Agree! I used for years, clear back to when I 1st got my Bold 9930. This Swarm mess, has caused me to stop using Foursquare completely. I deleted it and used it exclusively from my Pebble for a while, then decided to drop that as well. It just pisses me off and I'm done. The whole 2 app thing, killed it for me. Posted via Android Central App via my Sprint Tab 3 LTE.

Instead of badges they want to reward you based on reviews you leave. Looks like back to Yelp I go. Posted via Android Central App

I too hate the 2 app set up. I had close to 12,000 valid check ins and numerous mayorships that I now feel are down the drain with Swarm. Very few of my friends have made the switch to Swarm. It saddens me. I loved after being disciplined enough to Checkin at a major city for 58-60 days in a row to become the mayor of that active of a spot. So fun. No more... Posted via Android Central App

The app is no longer fun, the reason I stopped using it several months ago. Checking in, mayorships, competing, badges and reviews, all together were what made the app fun. Many restaurants and stores used to have specials when you checked in or was the mayor, but now they only have AMEx ads. Oh well
posted from LG G2

Never used Foursquare (never really knew what it was or did until this revamp was released) but I'm quite alarmed at the sheer number of people who used this app and the sheer number of people who HATE the dual-app approach the company's using now. I agree, it's a very extreme thing for them to have disrupted their app this way. I wonder if they'll recant a la Netflix, heed their users, and do something about it...
Android Central Newsletter
Get the best of Android Central in in your inbox, every day!
Thank you for signing up to Android Central. You will receive a verification email shortly.
There was a problem. Please refresh the page and try again.