Latest Android 13 leak shows off four new dynamic themes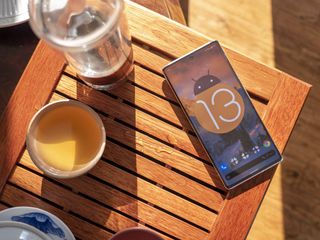 (Image credit: Nick Sutrich / Android Central)
What you need to know
Google could introduce at least four new dynamic themes with Android 13.
A separate leak also gives us our first look at Android 13's new notification permissions.
The first Android 13 developer build is expected to be released sometime later this quarter.
Back in June last year, Google rolled out a new wallpaper theming system called "Monet" to its best Android phones with Android 12 Beta 2. The feature changes the system colors and accents to match the wallpaper that you've set. According to a report from Android Police, Android 13 will bring new and more colorful styles for the dynamic theming system.
The new color combinations, which are said to be under active development, are currently called TONAL_SPOT, VIBRANT, EXPRESSIVE, and SPRITZ. While TONAL_SPOT offers the dynamic theming system's default Material You color palette, VIBRANT is said to offer slight differences in supplementary accents.
Image 1 of 8
Image 2 of 8
Image 3 of 8
Image 4 of 8
Image 5 of 8
Image 6 of 8
Image 7 of 8
Image 8 of 8
EXPRESSIVE would offer a wider range of colors, including some that may not actually be in the background. SPRITZ is said to be a more muted, "nearly monochromatic" theme. While Android Police's sources claim the new styles will debut in Android 13, we wouldn't be surprised if they are a part of the final Android 12L release.
Image 1 of 8
Image 2 of 8
Image 3 of 8
Image 4 of 8
Image 5 of 8
Image 6 of 8
Image 7 of 8
Image 8 of 8
Besides new color combinations for Monet, Android 13 is also expected to bring new notification permissions. Apps will no longer be able to send you notifications without your permission. While more details regarding the change are expected to surface once the first Android 13 developer beta is released, a screenshot of the actual dialog has been shared by Android Police. Each time an app seeks the POST_NOTIFICATIONS runtime permission for the first time, you'll see the above dialog on your phone.
The new leak comes just days after a mockup gave us our first look at Android 13's new media handoff feature. The upcoming feature will make it possible for users to tap their phone onto another device to easily transfer media playback.
Google Pixel 6
The vanilla Pixel 6 is a value-focused flagship with an eye-catching design, fantastic cameras, and Google's first-ever custom mobile processor.
What's up with Google's fascination with pink?
Even as it is right now on Android 12 the color choices are mostly pink.

Not that many pinks in those color choices shown only the first plate shown. I saw plenty of other colors in both plates.
You must have different version of 12 than I do, I see plenty of blues/greens/beiges. However, the color theming is base on the wallpaper. I guess if you don't use wallpapers with pink it should not be a problem. If it is, then you must have a bad copy. But I use dark colors such as black, blue, and sometimes dark red for wallpapers. Thus I get a lot of green/beige/blue options to pick from.

If you have red in your new be background the system will use pinks.
Android Central Newsletter
Get the best of Android Central in in your inbox, every day!
Thank you for signing up to Android Central. You will receive a verification email shortly.
There was a problem. Please refresh the page and try again.