Netflix announces return date for House of Cards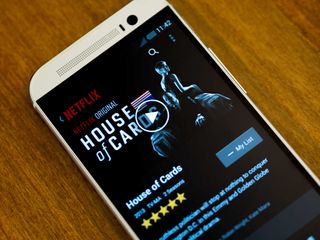 Netflix has announced that its popular drama House of Cards will be returning for its third season on Friday, February 27, 2015. The announcement consists of a short video posted to Twitter, which features Frank and his wife Claire ascending stairs onto Air Force One, followed by the date.
The series follows Frank Underwood in his schemes to rise to power in Washington D.C. through manipulation, intimidation, and more. While no specific announcement was made regarding how long the third season would run, it's likely that it will consist of thirteen episodes, just like the past two seasons.
Are you ready for the latest plots by Frank, Claire, and the rest? Leave your House of Cards thoughts in the comments.
Source: House of Cards on Twitter
I can't wait! Thank you to Netflix for a awesome show! Posted via Android Central App

Am I the only one who isn't a fan of this show? Here is my beef (WARNING SPOILERS): They set up a reality of typical Washington DC politics. Then, they have a ranking member of the House kill two people, including a fellow Congressman, and out maneuver everyone in the White House to rise to the presidency within two years? Then, they throw every "flaw" (meaning, ammo for the opposition) possible on him - a marriage of convenience, has affairs, is bi-sexual, etc. It comes across as a show which just tries waay too hard to prove its worth, and, in the mean time, becomes something far too unbelievable in what should be a very believable world.

You're looking too much into it. It's an awesome show, the sexual stuff is so rare it hardly matters. But the political scheming, that's an everyday thing Posted via...The One

Scheming one's way from Majority Whip to President in two years, while outmaneuvering everyone in the White House (and making them all look like idiots and pushovers) is an "everyday thing" in DC? Hardly.

It's gon' be good! Posted via Android Central App

YESSSSSSSS Posted via Android Central App

Loved the show, but the whole point was for the lead character (Frank) to become President. It should have ended there. I hope this season is good, and doesn't end up like so many other shows that just run too long.

Well, the show is both his rise and his fall. The latter is still to come.

Can't wait!!!! Posted via Android Central App

It's Obama's fault. I'm sure of it. Posted via the Android Central App

What comes first...my nexus 6 or house of cards premiere? Posted via the Android Central App

Frank Underwood for President!!!! DRoID TuRBo this...

The sad thing is that he would make a better President than whatever idiots that both parties can come up with. Either way, we're screwed. Posted via the Android Central App

Don't know what this has to do with Android but hell yeah! Now let's just hope Doug is okay. Can't wait to see what Frank can get into in the white house Posted via...The One

They need to hurry this up this was the series that glued me to Netflix Posted via Moto awesome X

Cannot wait either! Man o man, the shit that he had to pull off to be President of the U.S.! Karma is a bitch and all that he's done WILL come back to haunt him. Its just a matter of time.. Posted via the Android Central App

I CANNOT WAIT!!!!!!!!!!!!!!!!!!!!!!!!!!

Yes, me and the wife have been patiently waiting!!! Posted via the Android Central App

Can't wait. I love the show Posted via the Android Central App
Android Central Newsletter
Get the best of Android Central in in your inbox, every day!
Thank you for signing up to Android Central. You will receive a verification email shortly.
There was a problem. Please refresh the page and try again.