Nest's third-gen thermostat introduces a sleeker look and feel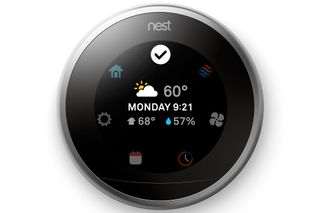 Alphabet has launched the third-generation of the Nest smart thermostat. Looking at provided media, the new appliance will not only continue to save households money on their bills but this latest version of the Nest Thermostat is thinner and better looking overall. There's also a handy new feature to go with the larger display, called Farsight.
Farsight detects when you walk into the room, wakes up the display and reveals either the set temperature or time. Nest has also added even more temperature sensors to ensure the thermostat is accurate. This makes the learning that much more effective with the device detecting how the house heats up and cools down, as well as whether or not it's a draughty environment.
The new Nest Thermostat will even monitor your furnace and display a message should it detect an issue with your heating setup. This feature will be hitting first and second-generation Nest installations later this year, but for now it's a new-gen exclusive. As always, the company will continue rolling out software updates, further enhancing the thermostat's ability to keep you feeling comfortable in your own home.
Buy the Nest Thermostat for $249 (opens in new tab)
Source: Nest
I keep saying I want one and never buy Posted via the Android Central App

Me too I wonder if illiterate people get the full effect of alphabet soup

Me 3 Posted via the Android Central App and Note 4

I have one and it's great. Not sure if I'll upgrade, but the one I have is great.

I'd probably buy if they were compatible with the rest of my adt home automation and security system and I could control within that app. Posted via the Android Central App

Sound like minor improvements. Perhaps a good opportunity to pick up the discontinued model at a nice discount. Posted via the Android Central App

A new look and feel of my thermostat... Posted From my Nexus 6/Nexus 7 2013/Surface pro 3

I would like to see a "starter package" sold at a decent price so I can have a few devices working together.

From someone who owns a Nest. It's like owning an iPhone... Posted via the Android Central App

Well it does "just work" I suppose. I love mine.

Can you turn off Farsight? I can think of many occasions where you would not want a screen to come on and give off ambient light like a bedroom at night, watching a movie, etc.

Just bought two a couple of months ago. Wish I would have known, might would have held off Posted via the Android Central App

My local BMVs have nests lol Posted via the Android Central App

Had the second gen. It got an update, I wasn't around much and it kept restarting every 5 mins or so. Which fried some rather expensive parts on my 1 year old system on my brand new home. My friend had one also and a similar thing fried a capacitor. After both incidents lead to no warranty coverage simply because of a nest thermostat I did some research and found I wasn't alone. It's a shame I really liked the app, and the design of nest. I went to a Honeywell smart color touch screen thermostat. Works good,just less cute features and less polished app. Yet you can tell Honeywell has been in the thermostat business a lot longer. It's also nice to have a thermostat that accurately reads the temperature of a room now.

I have 2 generation 2 nests. Software update? :) Posted via the Android Central App

My "dumb" round Honeywell thermostat is in a prominent location in the living room, and I recently got paint on it. I'd love to have the sleeker-looking Nest. I'm hesitant about the price, installation, and definitely don't want any heating and cooling issues, like the guy above.
Android Central Newsletter
Get the best of Android Central in in your inbox, every day!
Thank you for signing up to Android Central. You will receive a verification email shortly.
There was a problem. Please refresh the page and try again.