Nest launches Hello doorbell, smart lock, and temperature sensor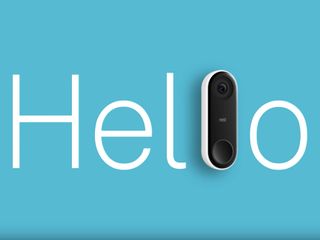 After making a big name for itself in the smart thermostat and security market, Nest is finally ready to take on Ring with its new Nest Hello doorbell. Nest announced earlier this year that the Hello would ship this month, and now on March 15, pre-orders are over and the gadget is ready to start shipping.
Similar to other smart doorbells, the Nest Hello features a button that visitors can ring and a camera that shows you who's at your door. The Hello's camera has a 160-degree field of view with 4:3 HD + HDR recording, and it can alert you via the Nest app and Google Home of any motion, sound, or people it detects.
You can leave pre-recorded messages for visitors to let them know you'll be right there, or you can communicate back and forth using the Hello's built-in microphone and speaker and Nest app on your phone. Hello costs $229, and it's available right now at Nest's website, Best Buy, Home Depot, and Lowe's.
See at Best Buy (opens in new tab)
Along with the Hello, Nest is also launching its Nest x Yale smart lock. This is something that Nest and Yale have apparently been working on since 2015, and after three long years, it's finally available for purchase.
Available in Satin Nickel, Oil Rubbed Bronze, and Polished Brass, the Nest x Yale replaces the traditional key lock on your door a keypad-equipped one. You can lock/unlock your door by entering your custom key combination, or do so remotely via the Nest app.
Nest's Home/Away Assist feature will automatically lock your door once it detects you're not home, and if you use the Nest Secure home security system, the Nest x Yale lock will automatically disarm this once it's unlocked.
The Nest x Yale is also available for purchase right now for $249 on its own or $279 for it and the Nest Connect.
See at Nest (opens in new tab)
Last but not least, Nest is also launching a temperature sensor that works with the company's smart thermostats. Simply place one of the sensors in a room of your house, connect it to the Nest app, and you can use it to make sure that room stays a certain temperature throughout the day.
The sensor works with the 3rd gen Nest Learning Thermostat and the Thermostat E, and it costs $39 for one or $79 for a pack of three. Pre-orders are open now with shipping expected to begin in April.
See at Nest (opens in new tab)
Android Central Newsletter
Get instant access to breaking news, the hottest reviews, great deals and helpful tips
Joe Maring was a Senior Editor for Android Central between 2017 and 2021. You can reach him on Twitter at @JoeMaring1.
I hope AC plans on doing a review of the Hello. I would love to see AC's take on this product.

Got my Hello shipping notice. Should arrive today. I can't wait to replace my Ring doorbell and see how the Nest Hello works.

With out a key or any way to manually unlock it how do you unlock the door if this smartlock looses power or malfunctions? Most other smartlocks are battery powered and still have a key to manually unlock the door if the battery dies.

Typically they have a connection for a 9V battery on the bottom of the lock to supply temporary power... Just means you have to have a spare 9V battery laying around outside your house/in your car instead of a key

The sensor is much needed but I have a Gen 2. If I change out I may go Ecobee that comes with sensors. Still good offerings.

I left Nest, because they were too slow to implement room temperature sensors. I still have the first gen model. I got an Ecobee3 over a year ago and haven't regretted it. When my Ecobee3 starts to go kaput, I'll possibly take another look at Nest. Possibly.

I'm excited about the sensors. I just got the Nest Thermostat and was just wondering if there were thermometers that work with Nest.

Took long enough to release a temperature sensor . . . that isn't backwards compatible . . . sheesh . . .

Just installed mine. So far it's great. The alerts when someone rings the bell actually alert me.😀 The Ring Pro notifications would fail at least 50% of the time. The notifications are actually much better and I like the fact that I can jump right to the active video with two-way talk which works very well. I haven't tried all the features yet like the familiar face and such but the wide angle is really an improvement over the Ring doorbell and so far I love it

The Hello doesn't seem to want to allow me to add a Nest Aware subscription, so I have no video history or familiar face still. Familiar face seemed to work earlier, now it's saying I have no subscription. Anyone else have the same issue?

It's fixed now, apparently a Google server issue. All set.

Good to know, thanks for posting that.

Pre-order price for the 3pk of sensors is $99 on nest.com.

One day in and I love the Hello. The HDR is pretty great and I love the wide viewing angles (vertically especially). Great to be able to see if there is a package on the ground, etc. The notifications are quick. Clicking on them to see and interact with the camera has been very very reliable - in stark contrast to the Ring Pro which it replaced. What a difference. The familiar faces feature is excellent, and its really cool that it announces a ring on the Google Homes in your house - though I still cannot have it announce on just SOME. So far it's announce on all or none, even though the Nest app says you can adjust it in the Google Assistant app. I haven't found settings to change it there. In any case 1 day it, Hello is pretty awesome. Very very glad I switched from the Ring Pro
Android Central Newsletter
Get instant access to breaking news, the hottest reviews, great deals and helpful tips
Thank you for signing up to Android Central. You will receive a verification email shortly.
There was a problem. Please refresh the page and try again.