NBC Sports introduces 'Premier League Pass' at $50 per season for cord cutters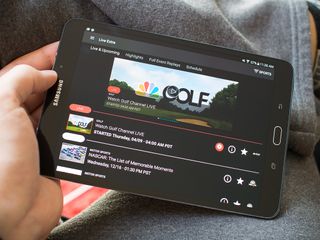 The opposing forces of hating cable providers while also loving sports just got a little friendlier. NBCUniversal has announced that it will offer a "Premier League Pass" subscription service for those who don't have a cable subscription but want to keep up with the English Premier League. The subscription, which will be available in August as a part of the "NBC Sports Gold" platform, will cost $50 for the 17/18 EPL season and give subscribers access to 130 live matches and pre- and post-match studio programming.
Previously in order to watch EPL matches in the U.S. you had to have a cable subscription that included NBC Sports Network, where NBC broadcasts a majority of the big matches, while streaming every match online. The amazing part about NBC's deal for EPL is that it actually makes more matches available in the U.S. than those in the UK even get access to. NBC has been particularly good about making the content available across multiple platforms, supporting the web, Android, Chromecast, Roku and more.
So with Premier League Pass, a phone and a Cast-enabled device, you'll have access to more EPL matches than you could possibly watch live for $50. If you're a Premier League junkie living stateside you'll find this to be a pretty sweet deal. While there are other subscription services of this ilk, such as MLS Live for the U.S. domestic league and Fox Soccer 2GO for more obscure competitions, nothing on the level of streaming the EPL has been offered before. The one catch, it seems, is that some of the big headline matches will be reserved for NBC proper — which thankfully is a channel most people will have access to with an over-the-air antenna via their local NBC affiliate.
Importantly for those who do have cable subscriptions, there isn't a huge downside here. NBC's announcement claims "There will be no decrease in matches on NBC and NBCSN compared to prior seasons" and additional EPL matches will still remain available on NBC Sports Live Extra through its website and app when you authenticate with a cable provider. But cord cutters don't care about any of that — they're happy they now have an option to follow the EPL without jumping through cable provider hoops.
Get the Android Central Newsletter
Instant access to breaking news, the hottest reviews, great deals and helpful tips.
Andrew was an Executive Editor, U.S. at Android Central between 2012 and 2020.
I don't think comparing this to MLS Live is a fair comparison at all. MLS Live only gives you out of market games. My local team plays on a Fox Regional channel so all games would be blacked out for me. IF MLS offered something like this package where it did not blackout games I would subscribe to MLS Live and give up cable. As it is, if I cut the cord I am stuck suscrbing to Fubo.TV as it is the only other option besides cable that has the Fox Regional my team's games are broadcast on. I know because I have vetted every service available in my zip code. What I am trying to say is this service looks better than MLS Live.

That's not true, I have Playstation Vue and it offers both Fox Regionals in my area (Fox South and Southeast). Until a few weeks ago it included BeIN Connect, but I still have NBS Sports, all the ESPN networks, FS1, FS2, Big 10, SEC, and others. $34.99 is a lot cheaper than what I paid in cable, however the loss of BeIN sucks as it allowed La Liga, Series A, and League 1.

Sorry, you are correct. I keep forgetting MLS live is handled differently than the old service. That said, I entered my zip code and my team is blacked out for me. So I was, uh half right? Either way, I still stand by my assertion this is better than MLS live because it isn't subject to blackouts and for where I live only Fubo carries my particular Fox regional. Sorry for creating any confusion for anyone looking into MLS Live.

The intention isn't to say that MLS Live is a direct corollary to Premier League Pass, but to simply describe that there are indeed other streaming soccer options that have been made available in the U.S. More on your point, MLS Live only forces blackouts for nationally televised games on ESPN/Fox/etc. — whether or not your local team is blacked out is up to the local providers ... and in cases of blackouts in your local market there's a chance you could be watching that game on your local TV affiliate with an OTA antenna. That's the case for Seattle non-national TV matches. Premier League Pass doesn't have "blackouts" because there's no way to have a "local" game ... but PLP also doesn't stream every match of the EPL season either. It's only streaming 130 of the 380 of the season ... even though they're probably most of what you'll want to watch any given week, it won't be every one and you'll have to resort to the local broadcast w/ an OTA antenna for some of those big matches on NBC proper.

I understand there are no blackouts for EPL in the US. As to my team, no they are no longer on a local affiliate. They were for last 6 years but moved to a Fox Sports Regional because they are greedy ********. AND because that same Fox Regional broadcasts over 150 local MLB games I am usually stuck watching it via the crappy FSGO app. And as I stated above, all broadcasts in my ZIP for the team I follow are blacked out on MLS Live (Normal + National broadcasts)

I have noticed a lot of MLS clubs striking deals with larger regional affiliates that will likely cause the same problems for a lot of people. For me, the solution for those "can't watch any other way" situations is a VPN + MLS Live. Sucks, but gotta do it to watch.

Facebook just landed a deal to livestream the Champions League matches....amazing times we're living in for football.

MLS Live doesn't always black out local matches, it depends on the team. I'm in the Columbus market, but I can watch every Crew SC game on MLS Live with the exception of national broadcasts (FS1, ESPN, or UNIVISION)

Would this work in the uk when using a vpn

This is a terrible move from NBCSN. It's good of them to provide an option, a limited one but an option nonetheless, for non-cable subscribers. It's really dumb that they're devaluing the package to cable subscribers to do it though. I'm not sure, Andrew, why you don't see "a huge downside" for cable subscribers. Those 130 games on the Premier League Pass won't be made available any other way. And they also said that every team, even the big clubs, will have at least 3 matches locked to the streaming service. So I, a Tottenham Hotspur supporter and a PS Vue subscriber, would still need to kick out the extra $50 if I want to watch every single Tottenham match next season (something I've been able to do for no additional charge the last 5 seasons since NBCSN would stream every match if you were a cable subscriber). All told, this just ticks off cable subscribers and provides very little to cord cutters. NBCs weak response that "it's still better than what they have in the UK" also rings as tone deaf.

This is 100% a win for cord-cutters. As a Premier League supporter, the only reason to keep a costly cable/satellite service before was because they offered every match via broadcast TV. If a match was not on NBC, NBCSN, or another NBC-owned station, it was shown on a bank of extra channels. With those channels no longer existing, there's every reason to cut monthly costs and find a cord-cutting alternative!