My KODAK Moments brings instant gratification to photo printing with in-store kiosk integration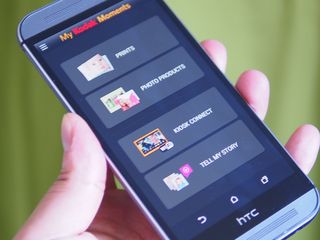 In the world of Facebook, Tumblr, and Instagram, the My KODAK Moments app lets users share their memories the old fashioned way: through prints. With the My KODAK Moments app, users can order photos and photo gifts and have those items shipped or even pick up their photos on the same day in a store.
With photos and images captured with your favorite Android smartphone camera, you can head to a KODAK Picture Kiosk at a CVS, Target, or Bartell Drugs to pick up your prints. Additionally, you can even connect your phone to a KODAK Picture Kiosk via WiFi to do more with your photos while in a store.
For those who choose to go print-free and all-digital, the app also allows you to create video stories with your picture and voice, allowing you to narrate your favorite memories where the stories can be saved in the app, to your phone, or shared on Facebook.
Have you tried KODAK's solution with its in-store tie-in to printing kiosks? What's your favorite photo printing or sharing app?
Get the Android Central Newsletter
Instant access to breaking news, the hottest reviews, great deals and helpful tips.
App looks straight out of 2002 Posted via Nexus 7 2013 or Galaxy S5

Well, it is Kodak we're taking about here.

Who still prints photos, anyway?

True photographers do...people who like to truly enjoy the beauty in something someone took the time and effort to produce...people who enjoy to hang pictures on walls...etc. Posted via Android Central App

+1 Posted via Nexus 7 2013 or Galaxy S5

During my deployments to Iraq and Afghanistan, most of us kept our kids and family pictures in our wallet or our helmets. Out in the middle of no where ones do not have cell phone and coverage.

I think it's kind of neat. People do still like getting this in the mail. I mailed my sister some stuff and she was so excited to actually have mail and she appreciated the handwritten note. She's 17 and lives in her phone, just like me lol. But sometimes it's nice to break away from texting, social media, photo sharing and email. I'm not a great photographer by any means but I think I'll try the app out. Posted via Android Central App

I like prints ... however using these systems really does a number on the quality of the prints. The compression is terrible. It really kills the prints that are 6 MP and higher. Posted via Android Central App

I guess it can only help the quality of my jacked up HTC One M7 photos, then. Posted via Android Central App