My BMW Remote app unlocks car doors, starts the A/C, and more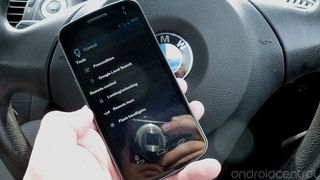 BMW just announced that their remote control application for cars has made the leap from iOS to Android. With it, users can unlock their car, find where it's parked, alter the climate control, and launch into local points of interest search. Here's the full feature list.
"Remote Door Lock & Unlock" allows the car to be locked and unlocked from a smartphone.
"Climate Control" makes it possible to control the interior temperature by adjusting the auxiliary ventilation and heating settings, and programming the systems by timer.
With "Horn Blow" for sounding the horn and "Flash Light" for briefly switching on the exterior lights, users can trigger acoustic and visual signals to help them find their vehicle in crowded car parks, for instance.
If the car is out of sight and hearing distance but within a radius of up to 1,5 km, the "Vehicle Finder" function is able to display a map on the smartphone screen showing the way to the vehicle's location. This function is only available when the ignition is switched off, thereby making it impossible to track the vehicle's movements.
Finally, using Google Local Search, users are able to import points of interest (POIs) from their smartphone into the vehicle's navigation system via the message list.
BMW 7 Series 2010, 6 Series 2011, 5 Series 2010, X3 2010, and 1 Series 2011 should all be compatible with the app. Any BMW owners in the house?
Get the Android Central Newsletter
Instant access to breaking news, the hottest reviews, great deals and helpful tips.
Simon has been covering mobile since before the first iPhone came out. After producing news articles, podcasts, review videos, and everything in between, he's now helping industry partners get the word about their latest products. Get in touch with him at simon@futurenet.com.
Going to try it now! 2012 Z4 with bmw apps - Nevermind, doesnt work on any of the phones i have Photon, Droid X

No go for the US it seems. "This item cannot be installed in your device's country."

I got the same message only I'm in Belgium.

This app is not available in the US. It would be great if it was

The app might be cheap, but the car sure as hell is not.

Also, if you drive any other BMW model built from September 2008 (BMW Z4 from October 2010)?
If so, you can use the following services:
> Remote Door Lock & Unlock
> Google Local Search: address destination search on the Android Smartphone and transfer to the vehicle navigation system
The "My BMW Remote" app can be used exclusively by customers with an active BMW Assist contract. Unfortunately I live in the US and it cannot be installed in your devices country.... Hopefully will eventually work in the USA too.

2003 5 series. Oh well, I'm pretty good at doing all those things myself after all this time.

No love for my '07 3 Series. Oh well...

Hmm...I'm thinking the "Remote Door Lock & Unlock" would start fighting with the keyless entry I already have that unlocks/locks by just grabbing any door handle. I doubt I'll be trying this app, if it worked on mine.
'11 X5

You mean the comfort access system? I don't think it would interfere with the system. I mean does using the remote interfere with comfort access? Not really. Besides, the comfort access system uses a radio that surrounds the car to detect that the key is within a certain perimeter and then uses touch sensors on the door handles to unlock the car. The same applies to when the key is inside the car. The app probably uses the cellular system in the car to remotely unlock the car.

Can't download app yet in the US. I want this so bad for my 2011 335i. I am always wondering, "Did I lock my car?".

i see the 2008 335xi was ignored :(

Seems pretty cool, but although it is displayed on the Galaxy Nexus in your blog it is not available on mine...

I know it would never happen but I would love this functionality on my E30. Time to tell the wife we're in the market for another Bimmer ;-)

It works for me, and it's pretty cool. I'm in Canada and got the same "cannot be installed in your device's country" message at Play, but you can get around this by using a Chrome extension: APK Downloader (google it). Given that I have a 2009 3-series, the functionality is limited to locating the car, Google local search, and unlocking/locking doors. Needless to say, you need to have an active BMW assist account.

Mind sending me the apk, or link where i can pull it from. I have a x3 2012 here in the bay area and am curious to see if I can get it to work. Thanks in advance

Good afternoon sir may I get the apk or link for bmw remote please

dear sir :
I am from canada too, may I get the apk link or apk file please ?
Thanks a million

Oh well. I have BMW Assist and all those goodies but mine is not on the list.

I'm assuming you gotta be in the right country (most likely outside of North America) and have a newer iDrive system. I think if you have the option to do "Software Update" on your iDrive system from the home screen, you'll probably be able to use the functions that are listed in this article. I'm not sure though, maybe you have to have the BMW Apps option installed in your car, which also requires that you have the newest iDrive system.

Video link or didn't happen.