Movies Anywhere lets you watch your digital movies on any service, and Google is a launch partner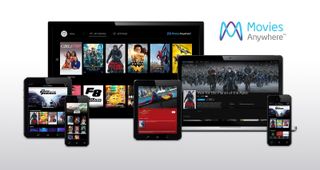 In 2014, Disney debuted its digital extension, Disney Movies Anywhere, which allowed users to bridge the ecosystem divide for movie downloads. If you bought, say, The Lion King on iTunes and Aladdin on Google Play Movies, DMA gave you access to both those movies on either platform — as well as on Amazon and Vudu.
Now, Disney has finalized agreements with four of the other major studios — Fox, Sony Pictures, Universal, and Warner Bros. — to expand the feature into a near all-encompassing service, aptly called Movies Anywhere. The only major holdout appears to be Paramount Pictures, which distributes popular flicks like Mission Impossible and Transformers.
Available on both Android and iOS or through a dedicated web portal, Movies Anywhere allows users to sign into their Google Play, iTunes, Amazon, or Vudu accounts and, like DMA, gain access to all their movies ... anywhere.
It's a service that our own Ara Wagoner has grown to love, since Disney, which developed the technology, works with the individual platform providers to facilitate the rights management. That means movies aren't sequestered to the Movies Anywhere app, but can be viewed in Google Play Movies like any other purchase. The other studios initially supported a competing technology, Ultraviolet, which was extremely user-unfriendly and garnered little mainstream use.
The unifying move is certainly an attempt to make buying movies a lot more enticing in the world of Netflix, Hulu and other streaming services, but it also solves a major problem with platform lock-in. Anyone who's moved from an iPhone to Android likely had the realization that their iTunes music, movies, and TV shows didn't come with them. Movies Anywhere doesn't solve every problem, and not every studio is on board, but it does bring us closer than ever to platform agnosticism.
To incent people to sign up for Movies Anywhere, which is free, the service is offering five free movies when you link two or more accounts:
Big Hero 6
Ghostbusters (2016)
Ice Age
Jason Bourne (2016)
The Lego Movie
At launch, Movies Anywhere is only available in the U.S., but the companies are working on bringing it to other markets.
Are you interested in signing up for Movies Anywhere? Let us know in the comments below!
Daniel Bader was a former Android Central Editor-in-Chief and Executive Editor for iMore and Windows Central.
The real burning question here is: since Fox is on board with this, will people who bought the original trilogy on digital finally get A New Hope on all libraries?

Great question, I'm curious myself to see if we get Older purchases carried over as well, and with Fox owning xmen, I'm finally going to have my xmen lined up with my Disney marvel movies on the same service.

Yes. It's live and it's listed there.

Yep. I got it in my VUDU account.

Yes my A New Hope carried over.

Just tried signing up and getting nothing, even on Google Play. Is this service live yet?

Just a clarification - edits/replies don't seem to be working. And because of how well DMA has helped - I started filling in my Disney collection as a result - I am tremendously excited to see this expand.

Aaaaaaaaand the servers are crashing....

Link leads to error message

I wonder what will happen with this for Disney in 2019. https://www.androidcentral.com/disney-remove-its-content-netflix-launch-...

Disney content will no longer be available to stream on Netflix and will require a subscription to their own streaming service. It says so right in the article you linked.

No, I mean, will Disney content be removed from Google Play Movies and iTunes and other services?

No that just means the deal with Netflix is finished and it won't be included on a Netflix plan you will still be able to stream it with rentals, or on services where you bought the movie. Netflix currently owns the rights to show you Disney movies, but when that deal expires Disney chose to make their own service to get more money than they would get from Netflix.

I live in the UAE and I managed to connect my iTunes, Amazon Video and Google Play accounts to Movies Anywhere without any hassles. I'm having trouble connecting Vudu though - maybe servers are busy. But once connected I can now see my digital library conveniently in one place, no need for VPN or anything.

I was unable to join without a VPN. Also, VUDU won't let me connect to my account without a US IP address so I had to link it using the VPN as well.

Looking forward to this. I actually have a couple of copies of movies because I forgot I had it on Google and purchased on Vudu or vice versa.

Their faqs are updated stating there is a problem with vudu. Says supposed to be resolved by 10am pacific

Very bummed to see the MoviesAnywhere Roku channel is only available on select Roku's.
This is listed on the MoviesAnywhere web page.
Roku: The following Roku devices are supported:
Roku Express, 3700X
Roku Express+, 3710X
Roku® Streaming Stick®, 3600X
Roku 4, 4400X
Roku Premiere, 4620X
Roku Premiere+, 4630X
Roku Ultra, 4640X
Roku TV, 5000X
4K Roku TV, 6000X, 7000X

If it works like DMA then the existing apps for Vudu/GPM/Amazon will all show all your movies, just as if you purchased from that provider.

I'm guessing the free movies are for new accounts only? If we already had a Movies Anywhere Account were are not eligible?

The site says you get them for the first time connecting accounts (Vudu, Google Play, Itunes, Amazon Video) two movies for the first account and the other three for a second account.

I'll have to check but I believe I had already linked my accounts a fews months ago so that I could view Disney movies on any of those services....

Movies anywhere is considered a new account. You link and merge your dma account to it. then two others to get the movies.

Oh wow I didn't realize it was a totally different service from DMA. I'll sign up.. thank!!!

Great idea! Definitely interested since I already have Disney anywhere.

This is a very interesting twist to the whole Digital Media thing. UltraViolet has been around a long time and some folks will have a significant collection in it. As i recall the only place i couldn't get content from through UV management was Disney. I never had a problem with other content that was new. It isn't like UV content wasn't avaliable on UV providers either. For the most part UV worked from any UV provider no matter who you bought it from.

If you have a DMA account you will need to create a Movies Anywhere account and then have it migrate/merge the account into the MA account. After that you will get the free movies.

Does it allow downloading movies for offline viewing?

I can't link my Vudu account no matter how hard I've tried.

What about 4K / HDR support?

Definitely a step in the right direction. All things available everywhere!! (I always say.)
"Movies Anywhere doesn't solve every problem, and not every studio is on board, but it does bring us closer than ever to platform agnosticism."

This could spell the beginning of the end of Netflix if they get Paramount involved. With a one stop location to house movies and TV series there's no reason they could not cut ties with Netflix and offer their own streaming plan eliminating the need for Netflix.

I disagree, as they are 2 different platforms. Movies Anywhere is for digital copies of movies you own, whereas Netflix is a steaming service. I am currently binge watching Supernatural, which would cost over $100 for the 12 seasons currently. As I probably wouldn't watch them all more than once, Netflix is a better option.

TV there is not TV in this it is Movies only. Its MoviesAnywhere not VideoAnywhere

This could be a good thing. Too bad I already have all those movies except for Ghostbusters, which I'm not really interested in.

Im having an odd issue. I linked my GP, Vudu, and Amazon in which I have over 150 movies. This was 10am this morning and I have literally had only 1 movie pop into my library on the app. Anyone else having this issue?

What was wrong with UV. This just splinters up the landscape even worse. The first issue is Movies Anywhere. Lets see thats not what we want we want Video Anywhere. TV shows were left out yet make up alot of the UV market. it does give you 4 retailers to watch your movies instead of one but they could have done that with UV. They left out major providers so now we have MoviesAnywhere, UV and local bought things (which I avoided for the most part but missed checking a few times). If they were not in UV they sure as hell are not in moviesanywhere. This takes a ok situtation that could have been corrected under UV and messes it up. They either need to get all the uV stuff in the agreement or give up.

Got Google Play, Vudu, Amazon, and iTunes libraries all connected with little problem. It was also nice to get emails from each of those services, advising that this was available. Even got something from Disney Movies Anywhere advising that their service would soon be shutting down. I even found a few bargain movies to purchase on Vudu. One movie showed up on Google Play, but the other one, Star Trek II: The Wrath of Khan, did not. Then I realized... Paramount! C'mon, when are you gonna join the party? Aren't you feeling left out?

The name is wrong. It should be: Movies anywhere in US.
America First you know. **** the rest of the world.

I always said that Disney Movies Anywhere had it right. I'm glad to see more jump on board. I wish they had let us pick the 5 movies though, when you already own 2 or 3 of the free ones it isn't as big of a perk.
Android Central Newsletter
Get the best of Android Central in in your inbox, every day!
Thank you for signing up to Android Central. You will receive a verification email shortly.
There was a problem. Please refresh the page and try again.