Motorola Triumph now available for pre-order on Best Buy for $299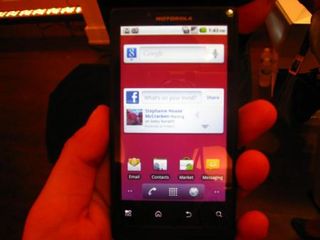 If you have been anxiously awaiting the Motorola Triumph since it was announced, you are now able to place your pre-order for the device. The Best Buy website has the device listed for $299, and while there is no exact date of when it will be in your hands, the site does seem to lead towards it being delivered at the end of July. Don't delay, be sure to place your pre-order for this device, and then be sure to go back and check out our hands on, and hop in the forums and share your excitement!
Source: Best Buy (opens in new tab): Thanks, girldroid!
Android Central Newsletter
Get instant access to breaking news, the hottest reviews, great deals and helpful tips
Jared started off writing about mobile phones back when BlackBerry ruled the market, and Windows Mobile was kinda cool. Now, with a family, mortgage and other responsibilities he has no choice but to look for the best deals, and he's here to share them with you.
hopefully it'll be $50 less at radio shack, seeing the optimus v is $150 at radio shack, $200 at best buy

I hope so too. $299.00 is going to be just out of my price range.

This phone is 300 dollars.... This phone is 300 dollars... This phone is 300 effin dollars.... LETS GET IT!!!

$299 can't be right for the specs I just read in the hands on. If it is, then someone has lost all common sense.

Try buying a comparable phone without a contract and you'd pay the same.

Scott's right. Take a look at a phone w/ similar specs like the HTC Inspire on AT&T ($449.99) & you'll see this is not a bad deal.

Well, it's on virgin mobile so you're paying $299 for a prepaid phone and you're not on a contract. So this is actually a really good price.

http://www.bestbuyon.com/computer-in-your-hand/phone-hall-shame enough said!!

Don't forget, some Best Buy stores give in store credit for mobile phone trade in-s (and other items).

Motorola should just release everything without motoblur this looks so clean. Thought about maybe going on the virgin mobile network and dumping the high bill. I am concerned though how good or bad there service really is.

Pick up a cheap VM 20.00 phone at your local wally world and check the coverage where you need it. If it's good or not, you can still return the phone within 30 days and you will know, and knowing is half the battle! https://goto.walmart.com/c/1943169/612734/9383?sharedid=159229&subId1=UU...

Check their coverage map for the areas you frequent. I live in the Twin Cities, MN and I get great coverage here. Call quality is better than AT&T, and I have yet to drop a call (which was a fairly common occurrence with AT&T). On top of all that, I only pay $25/mo, as opposed to $80/mo.

VM just uses Sprint's network. The only difference, really, is that with Sprint you're allowed to roam onto other carrier's networks freely so they actually have a bit more coverage. On VM, you only get Sprint's network with no option of roaming. If you live in a fairly populated area, then odds are you have decent Sprint coverage. And yeah, even the $40 VM plan is substantially cheaper than the $80 sprint wants for roughly the same package. I don't get how this business model is working for Sprint - but I love VM so far!

Read though that virgin mobile customer service is really bad. Anyone have encountered that issue or with them tacking on extra charges?

If I ever have a problem or question, I never call, I log onto my account online and I contact them there. Well within 24 hours, I get a response/resolution.

I've had VM for years and other than a few minor things that were quickly dealt with and resolved, I have had no problems with VM. As a matter of fact, one time when my son lost his phone, we called VM and they cancelled his service immediately and were going to ship us a replacement phone and only charge us what their cost was on the phone (no, we didn't have insurance). So, we were going to save $20 to replace his phone. Awfully nice of them I would say! We found out that a friend of his had picked it up at school so we didn't have to replace it. We called VM back and they cancelled the shipment of the replacement phone immediately and credited the $$$ back to my bank. Within 2 hours the account was re-activated and his phone was up and running like nothing ever happened! I'm really tired of all these trolls that hang around the VM facebook site and other sites so they can just badmouth VM whenever they get a chance. The VM phone reps are friendly and helpful, albeit sometimes a little English challenged... but overall, I've had no major problems with them.

If you look at the shipping options it suggests 7/19 release...or there abouts
Android Central Newsletter
Get instant access to breaking news, the hottest reviews, great deals and helpful tips
Thank you for signing up to Android Central. You will receive a verification email shortly.
There was a problem. Please refresh the page and try again.