Motorola prepping another 'project,' this time for the Xoom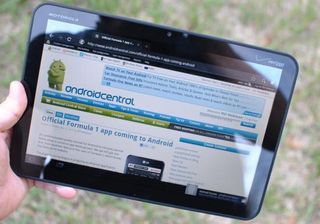 Looks like Motorola has another one of its "projects" in the works (the Droid Bionic is in the middle of one), and this time the Xoom tablet is the intended target. The following e-mail's making the rounds:
We can only hope that this is Ice Cream Sandwich in the works, and not yet another maintenance update. Stay tuned.
Thanks, anon!
Did you just violate the terms of the Motorola feedback network by posting this?

Have you noticed that since Phil posted this, he has been seen, nor heard from since? The men in black got him for posting this.

Probably just a maintenance update. MY xoom battery life has bee.n less than before after 3.2 and that's nit even on LTE. Also it has been going into Fast boot recovery mode on wake up more than a few times. Not rooted, totally stock. Never did that until 3.2 That said I'd rather ICS than this be a maintenance update. I don't mind toggling the volume rocker once a week. Lol.

I have not noticed either problem with my WiFi Xoom, although I probably don't use it as often as you use yours. Mine is also 100% stock.

Mines not rooted and has 4g tough the update process and haven't noticed anything my battery is fine...when on 4g it drains a little quicker but that is to be expected...

It is probably a maintenance release since it is just the Verizon version. It is extremely likely that ICS will hit the WiFi version first.

Any quick details on how to join the Motorola feedback network?
Android Central Newsletter
Thank you for signing up to Android Central. You will receive a verification email shortly.
There was a problem. Please refresh the page and try again.