Motorola apologizes with another Yo promo to win the Moto 360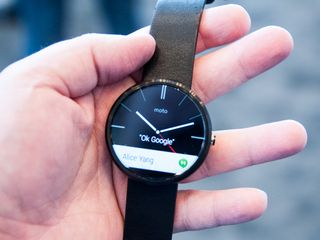 After complaints about the misleading Yo promotion to win one of 20 Moto 360 smartwatches, Motorola is trying to make amends with users by running another contest for another chance at winning.
"To make it right, we're giving away another 20 #Moto360s tmrw to first 20 who submit the form," Motorola posted on Twitter while apologizing for the confusion. "If you've already Yo'd us, you¹re on our list."
The contest runs from August 28, 2014 at 7:00 PM CT through August 29, 2014 at 12:00 PM CT according to Motorola's rules.
Are you going to give this another shot?
Source: Motorola
They were going to run another contest anyway. It said so when you clicked the link. This is no apology.

That's exactly what I was thinking. This is just sad. Fool me once...

That's the same thing I thought when I saw the new contest. It's pretty funny that they said they were a little unclear. It pretty clearly said I won, then I didn't.

The Yo app is the main issue. Moto made a poor marketing decision in choosing that platform, but what's done is done. Posted from my Moto X via Android Central App

It's USA only. I feel this wasn't really made clear outside of the rules page. Seems important.

So you're complaining because they didn't make it clear...except for where they made it clear.
Oh internet how I love thee

Is that why I'm complaining? Posted via the Android Central App

I rarely enter contests, but I went ahead and added them to Yo. Posted via the Android Central App

Can't even sign up to Yo!
This is crap Posted via AC app from my amazing Moto X

Same...STILL cant make an account..Tried last time too

I wouldn't take that ugly watch for free. Posted via Android Central App

Ok Posted via Android Central App

Ummm... O_o Posted via the Android Central App

Cubs fans have no logic. #WhiteSoxAllDay

Not really sure how that watch is considered ugly... Posted via Android Central App

Beauty is subjective. It doesn't really matter though, it's still dumb as long as eBay exists. Posted via Android Central App

You Blew It https://www.youtube.com/watch?v=nGuVTw01vrM

i gave you a chance...
https://www.youtube.com/watch?v=nGuVTw01vrM#t=91

Screw this. Just as stupid as the OnePlus One marketing nonsense.

Yes, giving away a product for free is exactly the same as making people jump through ridiculous hoops for the chance to have a chance to purchase a product.

I think you missed the /s tag in your response. Try not to miss this: piss off.

wow, that was quite a sore reaction to being made to look like an idiot. I didn't think you would take it so personally. So I apologize for you being an idiot and next time you post something stupid I will not remind you that you're a complete moron.

I can see why you'd draw the comparison, but tdizzel does have a point, though. Two different concepts. At least, in Motorola's contest, if you're fast enough, you have the chance to actually win the product without any money changing hands. But, yeah, the frustration is still there and is still understandable.

They may not be down to the standard of oneplus but moto have certainly veered into the same camp. It is an encampment of trolls. Posted via Android Central App

What's sad is that they had already said they were going to do a second promotion. When they told you you didn't win. So then coming out and saying they're doing this as an apology is yet again disingenuous. How many times are you going to lie to your customers? https://plus.google.com/108990497464453118325/posts/CZmbTx3scQ4

You planning on entering the second contest? I'm curious how many people say they won't try again but will. I, for one, refuse to go through this shit again.

I highly doubt that message meant they were going to do another contest that same day with the same exact prize.

They said they might do it again. And I seriously doubt they would have done it so soon if not for the(really stupid) backlash they're receiving. So, YO! it is an apology

How long will Moto lie to their customers? For as long as those customers will continue to give up their money, despite the lies. Posted via the Android Central App

I believe the notice said, "We're not done Yo'ing you great stuff." It never said anything about another contest to give away the 360. Posted via Android Central App

So it means I should re-install Yo!! Dah! Posted via the Android Central App

Yeah, forget that. I already deleted it, and I'm not reinstalling

As long whatever system they're using is firing the message to all who applied at the exact same time, a second go round is good. (Since it'd seem there was a wide gap of time for applicants who received. Others seemed to not get anything at all even though they said they Yo'd them.) Also, I hope they do it at some normal hour. I don't want to see a Yo message tomorrow morning that arrived in the middle of the night.

I was one of the people that sent them a Yo and never received one back, so I had zero chance of winning. I guess I'll see if they actually send one this time.

Didn't get one yesterday, didn't get one today. Oh well.

I got a Yo at 12:01, fired off the response form immediately, still got the "Sorry all taken message." I kind of wish it was it just a random thing. Pick people who Yo'd out of a hat. These mad dash, timed events always smack of being unfair because of people potentially coding something to intercept and respond without human interaction. And it sort of is fairer to argue using something like Lastpass to autofill, but even that feels dirty.

It really was a terrible contest idea, and they should have changed it after the first time failed so miserably. I didn't receive anything back from Motorola either day. On top of them being gone instantly, there are probably plenty of people in the same boat of not even receiving the message to have a chance.

HAHHAHAH YES! Motorola emailed me at about 6:45 CT and told me I won :D

I got mine too. What address did they email you from? PM me.

How did they get your email? While signing up for Yo, it never asked me for my email. Posted via Android Central App

When I responded to the yo, I didn't get the "bad" message everyone else got, they told me I won and they would be in touch. Since then, the gal in charge of the promo has contacted me for information on getting the watch. Still looking for other winners to make sure we're all getting similar messages. Posted via Android Central App

How fast did you fill out the form lol? Posted via Android Central App

Yeah how fast did you fill it out?

Within a minute. It was sent at 130, I replied at 132. Posted via Android Central App

So the form you fill out is on your phone correct? When they Yo'd me and I clicked on the yo it took me to the website but said I didnt win. I assume if I reply fast enough the link take me to a form to fill out on my phones browser correct?
thanx
Danny

Yeah, I got in fast enough to see the form (a few seconds between the Yo and tapping the notification), but after submitting I got the "closed" page. The form said I had won (I believe this was the general complaint, as that wasn't conclusive) and had a box to enter the first part of my email address (the part before @gmail.com). Checkboxes for agreeing to rules and signing up for emails from Motorola. And a submit button.

What the hell is yo? Posted via Android Central App

You don't want to know. Trust me. Posted via Android Central App

Yo Mama! Posted from my LG LS970 via "The Force"

Motoжопа....! Posted via Android Central App- Via HTC One

I don't want to yo but I want the damn watch Posted via Android Central App

Then save up your 250 clams like everyone else.

Wth 1st they said I won then I got all happy for them to say I didn't win. Posted via Android Central App

Never could get logged in to Yo app. "failed registration." LG watch looking better by the minute. Big fail, Motorola. . Posted via Android Central App

Unfortunately I didn't get yo'd until after they finished selecting winners. Boooooo. I was :( and stuff. Posted via Android Central App

Moto is dumb as hell for using YO and this dumb ass promotion. So does this mean they send out a bunch of YO's and only the first 20 filling out the form get it? That is just dumb as hell. Moto must be employing One Plus One's marketing team. Idiots.

Except that's what they said the rules were in the first place. Posted via Android Central App

So says the guy who won one.......I'm not disputing that fact. I'm just saying it's a dumb ass way to run a promotion...which you obviously don't agree with since again, you won one. Congrats on that by the way, nice to have an AC poster get one. But, IMO, it's not really fair to all the people who aren't able to respond to the "YO" from motorola within the first ten seconds....which is probably the vast majority of people who have work or personal commitments taking up their time and can't sit there waiting for a "YO". Fair way to do it would be to just randomly select people. But who am I to tell them what to do, obviously some peon at Moto thought it was a good way to run a promotion. I just disagree with how they did it.

I was sitting down to start my Spanish class and was lucky enough to pull my phone out to check the time when I saw it. Responded as quick as I could, but that's all irrelevant. I read the terms and conditions to the contest, and it says if you're among the first twenty to respond, you would win. It does suck so many other people got "false", invites, but they could have been legit had they been responded to in the way outlined in the contest. I just got very, very lucky. Posted via Android Central App

In for the win... Android / Blackberry fan on T-Mobile!

I added Motorola I hope I get picked! Posted via Android Central App

So I have to sign into every social network that they use in order to win contest Posted via Android Central App

I hope I win just for having to use that app. Good god that app is horrible! Posted via Android Central App

Who cares about contests. Just put the watch out for sale.

This Posted via Android Central App

rather than run another contests shouldn't they just let the people who got the notification to actually win one?

If only they got the 360 out sooner. There is going to be 3 or 4 more android wear watches out by its release date.

yea, and that new LG watch looks even better than the 360.

Ugh! Did Lenovo sell Motorola to the Oneplus guys by any chance?

I refuse to download an app like Yo just so I can enter a contest. Pick your marketing partners better next time Moto.

Well, YOed again since I forgot to uninstalled the dopey app last night. Of course I don't bother with Twitter so I didn't know about the second go around until I read AC this morning. No YO echo with whatever form they want filled out, but the first 20 must be gone hours ago. Another few minutes never to be seen again. And I don't even have a Moto360 to watch them being wasted.

So by the time everybody reads this, chances are there's long been 20 people already entered. Posted via Android Central App

Crap I have to reinstall the app then. Posted via Android Central App

Moto tries too hard to be different at times and it ends up hurting them more then helping them in most cases.

Moto is Moto. If there is a way to screw themselves or their customers, they will find it. I think their execs get bonuses if they find a way to screw both at the same time.
/s

Wow, sure are a bunch of sore losers on here. I want to win a free Moto 360 too but I'm not going to cry like a little child and say I hate Motorola when I don't. My favorites are the people who are "rethinking" wanting a Moto 360 at all because they didn't win one for free, hahaha. Grow up.

And it's over. Lol Posted via the Android Central App

I got a yo back and instantly put in my info... Apparently I was too slow yo respond. They were out of them before I clicked submit Posted via Android Central App

Exactly! Posted via Android Central App

They were gone within 10 seconds again Posted via the Android Central App

They just did it again. I pressed on the notification immediately (I was already on my phone) and I still lost. Sad day :( Posted via Android Central App

Same story different day smh moto

Just got yo'd and lost again...smh

Yo, I just go the Yo for today and by the time I typed my email and submitted they were gone again, yo.
Damn it again, yo.

Just got the yo. Literally 3 seconds from the time I got it until I submitted the form and I missed it. Dang!

Last time I checked, CT was central time, you know, not Eastern. Oh well, not much chance of getting 1 in 20, but come on, at least get your times figured out.

i thought it was supposed to start at 12CT? isnt that an hour away? I just got yo'd as well

Yep. They botched it again according to their own rules. Clearly stated 12 central time, yet I got the Yo at 12 eastern time.
Man, I hope the way they run a contest is not indicative of how they make a smart watch. Posted via Android Central App

And I still am not going to Download a crap app to enter a contest. Wait 2 or 3 weeks after the watch is released and the price plunges to 99.00 lol

I never even got a YO response either day... :/ I feel like using YO was a poor decision Posted via Android Central App

I had my phone in hand with screen on and Yo opened....on wifi to minimize any Sprint latency. Got the Yo at about 11:02 and clicked the link. It opened in the browser immediately and said they were already gone. It's disappointing because I know the Yo's aren't all getting sent out at the same time. They can probably only send 50-100 at a time (just guessing) so they send them wave after wave after wave. By the time they are sending wave 2, everything has already been claimed. So in reality, it wouldn't surprise me if you had to get lucky to be sorted into batch #1 to even have any kind of chance.

So, #YOFORMOTO YOed back with the "Yo unfortunately ... " message and a link to "Explore Moto 360" that returns a "The site's certificate is not trusted!" message in Chrome. 'Nuff of this.

Im wondering if it was a miss send. I clicked on the notification immediately and the contest was already over when the web page opened. I got the notification at 12:03pm ET

Never got a Yo yesterday, so I deleted the app. Reinstalled it for the second "contest" and again did not receive a Yo. While the odds of winning were always small, it's impossible to win if you never receive the Yo. Not sure if it is Moto or Yo who is responsible for this failure, but both days were a disaster and waste of time. Deleting the app for good.

They tried again and failed again. The exact same thing happened today. Posted via Android Central App

EXCEPT THATS WHAT THEY SAID WAS GOING TO HAPPEN

Well, no. They said they were going to send out a Yo to everyone that entered. I didn't receive one, either day. I even sent another one today just in case. Nothing.

So I got a Yo but no idea what it said. I'm using ACDisplay and opened the notification, which in a real app would actually open the app. This opened Chrome and.... Nothing happened. Lol. Oh well, it met my zero expectations... Lesson here for me is to just ignore any future contests involving Yo. Off to uninstall that piece of crap... Posted from my Nexus 5 via Android Central App

12pm CST, huh? I live on the East coast, so it should be 1 pm Eastern Time. But no. They send the Yo when I'm out at 11 CST. Thanks for the wrong time. You may have cost me a Moto 360. Posted via Android Central App

New Day.....same failed contest
Truly wondering if they're capable of building a working watch, when they can't even run a simple contest. WTF ?....has Shamu eaten your executives ? Posted via Android Central App

10 After 12:00 CST and never got a Yo, had it installed on both phone and tablet, luckily it's not like I had nothing else better to do and had expectations pre set to "very low" aha

They screwed up again they sent the Yo's at 11am CT I think they forgot about Daylight saving time

Uuuuuugliest "smart watch" ever. No thanks Moto. Posted via Android Central App

So I win last time, then I didn't win. Now I didn't win this time. Horsesh*t! ;-) It is what it is.

Motorola, don't you YO it up this time lol Posted via Android Central App

Yo! I already deleted yo. Posted via Android Central App

Im sure I just spotted Danny dyer sporting a moto 360 in eastenders. Or something similar. Posted via Android Central App

Never received a Yo either day. I Yo'd them both days. Worst idea ever for a contest. People receive Yo's at different times making the contest unfair. I don't know why I even wasted my time. Thanks anyway AC.

How gutted am I, I entered last night and won. but because I'm in UK they said someone else's will win it now gutted :-( You Have Been Whipped By King Ding Along! 1+1=8.

I never got yo'd back? :/

Why is this article still on the top, scrolling banner? The contest's over. Old news. Yawn.

Despite the youth of Android Wear, the Motorola Moto 360 is to date the best connected watch. The craze for this model is a good indicator of what the consumer wants. ________________________________________
http://galaxynote-3.com/bons-plans-galaxy-note-3/
http://galaxynote-4.com/
Android Central Newsletter
Get the best of Android Central in in your inbox, every day!
Thank you for signing up to Android Central. You will receive a verification email shortly.
There was a problem. Please refresh the page and try again.