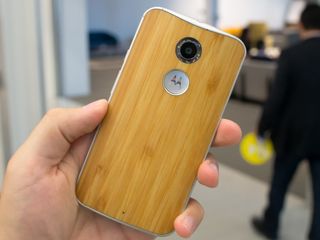 Motorola has finally made the new Moto X official. And that's the official name, in fact, just "Moto X." It's bigger. It's faster. It's got a better camera.
And these are the complete new Moto X specs:
Swipe to scroll horizontally
Category
Features
Operating system
Android 4.4.4 (KitKat)
Processor
Qualcomm® Snapdragon 801 processor (MSM8974-AC) with 2.5 GHz quad-core CPU, Adreno 330 @ 578 MHz GPU
RAM
2GB
Storage
16GB/32GB
Dimensions (soft feel model)
72.4 (width) x 140.8 (height) x 3.8-9.9 (thickness)
Weight
144 grams
Display
5.2-inch AMOLED, 1080p, 423 ppi, Gorilla Glass 3
Battery
2300 mAh
Networks
GSM/GPRS/EDGE, UMTS/HSPA+ (up to 42.2 Mbps downlink / 5.76 Mbps uplink), CDMA/EVDO Rev. A (CDMA model only), 4G LTE
XT1095 (Pure Edition) / XT1097 (AT&T)
GSM/GPRS/EDGE (850, 900, 1800, 1900 MHz)
UMTS/HSPA+ (850, 900, 1700 (AWS), 1900, 2100 MHz)
4G LTE (02, 03, 04, 05, 07, 17, 29)
XT1096 (Verizon)
GSM/GPRS/EDGE (850, 900, 1800, 1900 MHz); UMTS/HSPA+ (850, 900, 1900, 2100 MHz); CDMA (850, 1900 MHz); 4G LTE (02, 03, 04, 07, 13)
XT1093 / XT1094
GSM/GPRS/EDGE (850, 900, 1800, 1900 MHz); UMTS/HSPA+ (850, 900, 1800, 1900, 2100 MHz); 4G LTE (01, 03, 07, 08, 20)
XT1092
GSM/GPRS/EDGE (850, 900, 1800, 1900 MHz); UMTS/HSPA+ (850, 900, 1700 (AWS), 1900, 2100 MHz); CDMA (850/1900 MHz); 4G LTE (02, 04, 05, 12, 17, 25, 26, 41)
Rear camera
13 MP (f/2.25) with Ring Flash, UHD (4K) video capture, 4X zoom
Front camera
2MP + 1080p HD Video
Wifi
802.11a/g/b/n/ac (dual band capable), mobile hotspot
Connectivity
microUSB, NFC, 3.5mm headphone jack, GPS, GLONASS
Audio playback
AAC, AAC+, Enhanced AAC+, AMR-NB, AMR-WB, MIDI, MP3, PCM/WAVE, FLAC, OGG/Vorbis
Video playback
H.263, H.264 AVC, MPEG-4 SP, VP8
Video capture
1080p HD and 2160p Ultra HD Video, 30fps (MPEG4, H.264)
Android Central Newsletter
Get the best of Android Central in in your inbox, every day!
Come to daddy! Posted via Moto X (VZ)

I swear all these phones specs are exactly the same right now. You're just paying for the hardware design. Posted via Android Central App

Specs aren't everything but it looks like a nice upgrade from the original X

Processor, battery, ois? Looks great everywhere else.

Wow, that doesn't seem very mid-range but I can't see the end product being anything but outstanding. Posted via Android Central App

I guess we'll have to wait and see but isn't the battery a bit small, it would be fine for a 720p display but now with a 1080p might not be so good, look how the Nexus 5 is with the same size battery. Posted via Android Central App

My N5 was terrible on that battery, had to get rid of it. LG G2 is much better and was hoping new X would have bigger battery too... Posted via the Android Central App

Terrible is relative, but yeah, if you need the larger capacity you just need it (no getting around it). OTOH if you managed fine with a Moto X or any phone from last year, you'll probably be fine.

The Nexus 5 gets better or equal battery life than every phone from last year with similarly sized batteries (e.g. M7, SGS4, etc), which isn't bad by any means (it beats the original X). Newer/larger phones with larger batteries beat it, shocking... I imagine the new X will be on par, at worst, but yeah, it might do worse than some of the other flagships... The M8 and G3 are surely larger tho, not sure about the SGS5.

The battery of my Nexus 5 does not beat the battery of my wife's original Moto X. They are not even close. The Moto X not only last longer, but charges much faster under similar conditions. Actually, I have read similar experience from other people.

Definitely! If I leave the house for the day with my misses my nexus 5 regularly dies before I get home and her Moto X usually has 40-50% battery left. The N5 doesn't last 8 hours if you are away from a charger, using maps and taking photos! I hope the battery life in the new Moto X is good, it might be my next phone, I want a phone that can last all day or more!

I was thinking Motorola nailed it, then I saw the battery capacity. Posted via Android Central App

Yeah it just seems crazy that they couldn't get a larger cell in a phone this size......the space had to there. Posted via a Republic Wireless Moto X using the Android Central App

+1 Posted via the Android Central App

My body is ready!! Posted via the Android Central App

Um....what exactly are you gonna do with this phone dude?

Nice phone but I'd rather keep my nexus 5 with very similar specs and probably nicer screen Posted via Android Central App

Nice going Motorola. Staying with Nexus 5 and wait for Shamu!

So they ditched the X8 chip system and went with a boring snapdragon 801 huh? Do they still have the low power language processing chip?

The X8 was just a snapdragon S4 pro.

It was a little more than that. Dual core S4 Pro (as opposed to most S4 Pros that were quad core, like the Nexus 4 and nexus 7), 4 GPU cores (adreno 320, part of the S4 Pro SoC), and then two low power cores, a natural language processor and a contextual computing processor.
https://www.androidcentral.com/e?link=https2F2Fcli...

Yeha, the natural language processor is what makes the X for me. By far the best speech recognition ever. If that's not in the new Moto X, I'm much less interested.

There is a misconception that the Qualcomm chip had custom cores, that is Motorola marketing BS. The real truth is it used a TMS320C55 Digital Signal Processor and MSP430 F5259 Mixed Signal Microcontroller, which were separate chips. It would have been prohibitively expensive to design a custom chip with special custom core processors.

Yes the Snapdargon 800 series has a built in low power DSP (i think its rated at 400MHz).. the Nexus 5 uses this for sound playback.. thats why playing music does not kill you battery on the N5.. Motorola looks to have reporposed this DSP for their own stuff..

Okay I find that really interesting. I wish they had more published on that, but I get that it's brand new phone and they've just barely done a hands on.

Anandtech said that Motorola are still using 2 separate DSPs to provide the Moto Voice and Moto Display. I imagine the hexagon DSP will still be available for low power music playback.

Seriously? No mention ANYWHERE of mSD expandable storage? Why would Moto put that in their recently "updated" Moto G and Moto E lines, but not these new 2014 models? It baffles me...

2300 mAH battery? No thanks! Posted via the Android Central App

Looks good, but they skimped on quite a bit, especially the battery. Learning my lesson from the previous Moto X, however, I'll wait until real world results pour in. Posted via Android Central App

Might just be me but moto website says different on the specs..
AP 1.2GHz Quad GPU Adreno 305 450MHz Single AP + BP MSM8226 RAM < 1GB 5" 720p 2070 mAh Posted via Android Central App

Moto g? Posted by my G3 or my 1+

That's the Moto g tool. Posted via Android Central App

Well its under the moto x on their website so go fist yourself? Not my fault they put the wrong info Posted via Android Central App

Definitely intriguing. Posted via Android Central App

Many will have to force themselves to like this new design. It's butt-ugly but I'm sure it'll perform outstandingly Posted from my caseless GS5, because I believe in myself

It's not ugly Posted via Android Central App

This is one thick phone at 9.9mm. 9.1mm should be the thickest nowadays. Not to mention that at that thickness it should have a bigger battery.

I bet that is at the thickest part though. With the way the back tapers it probably feels and looks thin.

maybe. Still not getting it.

Such a tiny battery for such a big phone :/ Posted from my TARDIS!

battery too small.
at 5.2" 3000 mAh or bust

I agree. That battery is a real let down.

Yep. This is just another let down by an OEM. Posted via the Android Central App

Yep, officially too big. Very sad, Motorola.

Someone said "You can't get everything in life". I don't know who but a lot of us should start incorporating that to our daily life, wants and needs. As this is true that not every product will fit everyone's need.

le sigh... Another midrange flagship that were supposed to care about. Go Motorola.. At least the watch is interesting, or will be when that fucking bar goes away in the next version Posted via Android Central App

What the frick Motorla? The thing that made the original X and G great was that they were smaller-sized phones (4.5 and 4.7) with decent specs, for a good price.... Now they make the new G 5.0, 720p and the X 5.2, 1080p with a teeny 2300mAh battery, even though given size it should have have plenty of room for a 3000maH?! Oh well, hopefully the Xperia Z3 Compact doesn't take it's good sweet time to get to Verizon... And I would think that once/if the Z3 Compact comes to Verizon it'll sell like hotcakes since there's absolutely no competition worth speaking of in that size range anymore.

Yep! One of the reasons I went with the Moto X in the first place was the smaller form factor. This new larger form factor is a dud, plus it's less attractive than before. The new Moto G looks like the old Moto X.

I disagree that 4.7" was the perfect size. The 5" Droids were perfect for me; and I have small-ish hands. To each his own. Other than that, I have to agree with you.

I have a Droid DNA and I know exactly what you mean.

I can't be the only person who feels there is nothing good here to convince me to upgrade from my Nexus 5 to this...

Hey Motorola! Take all my money!

Bigger than the Nexus 5...No thanks.

Bigger and uglier than the previous models, it's like they don't want to be in business anymore. Madness to take the two things that made them popular again and get rid of them. Posted via Android Central App

So they upped the screen size and resolution and only added about 100mAh to the battery? Good luck with that!

Maybe it's an error - typo in the specs :p Posted via the Android Central App on VZW Moto X

$500... would be more competitive at $400 =P

Droid Maxx (VZW's custom 5" version of the Moto X line) has been the best overall phone experience I've ever had since the original iPhone changed the scene so dramatically. It's the only phone I've used as a daily driver for over 6 months, still using it as main device after a year. That's an impressive UX longevity for a phone that others thought was mediocre specs when first released. Color me slightly underwhelmed for some reason on the new X, though. At least they are offering a 32gb model. 16gb was a deal killer for me (and just shut up with the "why do you need that much storage?" responses, please, I need that for my useage style). Battery scary small, and display size a little big, but my LG G3 handles in the hand well enough. 1080p AMOLED (non-pentile, right?) should rock some sharp vibrant colors for those who like that. Great for power, too. I'll almost certainly get one, but I'll also likely wait to see if VZW offers up a Droid Maxx version of it. And since I'll be paying full price, UNLOCKED BOOTLOADER.

Man i am bummed out i dont see sd card slot and also the battery life i am really not so sure about man is it me or so far i cant find a reason to put down my g2 Posted via the Android Central App

So Gigaom mentions SD card storage, but are they just misreading the files? Would LOVE that to be true. Posted via Android Central App

Glad I'm not the only one concerned about SD storage. That is honestly a deal breaker for me if it does not have it. Hopefully we find out more at 1pm EST today!

So hardware-wise, this is basically a Galaxy S5 with a smaller, non-replaceable battery. Same cpu, same screen tech and resolution, same memory. Camera might be as good, but we'll have to wait to see. I guess I'm going to need to be very impressed by the software (some of which I've already replicated on my existing phone with 3rd party offerings) to to choose this over other top-line phones, even with the price advantage.

The GS5 actually has a different camera, 16 megapixel isocell.

looks great! now to see what Nexus and Silver bring, then I'll make a decision and say farewell to my Nexus 4.

Can't get any worse than this. Posted via Android Central App

agreed! The benefit of Moto though is a Nexus like experience with very nice useful features added. I think Silver, and maybe this is already known, will pretty much be Google Play Editions sold in carrier stores. The Nexus of course will just have price on i's side, it's hard to beat that bang for your buck.

So excited that the Sprint version is going to be CCA/RRPP compliant! :D -mouth watering- Posted from area 51 on my Sprint GS5
Android Central Newsletter
Thank you for signing up to Android Central. You will receive a verification email shortly.
There was a problem. Please refresh the page and try again.