Moto X Developer Editions receive same $100 price cut as Moto Maker version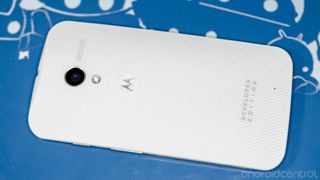 Unlocked GSM or Verizon, both still with 32GB of storage
Following up on a $100 price cut from the Moto Maker site, Motorola has cut the price of Moto X Developer Editions on its site as well. $549.99 will now get you either a GSM or Verizon-compatible version of the phone with 32GB of storage that's ready to be cracked open and played with if you choose. In either case you'll get an exclusive color scheme with a woven white back and black front, and the nice "Developer Edition" branding on the back.
It's definitely nice to see Motorola follow suit on its Developer Editions when it cut the price of the contract models, especially considering that there was no cheaper, lower storage option here. If you're still interested in picking up a Moto X Dev Edition, both models are in stock at the source links below.
Source: Motorola (GSM) (opens in new tab); (Verizon) (opens in new tab)
Andrew was an Executive Editor, U.S. at Android Central between 2012 and 2020.
Now let me order an all black developer edition and I am all over it. Posted via Android Central App

Just saw on VZW website " limited time only" LG G2 for 449 off contract price and 49$ for 2 yr!
Who knows, it may not be too long until we see Moto X drop a little bit more. We'll see. Posted via Android Central App

No thanks, Posted via Android Central App

This phone should cost no more than $299.00-$350.00 unlocked...Moto/Google must have lost their mind trying to sell this 720p/small battery phone for damn near $700.00...

I agree considering you get get the maxx for 500 of contact now.. i just dont get it

I love my Moto x. I have said it before. Hands down one of the best phones on the market. I was skeptical at first, however after spending a considerable amount of time with the Moto X I can say its my first choice. I love my HTC one, and even enjoyed my time with a gs4 gpe. Currently testing the Nexus 5. Either way the form factor and experience of the Moto X is second to none, IMO. Posted via Android Central App

Totally agree, I've gone through so many phones and so far this one is the best. Wish I could've customized my Moto X though, I like the metallic blue or cobalt blue.

If you're on Verizon why would anyone would pick the moto x over the Droid maxx? Maxx has a bigger battery, bigger screen, better looking resolution and same features. Plus off contract goes for $499.. Posted via Android Central App on my VZW 4G LTE GS4

Better resolution is wrong. 4.7 inch 720p screen on the X, 5.0 inch 720p on the MAXX.

I agree. I love my Maxx Posted via Android Central App

The Maxx is tacky, burdened with a fingerprint glossy back and a unaesthetic design. Even the rough plastic rocker volume buttons was reason alone to keep me drawn away. But it has a huge battery, whoop dee doo. Posted via Android Central App

Maxx Doesnt have a glossy back. It has a Kevlar back. The ULTRA has the glossy back. Do your research bro.

Nite, do you actually have the Maxx? I don't think so. I have a Maxx, it doesn't have a glossy back, it has the kevlar backing that doesn't smug with fingerprints. You must be confusing this with the Ultra, which does have a glossy back. Do your research first...

Whoops. Forgot that's the only thing saving the phone from complete disappointment. This is coming from a guy who's owned a Droid X and a Droid RAZR. Posted via Android Central App

X has better form factor. I also bet that X will receive more or better attention in terms of updates since it's available across all carriers, unlike the Droids. Posted via Android Central App

You don't know Verizon very well. Verizon has zero incentive to upgrade the x. When and if it gets 4.4 or even 4.3, you can bet the next version will have already been out for several months.

It got 4.3 already before the droids Posted via Android Central App

The X is just the right size. Not too big, not too small. It fits nicely in my hand and I can use it one handed. It also fits in my pants pockets well. Max is too big physically, screen is too big for single handed operation. Bigger battery is nice, but the X has performed well enough for me that I don't need more.

In my humble opinion I think the moto x is super overrated, i played with that phone for about 2 weeks and there were nothing special to brag about. I just think the reason is so overrated is because is the only smartphone made in America. If you're on Verizon the Droid maxx is the same phone in steroids with a cheaper off contract price. Go for maxx. Posted via Android Central App on my VZW 4G LTE GS4

I would pay more money just because the Maxx looks terrible and the Moto X looks really nice. The screen is also a better size on the Moto X.

In my humble opinion I think the moto x is super underrated... I dont care where its made but it dont have touchwiz crap slowing down the phone. it run smooth and with less bloatware. it feels good in hand

Assembled in a america not made. Posted via Android Central App

Why does your sig say gs4 if your really pushing for the maxx? Posted via Android Central App

Looks like the t mobile version is now 500 dollars.

Does anybody know if it takes a micro sim... I think its a nano.. which will mean a adapter to switch back and forh

You are correct in thinking it is a nano sim so yes you would need an adapter.

As much as I like the Moto X 549 for this is just bonkers. For that price i'd get an N5 and an N7. Now if this was 349 we would be talking. If I'm going off contract better make it worth my while. This sadly isn't.

It's actually very reasonable considering it's not subsidized from Google like a Nexus is.

I just hope the Moto Maker price stays cut when Sprint gets it. As of now, Sprint still has the phone for $100 more than MM, which is silly, and I don't feel like paying $250 for a phone that's been out for 3 months.

If the Verizon x was able to get updates direct from Google and not through Verizon and had no Verizon bloat, maybe it would be worth $249 but certainly no more than $349. Googlerola has set the bar by pricing the N5 where they have. To try and get even a penny more for any of their phone is disingenuous at best.

*Googorola* [pronounced: goog-or-roll-uh]
Android Central Newsletter
Thank you for signing up to Android Central. You will receive a verification email shortly.
There was a problem. Please refresh the page and try again.