Mobvoi introduces refreshed TicWatch E2 and S2 with larger battery, 5ATM waterproofing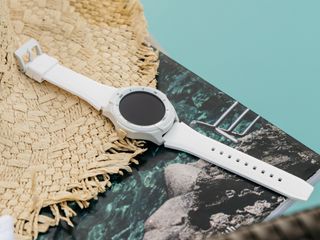 Complementing the announcement of the refreshed TicWatch C2 late last year, Mobvoi has two more Wear OS smartwatch announcements for CES 2019: the TicWatch E2 and TicWatch S2. Both the E2 and S2 are more activity- and sport-focused than the stylish C2 and all-around capable TicWatch Pro.
In terms of capabilities and specs, the E2 and S2 are identical. Both have a 1.39-inch circular AMOLED display with 400x400 resolution, which is larger and denser than the TicWatch C2, and are (sadly) backed up by the last-generation Snapdragon Wear 2100 processor. Battery has jumped to a hefty 415mAh, which Mobvoi quotes for "1-2 days" of use. The bulkier sport-style polycarbonate casings are waterproof up to 5ATM, and the watches are pre-loaded with swim tracking software. Both offer GPS and heart rate sensors, in addition to the typical accelerometer and gyroscope, for further activity tracking.
Like the TicWatch C2, neither of the new smartwatches has the "hybrid" display that made the TicWatch Pro so unique, though that will certainly keep the price of these new models modest.
Styling-wise, the TicWatch E2 is the simpler of the two. It has a softly rounded case with an understated bezel and no real flare or style outside of circular line pattern on the front. The S2, on the other hand, looks like your typical digital sports watch. It has a thicker bezel with minute markers and hash marks, and a scalloped casing to match a thicker silicone band. But while looks are different, the sizes are actually nearly identical — and both take replaceable 22mm width bands. Some of the sporty personality for both watches comes from Mobvoi's unique watch faces as well.
So why are these two different models when they're nearly identical? I have no idea, honestly. The TicWatch E2 and S2 definitely have different styles and appeal to different types of buyers, but don't exactly justify being part of two different lines. The nice thing about this strategy is that you don't have to give up on any activity-tracking or sport-readiness capabilities by choosing one or the other.
Mobvoi isn't releasing pricing information just yet, but looking at what's on offer here I wouldn't be surprised by a sub-$200 price point. With polycarbonate bodies, silicone bands and no real advanced features, Mobvoi should be able to offer these watches for less than the current TicWatch C2. Both the E2 and S2 will be available "soon after" CES.
Andrew was an Executive Editor, U.S. at Android Central between 2012 and 2020.
So is there any reason to get the e2 over the e?

Larger battery and better water resistance, but that's about it. If you already have the E, I would wait. I already get a day and a half to two days on the original E.

That's a big NO just for the old processor? Aren't they ashamed for this?

I'm having a hard time understanding why there aren't more new smartwatch options coming out with the 3100. Is there some glaring issue with it that I've missed? I've been holding out on jumping into the smartwatch pond until things got to a more reasonable state with battery life. The TicWatch Pro was intriguing, but when it came out at a time when the new 3100 was rumored, I figured I'd wait it out thinking SOMETHING decent running hte 3100 would be around the corner. CES time and there's STILL not much word on anything new running it and now Mobvoi trots out these to iterative updates and still no 3100 in those even?!?

Indeed, I'm also waiting for a decent Wear OS watch with the 3100 processor. Their is a Casino coming out this month with the Wear OS but it is $550

That's why I got the Fossil Sport. All the specs I wanted, plus it came out at the right time. I don't know how long I'll be waiting, for another watch... My Moto 360 had been some for some time. I've been saving up for a new watch for 2 years. It's time. If and when a pixel watch show up, I'll have saved up enough for that when it comes out.

I also have the fossil sport. It's an awesome watch cause it's so stylish, functional, and feather light.
Android Central Newsletter
Get the best of Android Central in in your inbox, every day!
Thank you for signing up to Android Central. You will receive a verification email shortly.
There was a problem. Please refresh the page and try again.