Get your download on: Your favorite Mobile Nations apps on your favorite platforms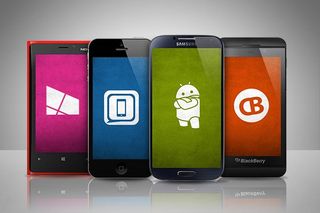 We all know Android Central, CrackBerry, iMore and Windows Phone Central are the best places to go to for your Android, BlackBerry, iOS and Windows Phone news… But did you know we have a whole family of apps purpose-built to free you from the shackles of your desktop computer?
Below is a quick roundup to connect you with these awesome apps. Download and install. You'll be glad you did!
Official site apps
Official Android Central app
AndroidCentral.com is the #1 Android community on the planet. Connect with Phil, Alex, Jerry and the rest of the AC crew via the official AndroidCentral.com app, available for free in Google Play. You'll get the latest from the blog (of course), but inside you'll also find widgets, forums access, podcasts, and much more.
Free - Download now
CB10 App
Available for all Z10 and Q10 owners, the official CB10 app was designed and developed by our own Marcus Adolfsson… and to say it's awesome is an understatement. The app recently won the 'Best Built for BlackBerry App' award at BlackBerry Live 2013. I use it all the time on my Q10 and Z10, and highly recommend you do the same.
Free - Download now
Official iMore for iPhone app
The iMore for iPhone app is hands down the best way to enjoy iMore content, no matter where you are. It's a free download, available right now on the iTunes App Store.
Free - Download now (opens in new tab)
Windows Phone Central App
Developed for Windows Phone 8 and 7.5, the official app of WPCentral.com is your guide to absolutely everything Windows Phone. There's live tile support, and our developer (Jay) is found lurking around our forums on a regular basis to take your feedback and suggestions. It's good, real good.
$0.99 - Download now (opens in new tab)
Important Note: We're planning to bring the official app experience to every site on every platform. The CB10 app for Android? The iMore app on BlackBerry? Yeah, that's coming!
Forums Apps
If you're a forums junkie, you should install our forums apps. Now. They're powered by Tapatalk and are readily available for free via Google Play and the iTunes App Store.
Note: While we'd love to have the app available for iOS, for some reason Apple has a habit of rejecting anything to do with Android Central.
So there you have it. No matter which Mobile Nations site you prefer (and hopefully you love ALL of them), we've got an app for you.
Android Central Newsletter
Get instant access to breaking news, the hottest reviews, great deals and helpful tips
I need that Loyd image as my wallpaper.

I downloaded Android Central and tried it. It's a dumbed-down rebrand tapatalk. Lousy. If I'm to use Tapatalk, why not use a version capable of handling all my forum needs ? This one is a dud, IMO.

I think you downloaded the android forum app. That is a different app than the Android Central app that is referred to in this article. Posted via Android Central App

Both apps are referenced in the article.

My bad. I forgot he mentioned the forum app in the second part. Thanks for the correction. Posted via Android Central App

The official Android Central App, CB10 app, and WPCentral App all have forum integration as well as integration with the articles and comments. The dedicated forum apps are rebranded tapatalk apps and have forum specific features.

Glad to hear that you'll have apps for every OS type, I follow WPCentral and would really like that app to be Android compatible.

Why's the WP Central App paid while the others are free?
Just wondering.

WP Central App is hosted and developed by Jay in his spare time. Because the app is so good, Mobile Nations decided to work with Jay to make the app better, rather than develop an app in house. His only compensation is the revenue from the app..

Every other platform's are free except wp!

Just wondering, where is the webOS app? Whaddaya mean, it's dead?! Not according to my Palm Pre from Sprint!! -sent from my Galaxy Note 2, but in protest!

Yeah I'll echo the same... I used the precentral app for a long time, they gotta have a webosnation app don't they?

Had a pre+. And I loved that phone. Except the bong-dong sound it would make when stuck on the touchstone for too long

So how exactly is Apple rejection an AndroidCentral app? Any rejection would have to come with an explanation.

Why is windows phone central app paid and the others are free? Posted via Droid RAZR M on the Android Central App

I think it's because Jay hosts it from his site so the $0.99 goes towards the upkeep on that. That's probably not completely accurate but I've heard him mention it on the WP podcast.

Instead of building 16 apps for the 4 platforms why not just build a Mobile Nations app for each platform and when you log in with your account can choose what feeds you want to see in the news feeds. Way easier to maintain 4 apps instead of 16. Think about MN crew!! Keep up the good work

Man I'm glad to see I'm not the only one that thinks that. The android mobile nations app would look sexy every "nation" having a different colored action bar green for AC, iMore blue, WPC magenta and CB orange. Posted via Android Central App

Yasss!! I hate checking all the sites individually. One universal app with filters....genius!

Awesome for those who use the apps. I still prefer using it on my phone browser. Used to it now.. :P

I love how the Windows Shit...I mean "phone" app is the only non free one. Lol

+1
Why is the Windows Phone app not free like the rest? Posted via Android Central App

On the WP Store: Paid = .99 = PRO
Trial = FREE = Standard All apps must have a "Trial version"
It avoids the clutter of having too apps on the store like android.

How come when I tried to download the CB app I was taken to the BlackBerry World Store and asking for my username and password? I mean I was able to enter the store since I was a BlackBerry user, but I can't download this app for android. Posted via Android Central App

BlackBerry's running BB10, Android is Android, iPhone' iOS, WP is Windows Mobile. They're different platforms. Android can't install BB10 apps and BB10 can only install certain Android apps.

WP is now Windows Phone, not Windows mobile (AKA Windows CE) Windows Mobile << Windows Phone (Ever since WP 7,7.5, and 8) Windows Phone 8 Runs on the NT Kernel Like the desktop.

Lol. You can't download apps across different platforms. Posted via Android Central App

The CB10 app works amazingly! I now spend more time using the app than being on my laptop.

I still think there should be a unified app... One app to rule them all :) It would be cool if a single, multi-platform app could let you access any of the Mobile Nations' sties PLUS any of the forums. But at least one for multi-sites and one for multi-forums.
Android Central Newsletter
Get instant access to breaking news, the hottest reviews, great deals and helpful tips
Thank you for signing up to Android Central. You will receive a verification email shortly.
There was a problem. Please refresh the page and try again.