Minecraft: Pocket Edition updated with new survival mode additions and split touch controls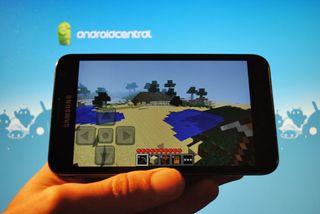 It hasn't been all that long since we last heard from the folks at Mojang but that doesn't mean they took a break from what they do best. In fact, a new update to Minescraft: Pocket Edition is now available for download and it brings some nice updates to the game.
This release, introduces pigs into the survival mode as well adds a new split touch control scheme for normal play in addition to the new flying control scheme. To top it all off, Mojang has cleared up some bugs with this release so that game-play looks better and less pixelated. The update is available now, you can jump past the break for the link.
>Less pixelated
>Minecraft Something isn't making sense here...

can someone please tell me what soooo cool about this game?
played it for 5 min. fucking boring as hell. what is so cool about this game

I tried it out for about 5 minutes as well because I got it free or for .10 cents during a sale. It was quite boring. I have never been creative though so maybe that's the problem. Virtual Lego's just doesn't do it for me.

Yeah the pocket version sucks, we just download it to humor them, hopefully one day it'll be worthwhile.

Picture makes me want a G-Note but not minecraft...

The pc version is much better. I'm waiting for Mojang to introduce crafting and more objects. Throw in creepers as well. Not much you can do in pocket mode without crafting. The game gets old fast.

The updates are great. But, 99% of users are still waiting on crafting. What's the point of minecraft without, you know, uh - crafting?

It's fun for a few minutes, but there's no online play like the PC version, you can only play with people on the same wifi network.
If online play becomes available, I will probably play this a lot more!

yeah, I have this, and am a big MC fan. but until they add crafting into MC:PE I'll just be waiting.
Android Central Newsletter
Get the best of Android Central in in your inbox, every day!
Thank you for signing up to Android Central. You will receive a verification email shortly.
There was a problem. Please refresh the page and try again.