Microsoft's Surface Duo is a big deal for Android users [#acpodcast]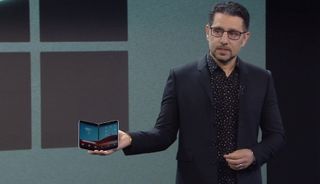 Microsoft stunned the tech world last by announcing their return to the smartphone market. Surface Duo is expected in late 2020 and is a dual screen device running Android. Daniel Bader speaks with Daniel Rubino of Windows Central and Mr. Mobile himself, Michael Fisher, about the company's strategy.
Listen now
Subscribe in Google Play Music: Audio

(opens in new tab)

Subscribe in iTunes: Audio

(opens in new tab)

Subscribe in RSS: Audio
Download directly: Audio
Show Notes and Links:
Supermassive forehead and chin bezels for no reason...no, you won't be holding the device that way most of the time... it looks great when closed, when open, it looks like someone glued 2 iPhone 4's together...

I haven't taken a phone call holding my phone next to my ear in months and when I did, it was once or twice. I have taken calls in the car with my phone charging, or on a Bluetooth headset while running errands. I have browsed and typed up long replies so it's really not a concern.

People generally overreact to bezels, it's really not a big deal. In my opinion, I think it's one of the most over debated things about phones.

"Supermassive forehead and chin bezels for no reason"

I can think of a couple of reasons, actually: 1) The device is

very

thin and that is where some of the hardware components, antennas, magnets, and sensors go 2) The displays are now "only" 5.6-inch (x2). If they had less bezel, they 'd be bigger...which means (a) Now more expensive (b) Now worse battery, which is already questionable due to how thin it is. Neither of those things would be good. As someone who saw and tried it in person I'm also going to point out that the hardware is so nice and elegant, with very good display that the last thing you're thinking about are the bezels. Instead, you're wondering how is it so thin and just enjoying that hinge. Given a choice between a single-screen, "bezel-less" phone with a display < 7-inches and a dual-screen one with some bezels but at 8.3-inches, I'm going with the latter. I'm still

gaining

much more space and a some new abilities for work.

Great show as ALWAYS kind regards Richard U.K
Android Central Newsletter
Thank you for signing up to Android Central. You will receive a verification email shortly.
There was a problem. Please refresh the page and try again.