Microsoft Edge Preview for Android now available on Google Play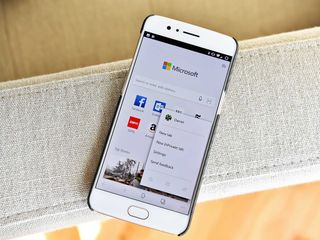 (Image credit: Android Central)
Microsoft recently surprised the mobile world with the announcement that it was bringing its Edge browser to Android and iOS. Initially, the browser was only available as part of a preview limited preview on iOS through Apple's Test Flight beta program, with Android said to be coming soon. Now, as first spotted by Simhar.com, the Microsoft Edge for Android preview has appeared on Google Play (opens in new tab) and is open for anyone to download and test.
Microsoft's goal with Edge on Android is to provide a consistent experience between your PC and your phone, with the ability to easily share documents and pick up where you left off — something that has been sorely missing if you're a loyal Edge user on desktop. As part of that experience, Microsoft is making the "Continue on PC" feature a highlight, allowing you to easily pick up where you left off with the upcoming Fall Creators Update.
Here's a look at the highlight features of Edge on Android:
Continue on PC: Go anywhere and pick up where you left off by seamlessly moving content between your mobile device and PC (requires Windows 10 Fall Creator's Update).
Data Sync: Your favorites and reading list are synced across your devices, so no matter the device, your browser is always personalized to you.
Hub View: With your favorites, reading list, history, and books all in one place, finding and managing your content is made simple.
Reading View: Reorganize the content on a webpage to make it easier to focus on what you're reading.
QR Code Reader: Easily read QR codes at the touch of a button. Microsoft Edge will pull up the reading and information right onto your screen.
Voice Search: You can now use your voice to search the web. Ask a question or speak a prompt to use the web in more natural, familiar ways.
InPrivate: When you browse with InPrivate mode, your browsing data (like your history, temporary internet files, and cookies) isn't saved on your PC once you're done.
Keep in mind that the Edge preview is currently limited to U.S. users (although it is worth a shot; we were able to download it from the UK too). If you're ready to give Edge a shot, you can grab it on Google Play now.
Just keep in mind that Edge on Android is still in development, and you're likely to encounter bugs here and there.
Download Microsoft Edge preview (free) (opens in new tab)
Android Central Newsletter
Get instant access to breaking news, the hottest reviews, great deals and helpful tips
Good start. It needs a lot of work and polish but so far so good. Wish there was a Home Button too though

Checked it out, seems pretty good. No dark mode though, so uninstalled. Oh, also I'm in the UK, so it seems it isn't US only.

Installed in Canada too, although I installed it from Google Play website, not sure whether it would work directly on phone

Not bad so far. But I don't see any reason to use this over Samsung Browser.

I dislike Samsung, but I've heard so much chatter about how good this browser is I've just installed it... I'm loathe to admit it, but my first impression is quite positive. Huge bonus points for not only a night mode baked in, but a bona fide dark high contrast mode.

Ad Block Extension and Biometric log on makes anything else pointless.

That is one thing I miss since moving on from Samsung again. Using biometrics for passwords in the browser

Continue on PC is not even coming to edge on windows, I just preorder my pixel 2 XL,

This browser is horrible on a PC why would I want it on my phone? Pages take forever to load compared to Chrome. Scrolling is slow and laggy as all hell. No thanks

Because this is using Chromium and is overlay skin. But obviously you missed the article that explained that. But thanks for ranting

Compared the Samsung browser chrome is slow an laggy ...just saying

This is very true. Too bad the subject at hand is not about Samsung Browser. But great reflection.

When is the last time you have actually tried Edge?

I like edge on pc. I switch between using edge and chrome.

Because you are wrong. Besides maybe old Opera 12 Edge is the browser of my choice. Now even with a reason more.

It's the faster the browser I've ever used (or at least as fast as Chrome) and I've seen tons of people say the same. Since Windows devices has millions of combinations of hardware components, it's likely something on your pc or maybe your Edge app just got messed up somehow.

Really?
Independent tests say just the opposite, that Edge is faster. Maybe you're confusing it with IE.

i kid u not, myself ive been using firefox for like 15years strait, and every computer thing i lay my hands i put firefox onto it sooooo theese days when there is basicly flood hurricane with mediocre browser galore, i see no point changing habbits
soooo, why would somebody put this edge thingy browser when there waaaaay more supererior options available? duuh edge duuh hurr duurr egde dooong, no thanx microsoft u can keep this trash can piece for your staff

How can you be using a browser for 15 years straight when you're obviously 13 years old?

yea right bro, what next? maybe you gonna assume my gendet? im 25 and firefox is the baddest and coolest thing
so, does MS pay you nuff to defend their half_ass products? guess so

I think you're the one "advertising" here. Why bother coming to an article about a new browser if you're not even interested in trying it. Your opinion is biased and outdated, but you're entitled to it, I guess.

no really, microsoft needs to drop those retarded attempts to catch others (firefox,chrome,samsung) and move on , to start non making stupid clones but to focus on something important and what they can bring innovation to industry.
edge gooooosh, edge my butt

Browsing isn't bad at all. Good start, Microsoft! Excited to see book support appear - the Books tab just has a placeholder message. :p Typing a comment here was initially laggy, but now it's working fine.

Just get the Samsung browser an keep it moving it is the best my opinion of course

Gotta admit.. Installed. Used for a minute or two. Uninstalled. Chrome wins. Tried the Microsoft launcher too. Twice as I'm in the beta. Uninstalled also. Prefer the BlackBerry and nova launcher way more. I'm sure they'll improve though so will try at a later date when they've both matured.

After what Microsoft did with the windows 10 upgrade program---trying to trick people into upgrading, and am not going to get another Microsoft product unless I absolutely have to. Not even going to look at their browser

I will quote the great show of prophecy, SpongeBob SquarePants: "Everything is Chrome in the future!"

I would never use a MS webbrowser. They couldn't make a good and safe one in 20 years, why would it be different now. Just read recently that chrome is still the safest way to go.

Awesome! AgileBits finally released their 1Password extension for Edge so I can use it as my everyday driver of a browser. I find that, in Chrome, too many pages don't build correctly. Edge doesn't have that problem. Now, if, for the Android version, they will give us a black background...

I think you're mistaken about the US only bit. I got it off the play store over in Bangladesh.

Microsoft: always sharing but never receiving back from the others LOL.

I'll be trying it out to see how it syncs to my laptop. I really like Chrome but DAMN!!! is it a resource hog on a PC.

Edge is my main browser on PC, gonna be nice being able to sycn between phone and PC again. However I do use the Samsung Browser as my main on phone, and I don't know if I can give it up.

I'm glad this became available. Is there a dark theme/mode? I found a setting for "turn on theme color" but did not notice any change. The browser seems good for a first release and I'm looking forward to future updates. Sadly this version of the browser works better than the native Windows version :/

Probably gonna let it get a few more updates before trying. Edge is nice on Windows 10 and use it along with Chrome when Chrome already have too many tabs opened.

Edge still jas a long long way to go on Desktop. Service Workers is just the most prominent thing missing

Good idea for Edge users. When I tried the Edge browser on my laptop it was terrible & Microsoft was just as terrible about responding to user issues, hope both have improved!
Android Central Newsletter
Get instant access to breaking news, the hottest reviews, great deals and helpful tips
Thank you for signing up to Android Central. You will receive a verification email shortly.
There was a problem. Please refresh the page and try again.