Microsoft Edge browser is coming to Android soon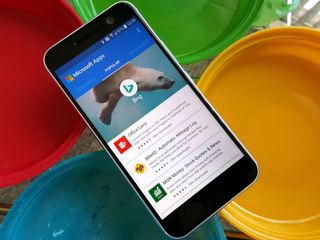 In a surprise announcement, Microsoft said its Edge web browser is now available for iPhones, with a release for Android "in the coming weeks."
The initial rollout for the browser will be limited to those in the U.S. but should expand to other markets over time. Currently, the browser is in preview only as Microsoft begins to build out features based on user feedback. The same goes for tablet support on both OSes, which should come later.
Edge for Android and 'Continue on PC'
Microsoft's main goal with the Edge browser for Android users is to make sharing documents easier and help you pick up where you left off when using Windows 10.
Part of the Windows 10 Fall Creators Update feature set is the ability for consumers to pass a link to the "Continue on PC" share target. While that feature works, it is hard to find and not very intuitive.
How to use 'Continue on PC' for Android in Windows 10 Fall Creators Update
The Edge browser for Android, however, makes Continue on PC a prime feature with a prominent share icon near the bottom of the browser. Users can just tap to continue the experience on their Windows 10 PCs, or save it for later.
Other features in the Windows 10 version of Edge are also present, including:
Website favorites sync.
Reading list sync.
eBook and ePub support, including sync of purchased content from Windows Store. (Coming soon.)
Password sync. (Coming soon.)
Joe Belfiore, corporate vice president of Microsoft's Windows and Devices Group, told us that there are no immediate plans for browser extensions, but like many future feature updates, future direction will be partially determined by user feedback and requests.
Other abilities, like signing into your Microsoft Account, InPrivate tab (private browsing), AirDrop, and the ability to set your default search engine to Bing, Google, or Yahoo, are already enabled.
Some of the features like password sync, eBooks, and support for tablets, will come later as Microsoft builds out the current Edge for Android application.
Although initially only for the U.S. market, Microsoft expects to push Edge to other countries and languages as it expands the preview to get more feedback.
Edge for iOS and Android – Slightly more than skin deep
Microsoft told Windows Central that these are not native browsers in the traditional sense. Edge for iOS is based on the WebKit layout engine, while the Edge browser for Android is based on Chromium. That rendering technology contrasts with the EdgeHTML engine that the Windows 10 browser leverages, so build strings and feature sets won't be aligned.
Apple simply does not allow third-party browsers based on non-WebKit engines in the Apple Store, and Android is built around Chromium, making it a more natural fit for that OS.
These Edge browsers are basically sophisticated skins with advanced feature sets that allow syncing with your Windows 10 PC for favorites, reading lists, reading view across your PC and phone, and more features that are familiar to Windows 10 consumers.
Due to Apple's restrictions, consumers won't be able to set Edge for iOS as the default browser. Such limitations, however, do not apply to Android.
Where to get Microsoft Edge for iOS and Android
Starting today, iPhone users can use Apple Test Flight to begin using Edge for iOS Preview. Those on Android can sign up to be one of the first to test the preview Edge for Android, which launches in the coming weeks.
To sign up for Edge on both iOS and Android just head to Microsoft's site here (opens in new tab) to get started.
In addition to announcing Edge for Android Microsoft is also rebranding its Arrow launcher. See what's new with Microsoft Launcher for Android, which is now available!
I hate Edge. Even using it on my Surface I hate it. Half the time I have to switch to IE because Edge doesn't work properly. Which is why Chrome is my default on my tablet. I'll stick to Samsung Browser and Chrome for Android. Shame MS screwed up their whole mobile platform and now have to rely on Android to even still be relevant in the mobile sector.

First, yes edge (on Windows 10) is crap. It is buggy with lots of hangs and crashes. Second, did you read the article????
This "Edge" browser is really chrome in a wrapper.
So its likely to run just like chrome does on your phone now with the added benefit of "continuing" on pc and more sync features. I'll give it a try before I write it off.

Yes I read it's a wrapper. Which is stupid. Hence the reason I said "I'll stick to Samsung Browser and Chrome for Android." I don't need a third browser that's a skin.

Edge is great for me on my pc and 2-in-1. I currently jump between edge and chrome on my computers, I don't necessarily always like to stick with one browser. Chrome has more extensions, but really what keeps me from using edge more often is lack of xmarks for cross-browser favorite syncing. I'm excited for edge to come to android.

It's already launched on iOS and coming soon to Android.....

I know. Sorry I meant to reply directly to the first comment and question how Microsoft only rely on Android to stay relevant in the mobile space when they equally if not more so cater for iOS too?

Because iOS only allows their apps to be placed on there. They can't even make this browser a default on Apple. And this app is only a skin to the native browsers. They rely heavily more on Android because they can build their Launcher and make it MS focused, plus you can make this a default browser, something they are betting on. If they do ever release a phone outside the MS platform, guaranteed it will be a forked Android phone like they tried before that failed craptasctically. It's the best way to "create" a MS phone. If you haven't payed attention to MS, they do all their beta apps on Android.

The Nokia X was awful I admit but that was all Nokia. They were trying their luck with Android without breaking the Windows Phone contract. Microsoft played no part in it whatsoever

If you think that. That was a testing ground for both companies. You honestly don't think MS wouldn't had absorbed that in time of merger if it was successful? Especially as Elop, a former MS employee that was re-entered into MS again? Especially right before the merger completed. And now MS again is at Android doorstep with the Microsoft Launcher. They never stop working on Android. They just didn't want to continue having hardware for it.

I'm not arguing your points btw, just wondered why iOS had been left out of your post is all

No worries. I don't argue with people. We're having a debate. iOS is good for MS, no doubt, but have too much restrictions. It's only good to have apps to use. Android allows MS to actually play with options to make a MS phone without having to provide hardware for it. They want to have people experience MS fully and are able to do that more with Android. The changes to Arrow Launchers explains that. Plus it's easier to try to negotiate to have other OEMs to use their Launchers, but that will fail like Cyanogen did.

Will stick to my well optimized samsung browser with ad blocking rather than edge.....

Who on earth is going to install edge??

A lot of people Especially people migrating from Windows phones (and don't say what, all 10 of them?) lol

True. MS is actually on to something. More than people can see if they haven't been keeping up on what MS has been doing for mobile. I don't think Windows Mobile will be relevant as to still having it's own OS anymore.

You're right. They're probably are at least 11 or 12 of them left now.

I am a convert and was a decent community. They really hit the sector good in non-US companies with lower end hardware. I will say this though I have an S8+ and on my 950x. and ever 1520 never experienced any slow downs or having to optimize performance.

I moved from a Lumia 950 XL to Android. I don't use Edge on my Windows 10 laptop and won't use Edge on Android.

I moved from 950xl to google pixel. I switch between edge and chrome on my desktop and 2-in-1. I actually like edge, it works well. The only thing keeping me back is lack of xmarks for cross-browser syncing.

I've used Chrome on both desktop and phone and love the shared features, especially bookmark syncing. I'm currently using Firefox on both with the same advantages and better speed on the desktop. I might try Edge to see how it compares, but I'm going to wait until most of the "coming soon"s become "now here"s.

Interesting, I'll govt it a go when it's available. If it has a dark mode or extension it may well become my default browser. If not, I'll stick to Firefox and Microsoft will have to go without my delicious data.

Apple restricts all browsers from using modern Web tech.. Amazingly the EU hasn't touched them when Microsoft got slammed for much less

It's almost like the rules governing a monopoly don't affect people with low market share.

http://www.bandwidthblog.com/wp-content/uploads/2015/01/ie-fail_270879-7...

I really like the chrome browser. I really liked Internet Explorer. At least on Windows mobile the Edge browser kinda sucked. So stay out of my life Microsoft.

I use Samsung internet on all my Android phones and Opera browser on my computer. I've not used Chrome in forever.

Egde sucks big time on Windows. Why on Earth would I install it on my phone?

works great for me on windows
Android Central Newsletter
Thank you for signing up to Android Central. You will receive a verification email shortly.
There was a problem. Please refresh the page and try again.