Microsoft announces Office 2019, teases new features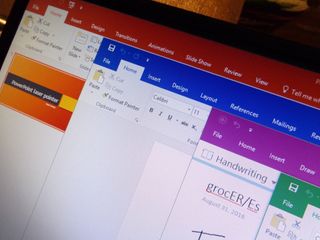 (Image credit: Microsoft)
Microsoft has announced (opens in new tab) Office 2019, the next perpetual Office update and the follow-up to the most recent release, Office 2016. Due for release in the second half of 2018, Microsoft says that preview versions of the latest Office suite will start rolling out in mid-2018, though it's unclear when exactly an Android version might be released.
Other than an announcement, Microsoft is fairly coy with what to expect. However, the company did tease certain improvements and features we can expect, including enhanced inking, new PowerPoint animations, and more. From Microsoft:
It's definitely interesting to see another perpetual license version of Office on deck for release, particularly as Microsoft has put more and more emphasis on its Office 365 service in recent years. "Office 2019 will be a valuable upgrade for customers who feel that they need to keep some or all of their apps and servers on-premises," Microsoft says. We should learn much more about Office 2019 and what's new in the coming months as we move towards a preview release.
Do you use Office on Android? Let us know in the comments below!
Android Central Newsletter
Get instant access to breaking news, the hottest reviews, great deals and helpful tips
And to prepare for office 2019 we're gonna charge an extra $10 for yearly subscriptions starting in October

Oh, there have been versions of Office released since 2010? Cool, someone should tell my company.

I just checked and my company uses 2013 version...:)

We are currently trialling Office 2013 at work but most people are complaining that it takes then longer to do things than in Office 2010. One thing I don't like about Word 2013 is the fact that they have removed the facility to import a picture directly from a scanner.

I wouldn't worry about it - it doesn't add much needed functionality!!

LibreOffice and Thunderbird work just as good, and they're free.

I use Office on Android and it is free to use, although you have to subscribe to 365 to unlock some of the features. The free version still has more features than many other office apps on android though.

Actually only unsophisticated user think any non Microsoft Office apps are just as good. I have tried the all and they lack features that are critical for me and I'm sure many others. It's just that you don't know what you're missing or don't need those features.

My company just upgraded from 2007 to 2010 so I should see this version in about 2026

Hehehe, lucked up and got a lifetime subscription to Office 365 on eBay, can't wait 🤗

Got Office 2016 in January, 2017 at work, Apps take too long to launch but I find the Outlook 2016 to be super fluent compared to Outlook 2010. Let's see what Office 2019 has in store of us.

Time to get rid of the ribbon. Making everyone's life miserable since 2007.
Android Central Newsletter
Get instant access to breaking news, the hottest reviews, great deals and helpful tips
Thank you for signing up to Android Central. You will receive a verification email shortly.
There was a problem. Please refresh the page and try again.