Microsoft adds new address book and calendar features to Outlook for Android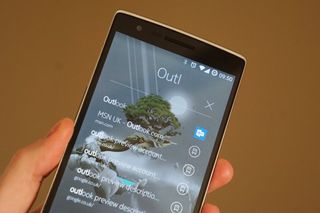 Outlook has been revamped and is now a full-featured address book, which is about time for those who have opted to rely on Microsoft's app. Instead of a somewhat lightweight view of contacts, this latest version allows you to view unified card entries across all connected accounts. Actions include sending an email, calling said contact, viewing previous conversations and even shared files.
The main contact view is an easier-to-use alphabetical list. And because you're rocking an Android smartphone, Outlook will even pull contacts stored on your handset locally.
In case you're connected to an organizational directory and a Global Address List, Outlook now offers such integration. Microsoft makes it easy to allow you to search for contacts using the search bar (selecting "Search Directory"). For the calendar, there's now a useful three-day view when using the app in landscape mode - perfect for those with larger devices who want to see more on-screen.
Here's a quick list of other improvements added in this latest release of Outlook:
Select all—You can now "select all" to perform bulk operations on messages in a folder (available on iOS, coming soon to Android).
Undo of bulk actions—Undo now works on bulk operations like delete and archive.
Empty trash/deleted items folders—You can now permanently delete items from your deleted items folder.
Localization—Improvements to localization across our 30 languages.
Accessibility—Improvements on the message list and compose screen.
The company closes the announcement blog post covering this update with news that more features will be added in the coming weeks and months, which will introduce security and management features. Speaking of which, see the link below for more details on Microsoft's plans for Outlook on Android and iOS.
Source: Microsoft (opens in new tab)
Doing things in MS way.. Far better experience than WP

WP only enjoyed best in class contacts management on any smartphone for past 5 years. Terrible Microsoft. Those Windows 10 apps for contacts management they've shown are also terrible: http://i.imgur.com/ZMpvxgR.png Not caring about Windows crowd at all.

Just tried the new Outlook app. I like the idea of combined email, calendar, and contacts but this app needs more work to become my default. I uninstalled it until it matures past it's beta. Kudos to MS for it's efforts to muscle it's way into the Android world though. Competition is good. Posted via the Android Central App

Beta? This a rebrand of an existing app. Have they called this a beta? --- This message brought to you via the sarcasm keyboard available for download at the Google Play Store.

It's technically a "Preview" version, so yeah I guess it's basically a beta. I've been using it for a few weeks, and I can attest to it having the instability and unreliability of a beta.

Same here. I test it out here and there. It's just not ready for full time use over the gmail app for exchange mail.

I wish I had that option. I don't have a Nexus phone, so no Gmail exchange option yet.

Still no repeating event support in the calendsr.

Just use Sunrise Calendar? Also Microsoft's now.

I love the concept, but one deal killer for me is the fact you cant sync more than 30 day old emails. i sometimes need to go much further back. Really not sure what they are thinking.

Agreed with the ability to sync "All" mail. Would like a better way of syncing "Selected" folders. I only want those folders to show and the rest are collapsed. Adding a "dark" theme option would help. Competition is awesome...those who don't get that are ignorant. Posted via the Android Central App

That has been an issue for me as well.

Does it do alias's? Posted via the Android Central App

I really wanted to like this app and used it as my daily driver for a bout a month, but stability issues sent me back to Gmail (both apps are superior to the native mail app). So it's Inbox for my Gmail and Gmail for my Exchange.

I can't stand those little squares with the initials in them, with they'd allow us to turn them off, happy with the outlook.com app for now Posted via the Android Central App

One issue I had with the app was not being able to get notifications from my subfolders. I would only get a notification if the email went to my inbox. I currently use Nine Folders, which is a great app.

I still find that nothing beats the quality of Aqua Mail. Posted via the Android Central App

I want to use this app, but it doesn't support POP accounts, which is what Verizon uses. Pointless to use it just for my yahoo account and not be able to use it for my Verizon account. Very disappointing

Microsoft is building lock screens, contact apps, etc. for Android. I predict they jump in on the Android game by 2017 if Windows 10 for phones doesn't take off the way they hope. They should have continued to release those Nokia X Android phones but with better specs.

Does it still use Acompli's old backend & cache mail/creds on 3rd party servers instead of using ActiveSync when you add Exchange accounts? Our on-prem Exchange will not be allowed to connect through this app until they change that..

This x1000. You'd think they would have saw issue with that given all the Exchange servers running out there.

Does the calendar now integrate with Google Calendar? Only reason I haven't been using it has been lack of this before now possibly Posted via the Android Central App

Is there a way to make the calendar the default screen in Outlook? I would like to be able to touch the Outlook widget and the calendar screen pop up instead of the email screen.
Android Central Newsletter
Get the best of Android Central in in your inbox, every day!
Thank you for signing up to Android Central. You will receive a verification email shortly.
There was a problem. Please refresh the page and try again.