Meizu's $33 fitness band outdoes Fitbit at a fifth the price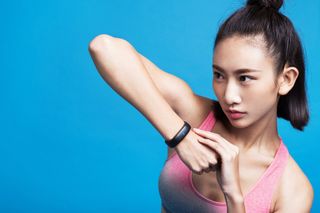 Meizu is entering the wearables market, and the popular Chinese smartphone maker is taking on one of its biggest rivals, Xiaomi, in the process. But the fitness tracker, aptly titled Meizu Band, further reinforces the notion that most wearables sold in North America are, if not overpriced, sold at a considerable premium.
By specs alone, the Meizu outclasses many of the current crop of fitness wearables, with a recessed OLED touchscreen, heart rate monitoring, seven-day battery life, automatic multi-activity fitness tracking, and sleep monitoring, along with a magnetic charger to ensure IP67 water ingress protection and a comfortable rubberized strap.
While the $33 USD equivalent band won't be launching outside China, at least not for the immediate future, it does (or should) renew the conversation about how commoditized fitness wearables have become, and how much longer companies like Fitbit can get away with charging $150 for products like the Charge 2 — as good as it may be.
Get the Android Central Newsletter
Instant access to breaking news, the hottest reviews, great deals and helpful tips.
Daniel Bader was a former Android Central Editor-in-Chief and Executive Editor for iMore and Windows Central.
I feel lame. I just bought a Charge 2 on Black Friday. And I can't even swim with it on.

Same here, i was like wait its water resistant not water proof like my Gear Fit 2 was :(

Probably better build quality too

But it's not coming to the US. If it were then perhaps Fitbit wouldn't get away with charging a premium for their products.

What about the app? Is it crap like Mi Fit?

Yes, the companion MiFit app could do with some spit and polish but if you just want to keep track of basic data it gives you everything you need. Plus there are other 3rd party apps which also sync with the MiFit bands and there is the option to sync to Google Fit (not really the gold standard for fitness apps though).

Yeah, i like those 80,000 steps it gave me that one day... Or like the charts that don't scale. Or the inconsistent alarms.

Please Google the Xiaomi MiFit bands. Meizu is already expected to have a tough time because the 2nd Gen Xiaomi bands sell for RMB 149 which is about USD 22 at current exchange rates. Name any feature on a Fitbit 2 - both the Meizu and MiFIt 2 bands have it. We have 4 first gen MiFit bands in the family for a little over a year. I repeat they are the 1st gen devices launched not the 2nd gen currently being sold. They had cost us about 10 bucks a piece. They still work flawlessly. They do not have a display but step counter, sleep monitor, heart rate monitor (can be activated only when running), alarm, vibration alert for notifications from any chosen apps on your phone, water resistant (It stays on in the shower everyday) coupled with a 30 day (yes you read it right) battery life and a companion app on the phone which is updated regularly. I could hardly complain that I have not got my 10 bucks worth.

I have Mi Band 2 and it's a great product for $30 bucks. Wife got a Fitbit for $120 and I was laughing at her. Miband battery last for 2 months and her Fitbit battery only 5 days.

Mi Band 2 is really good. Although my battery lasts for less than 15-20 days, which is still great. I use it just for steps and call notifications.

Selling at low prices is easy when you steal your competitor's IP.

Boo! Big headline about device that's not coming here? Getting tired of that sort of "reporting" whether it's in my local newspaper or from online sources. Guess I'll have to order one from my Chinese supplier then since that company isn't going to get into the North American market just yet...

Just a reminder that sometimes its worth paying a little more from a reputable company with good service and support. Though, I'm not sure how much more is justified and even if Fitbit is such a company or not.

I'm sure that online Chinese sellers like Gearbest will have it for worldwide sale soon enough, so no worries it's not in big box stores in the US. We're used to it by now. Hold-your-hand support isn't worth over a 75% increase in price, no matter how good it is...for real.

"get away with charging" What? People demand a product, and if they are willing to pay a premium price for it, then why would *anyone* lower their prices? If Fitbit had them as competition in the US, then they would lower the price as much as they could to maintain the business, but to say they are getting away with it is just unfair.

I came across a revolutionary new diet system that not only guarantees to help you lose weight — it promises to help you lose more weight — all body fat — faster than anything else you've ever tried in just 3 WEEKS. Check it out :goo.gl/UyufnH