Meizu EP51 review: Well-balanced, stylish wireless headphones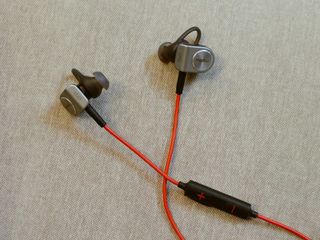 The quick take
Meizu's EP51 earbuds are surprisingly well-built and well-balanced, and are priced just right. They may be difficult to find, but they're worth tracking down.
The Good
Design and build quality
Balanced sound
Fits nicely
Impressive carrying case
The Bad
Middling microphone quality
Average battery life
In the Box
Meizu EP51
Carrying case
MicroUSB charging cable
Silicone tips
Documentation
Meizu EP51 Technical Specifications
Swipe to scroll horizontally
| Category | Features |
| --- | --- |
| Dimensions | 16 x 23 x 25mm |
| Weight | 15.3 grams |
| Frequency Range | 20Hz – 20KHz |
| Impedance | 16 Ohms |
| Sensitivity | 87dB±3dB |
| Maximum Power | 10mW |
| Battery | 60mAh | Standby time: 400 hours | Charging Time: 2 hours |
Design
The impressive design of the EP51 isn't surprising. I quite like the design and build quality of Meizu smartphones, and the headset carries on the tradition. For its price point, it is nicely constructed, with aircraft-grade aluminum, and weighs a light 15 grams. It's solid and looks slick, with subtle Meizu branding.
The wing tips on the silicone ear buds are designed to fit snugly and they don't fall out even when walking quickly or running. The aluminum ends of the earbuds house magnets which keep the earbuds locked together when stored or when worn around the neck to avoid them sliding and dropping to the ground. They also sport a water resistant coating that protects the headset against sweat, but the company doesn't recommend using them in the rain — and neither do I.
The red cable is pretty good, but I would have preferred a thicker braided one, but you're not going to find that embellishment at this price point. The cable houses the independent volume control buttons, the built-in microphone, and the Micro-USB charging port. My only gripe is the rubber cover on the charging port doesn't fit flush on the port, which got worse over the course of my testing. It might be an isolated issue, but it's a shame to see on an otherwise nicely-built headset.
Overall, the Meizu EP51 is well-designed and stylish, and can easily compete with many of the more expensive earbuds in the market.
Performance
The sound quality on the Meizu EP51 is amazing considering its price, and it even provides decent noise isolation. The sound is balanced, although you won't get booming bass from these small drivers. Even at maximum volume, there is no crackling or distortion of sound, and at 16 Ohms they're not difficult to power from even the most paltry of phone amplifiers.
The call quality is mediocre — the company saved some money by including a low-quality microphone — although that's the case with most budget and mid-range headphones. The wireless reception is great, matching the usual Bluetooth 4.0 range of 10 meters before the signal starts to fade out.
Battery Life
At 60 mAh, EP51 packs in a tiny battery that's a tad underwhelming. Meizu claims six hours of music time, and while the battery life is dependent on volume, I was able to get 6 hours easily on a regular basis. It's good, but I would have preferred a little more. According to Meizu, it takes 2 hours to fully charge the EP51 from a dead state, but often, it took a little less than that.
The Bottom Line
For its price (which ranges from $28 to $42 at the time of writing, depending on the retailer), the Meizu EP51 is a very good pair of Bluetooth wireless earbuds, offering great value for the price. It sounds really good, and the buds fit well, but the highlight is that it looks very modern. If you're looking for a mid-range wireless headset, the Meizu EP51 is a great option that I'd highly recommend. It's not perfect, but it packs a punch and is more premium than what you pay for it.
Get the Android Central Newsletter
Instant access to breaking news, the hottest reviews, great deals and helpful tips.
"decent noise isolation" What do you mean by that? If they have the ability to 'isolate' a particular noise no one would want them. Unless you mean noise cancellation? Presumably these have no noise cancellation ability. Posted via Nexus 6p

Noise isolation means the ability to filter out the ambient noise. It is possible with silicone earbuds depending on quality. Noise cancelation is totally different and more advanced method but serves the same purpose. Noise isolation and noise cancelation are completely different.

Decided to part with $32.15 and give them a try. Got them through Gearbest. Android Central link doesn't work. Amazon wanted $42.99. My Spectacular Samsung Galaxy S7Edge

I've owned the Airsspu Dt55 Bluetooth4.1 Wireless Sport Headphones since October of last year. They're currently $18.99. Long lasting battery. Stay in my ears. Magnetic so you can keep them around your neck when not in use. Use them often and are great. Would recommend.

My favorite part is "average battery life" That's the reason why I dislike wireless headphones, they don't sound as good as a medium quality wired headphones, and to top it all up you have to deal with a battery. Someone tell me how are these an "upgraded" or "the future"?? it's way more inconvenient to carry around... Apparently the future is carrying a bunch of charger (or frisbees and big rectangles...since wireless chargers are a thing) and dealing with battery on a headphone that also sounds mediocre, at best. Just because it's WirEleSS!!111! Some "evolution" Posted via the Android Central App

Well, if you move around....mowing, trimming, driving, exercising....or just getting up and down to walk from one area to another....the wires can easily snag. Next thing you know, you've flipped your phone across the room or put serious pressure on that earphone port. With bluetooth, you put the phone in your pocket, and move freely.

I agree with you but, to be fair, people would have said the same about cars being the future and replacing horses.

Wireless earbuds are extremely nice to use when exercising and that's really what this product is trying to appeal too. If your doing anything that requires real movement wired headphones are a pain in the a**.
Sure you have to charge them but that's a lot less annoying than dealing with a set of earbuds when working out Also Bluetooth audio has improved quite a bit , years ago I hated wireless audio but with improvements in Bluetooth and with an apt-x compatible phone and headset, the limiting factor in the sub $50 range is the small earbuds just like their wired variant. On top of the line headphones that are much heavier and wired the limits of wireless become apparent to some people but not on a pair $50 or less. Posted via the Android Central App

Somebody probably said the same thing about those damn wireless telephones as well. Glad they never got taken up! Hope you can appreciate that simply because you personally lack a use case does not imply that it is a pointless technology.

I know that I'm talking about wired ones, but anyone knows how do the they compare to the great value Xiaomi Piston 3 Earbuds in terms of sound quality? I have those and for 16 dollars they are also a great buy.
Cheers

These are great wireless earbuds, I own a pair :) Abhishek, you forgot to mention that these support aptX - which is basically a must for wireless audio. http://meizusale.com/meizu/EP51.html
https://www.aptx.com/how-it-works

Good to know. Now I'm even happier I pulled the trigger and ordered a pair. My Spectacular Samsung Galaxy S7Edge

"at 16 Ohms they're not difficult to power from even the most paltry of phone amplifiers". Since these are bluetooth, and are receiving a digital wireless signal from the source device (rather than wired headphones which get an analog signal from the headphone jack), I'm pretty sure the amplifier in the phone has nothing to do with it. There is an amplifier built into the headphones. I could be wrong, but that was my impression.