MediaTek debuts its first smartphone SoC with 5G, and an impressive slate of specs to back it up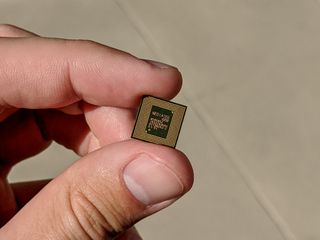 (Image credit: Andrew Martonik / Android Central)
What you need to know
The new Dimensity 1000 SoC is built on a 7nm process with 4x Cortex-A77 cores and impressive specs.
Integrated Sub-6 5G modem provides high speeds and power saving, with dual-SIM and carrier aggregation.
Devices with the Dimensity 1000 will begin hitting the market in late 2019, with wide rollout through 2020.
MediaTek is debuting its latest round of mobile SoCs, but this is a bigtime announcement: it's the companies first set of 5G-enabled chips, which will carry the brand name "Dimensity." The first of the bunch is a high-end platform, the Dimensity 1000, that integrates all of the company's latest tech and on-board 5G networking.
The general layout of the SoC is four ARM Cortex-A77 cores at 2.6GHz, along with four power-efficient Cortex-A55 cores at 2Ghz, on a 7nm process. More importantly it has MediaTek's latest ISP and APU for advanced camera and AI processing — it supports up to 80MP cameras, 40k60 video, and dramatically faster processing for digital zoom, video segmentation, object recognition and voice processing. It also supports QHD+ displays at 90Hz (or FHD+ at 120Hz), as well as 16GB of LPDD4x RAM, with promises of enhanced gaming using its HyperEngine 2.0 platform — but we'll have to wait and see that for ourselves.
What's MediaTek? The processor running your Amazon Echo, and probably much of your smart home
As for the networking side of the equation, this is MediaTek's first SoC with an integrated 5G modem. It's Sub-6 only at the moment, which makes sense in terms of useful deployments worldwide and the complexity of the system, but there will be a mmWave version coming later. MediaTek claims it's the fastest Sub-6 SoC available right now, with twice the download speeds of the Snapdragon 855 with an X50 modem, while using over 40% less power. But we'll see what Qualcomm has to say about that, considering its latest round of SoC launches is coming soon.
There are also a couple extras and firsts for MediaTek in the 5G space. The Dimensity 1000 supports dual-SIM dual-standby 5G, as well as 2x carrier aggregation for 5G networks — the latter of which being more important for situations of overlapping coverage from different parts of a carrier's Sub-6 network. It's also set up to work with both stand alone and non-stand alone Sub-6 networks. And elsewhere in wireless there's of course Wi-Fi 6 support as well as Bluetooth 5.1.
MediaTek says partner devices launching with the new SoC will start to hit the market at the end of 2019, but broad expansion will take place in Q1 2020 with U.S. and Europe launching in the second half of 2020. While it's unlikely to garner anywhere near the same sort of pull as Qualcomm's competing SoCs, it's incredibly important that MediaTek has a comparable 5G-enabled SoC on the market to give companies another choice as we push into the 5G era.
Press release:
MediaTek Announces Dimensity, World's Most Advanced 5G Chipset Family, & Dimensity 1000 5G SoC
MediaTek's Dimensity 1000 5G integrated chip delivers unparalleled performance, ultra-fast speeds and seamless connectivity
Taipei, Taiwan – November 26, 2019 – MediaTek today unveiled Dimensity, MediaTek's family of powerful 5G system-on-chips (SoCs) offering an unrivaled combination of connectivity, multimedia, AI and imaging innovations for premium and flagship smartphones.
The MediaTek Dimensity 5G chipset family brings smart and fast together to power the world's most capable 5G devices. Dimensity represents a step toward a new era of mobility – the fifth dimension – to spur industry innovation and let consumers unlock the possibilities of 5G connectivity.
Dimensity 1000 is MediaTek's first 5G mobile SoC in its 5G family of chipsets. The single 5G chip solution, with its integrated 5G modem, is a brilliant combination of advanced technologies packed into a 7nm chip and tuned for 5G performance.
"Our Dimensity series is a culmination of MediaTek's investment in 5G and positions us as a leader driving 5G development and innovation. Our 5G technology goes head-to-head with anyone in the industry," said MediaTek President Joe Chen.
"We chose the name Dimensity to highlight how our 5G solutions are driving new waves of innovation and experiences, much like the fabled fifth dimension," added Chen. "Our first announced chip, MediaTek Dimensity 1000, gives consumers a significantly faster, more intelligent and all-around incredible mobile experience."
The first Dimensity powered devices will start hitting the market later in 2019 and in early 2020.
The Dimensity series integrates MediaTek's 5G modem in one compact design, delivering significant power savings compared to competing solutions.
The Dimensity 1000 5G SoC supports 5G two carrier aggregation (2CC CA) and is the first to support dual 5G SIM technology. Dimensity 1000 boasts the world's fastest throughput SoC with 4.7Gbps downlink and 2.5Gbps uplink speeds over sub-6GHz networks. It also integrates the latest Wi-Fi 6 and Bluetooth 5.1+ standards for the fastest and most efficient local wireless connectivity, offering more than 1Gbps throughput in both downlink and uplink speeds.
Dimensity 1000 is a performance powerhouse, pairing four Arm Cortex-A77 cores operating up to 2.6GHz with four power-efficient Arm Cortex-A55 cores operating at up to 2.0GHz. This design enables an optimal balance of high performance and power-efficiency. The chipset also packs an Arm Mali-G77 GPU to enable seamless streaming and gaming at 5G speeds.
MediaTek's Dimensity 1000 also comes with a new MediaTek AI Processing Unit – APU 3.0 – with more than double the performance of the previous generation APU. The 5G SoC brings devices a significant performance boost. Early benchmark scores reveal that Dimensity 1000 will reach an ETH score, the Zurich's AI Benchmark, of 55,828. The chipset is designed to support stand alone and non-stand alone (SA/NSA) sub-6GHz networks, and includes multi-mode support for every cellular connectivity generation from 2G to 5G.
Features and technology in the MediaTek Dimensity 1000 include:
Most Power Efficient 5G Modem: The chipset's integrated 5G modem delivers extreme energy efficiency and is a more power efficient design than competing solutions. This compact, integrated design also lets brands use the extra space for other features like a bigger battery or larger camera sensors.
Unparalleled Imaging: With the world's first five-core image signal processor (ISP) combined with MediaTek's Imagiq+ technology, Dimensity 1000 provides a truly extraordinary camera and video experience. The chipset supports 80MP cameras sensors at 24 frames per second (FSP) and a range of multi-camera options such as 32+16MP dual cameras.
Powerful APU Camera & Video Support: The APU supports advanced AI-camera enhancements for autofocus, auto exposure, auto white balance, noise reduction, high-dynamic-range (HDR) and facial detection, along with the world's first multi-frame video HDR capability.
World's First Dual 5G SIM: With the world's first dual 5G SIM technology, in addition to support for services such as Voice over New Radio (VoNR), the 5G SoC delivers seamless connectivity across networks and offers consistent speeds.
Faster Performance: Dimensity 1000 is the only fully integrated solution that can aggregate two 5G connections (2CC CA), providing the world's fastest performance of up to 4.7Gbps.
Stunning Graphics: The chipset delivers stunning graphics with support for FullHD+ displays up to 120Hz and 2K+ up to 90Hz. Dimensity is the first mobile SoC with AV1 format support to enable new levels of visual detail, crisper sound and higher resolution for streaming media.
Seamless Handover: With 5G carrier aggregation, the chipset posts higher average speeds and performs a seamless handover between two connection areas (high speed layer and coverage layer) for seamless high speed connections when users are on the go.
The chipset's powerful CPU and GPU paired with MediaTek's HyperEngine 2.0 platform also offers an exceptional gaming experience. HyperEngine 2.0 dramatically decreases latency for smooth gameplay and can seamlessly switch from cellular connectivity to Wi-Fi for the best connection.
"Dimensity 1000 brings the latest connectivity, multimedia, AI, imaging and gaming innovations, all tuned for 5G performance to consumers so they can expect incredible experiences with Dimensity powered 5G devices," said Chen.
Dimensity 1000 is designed for global sub-6GHz 5G networks that are launching in Asia, North America and Europe. For more information and specifications visit the MediaTek Dimensity 5G solutions page.
Sign up for Black Friday email alerts!
Get the hottest deals available in your inbox plus news, reviews, opinion, analysis and more from the Android Central team.
Andrew was an Executive Editor, U.S. at Android Central between 2012 and 2020.