Cookbook Recipes for Android TV uses the biggest screen in your house for cooking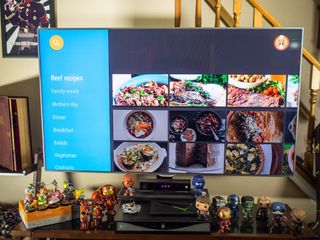 Not everybody grew up in a house where cooking was an everyday experience. Cookbook Recipes on the Google Play Store helps by giving you what you need to level up your cooking skills. Whether that means starting easy with scrambled eggs, or whether it's planning out meals for the whole family, this app has got you covered. It's available on Android TV and that means high res pictures and directions to help you make dinner delicious.
Cookbook Recipes is an absolutely free app available on the Google Play Store, and really that just makes it even better. You can tell just by looking at it that it was created using Google's Leanback UI which gives it a sharp look. At the top left of the screen is your search button. You can use voice commands, or go the keypad route, whichever floats your boat. When searching you can look up recipes by their actual name, or you can search by ingredient. The results will be made up of recipes already favorites of other users, and shows you the most popular results first.
On the main screen, the recipes dominate the page—which is really the point. You'll see a list of categories on the left of the screen. They're things like family meals, vegetarian, or beef, along with Cocktails, For Mom, and more. On the right side of the screen you'll see hi-res, close up shots of the recipes in each category.
You can either hit the category, or the picture to open up a recipe page. First you'll get a recipe pop up page. You'll get that same picture of the completed meal, along with the name, number of servings, and number of ingredients needed. At the bottom of the page you can save the recipe to your favorites—which adds favorites to the categories displayed on the main page. Under the recipe pop up are several suggestions for similar recipes, in case the one you selected isn't quite what you're looking for. Some recipes also display an estimated time to cook, but this isn't true for all of them.
When you go into the recipe you'll first see a prep page. On the left of the screen you'll get another picture of the completed item, along with the name of the recipe. On the right of the screen you'll see a detailed list of all the ingredients you need, which can range depending on the recipe.
Each recipe is broken down into steps, and each one is separated onto it's own page. There are no pictures once you get to this point, but the directions are easy to understand provided you have basic knowledge in the kitchen. Now each step of the recipe may call for multiple smaller steps, and not every recipe is separated in quite the same way.
Cookbook Recipes on Android TV really is just a fantastic app from top to bottom. It's got an easy to use interface that puts everything you need at your fingertips. You can find the recipe you want by name or ingredient, save your favorites, and find plenty of new ideas to try out. With details like cook time, serving size, and number of ingredients you can quickly and easily decide if this is meal for you in a pinch. With the added bonus of being free anyone who spends much time in the kitchen should definitely give it a try.
Get the Android Central Newsletter
Instant access to breaking news, the hottest reviews, great deals and helpful tips.
Jen is a staff writer who spends her time researching the products you didn't know you needed. She's also a fantasy novelist and has a serious Civ VI addiction. You can follow her on Twitter.