Make the most of your Fourth of July festivities with these apps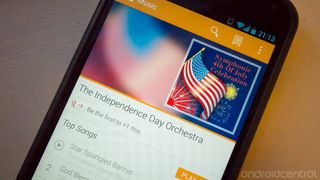 Don't let the frustration of planning a party get in the way of enjoying July 4th
We know that not all of our readers are located in the U.S., but for those who are the Fourth of July marks not only an extremely important historical event, but also a day to spend with friends and family. We've surely all had our fair share of great and horrible holiday party experiences, so this year we hope to ease some of the frustration with some great apps (and a few other picks) to help things move along more smoothly.
Hang around with us after the break for a few suggestions on how you can make the most out of that last-minute run to the store, cook up some top-notch food and make sure that everything goes off without a hitch.
Only make one trip to the store
If you have the fortunate (or unfortunate, depending who you are) situation of having to host the Fourth of July party at your house, you'll likely be making a nice big trip to the grocery store before things get started. With how crazy things get on July 3rd, you'll want to make your list, check it twice and hopefully only head to the store once. Take a look at these great to-do and grocery list apps to help you along:
Cook crowd-pleasing barbecue
Whether you're hosting a party or not, there may be a chance that you'll be firing up the grill (or oven) to cook up backyard eats for the group. Anyone can heat up your run-of-the-mill burgers and hot dogs, so if you're feeling like you want to try something new this year to impress the friends and family, you may want to take a look at some of these great cooking apps for inspiration:
Know where you're going and who's coming
If you've already chosen a location for your Independence Day get-together then you've done your part, but some of us are a little more spontaneous. With the following apps you can track the weather and find a place to go if you don't expect to get rained on. Once you've made a venue choice, give some of these group messaging services a try to get all of your friends in the same place on-time:
Places and wea​ther
Group messaging
Odds and ends
There are still a few apps (and other picks) that just can't be left out even though they don't have their own particular category. What kind of Fourth of July would it be without having a full version of the US Constitution or an orchestral performance of the Star Spangled Banner at the ready? Be sure to take a look at these last few picks before the 4th:
From all of us here at Android Central (yes, even the Brits on staff), be sure to have a fun and safe Fourth of July celebration!
Android Central Newsletter
Get instant access to breaking news, the hottest reviews, great deals and helpful tips
Andrew was an Executive Editor, U.S. at Android Central between 2012 and 2020.
For those who have a Pebble smartwatch and want to show off your proud to be an american download and install this watchface. http://www.mypebblefaces.com/redirect-view?fID=4415&aName=tramsay09&page...

Happy fourth of July folks

Need a fireworks display location app, Happy 4th to all

Need a fireworks display location app, Happy 4th to all

Phil should have made Alex Dobie write this article....

doubt i need an app to celebrate the holiday. unless they make one for beer.

I don't understand why these blogs feel the need to apologize for being US-centric. If people in Bangladesh want an Android blog, then someone should start one. You don't see the New York Times apologizing for being US-centric.
Android Central Newsletter
Get instant access to breaking news, the hottest reviews, great deals and helpful tips
Thank you for signing up to Android Central. You will receive a verification email shortly.
There was a problem. Please refresh the page and try again.