LucidCam is going to make recording for VR significantly more affordable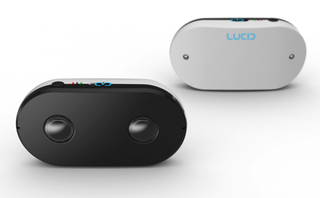 A whole lot of people who want to record video so it can be enjoyed in VR — meaning the ability to look around and see things around you, not YouTube's silly new VR mode — felt their wallets shrivel up and die when Google announced their Jump camera rig. It looks like an incredible way to capture VR, but it also means you need 16 GoPro cameras and a whole lot of additional equipment, which is pretty far from affordable for most folks. What makes Jump compelling is Google helping with the heavy lifting, the video stitching and preparing video for a VR experience, but at that price it's still something most folks won't be shelling out for.
Fortunately for everyone, the folks at LucidCam have been working on an alternative that makes capturing for VR as simple as using a single camera in your hand.
In much the same way you'd strap a GoPro to your helmet or connect to a stick to get a good shot from above a crowd, LucidCam is a pair of cameras that work together to offer a 180 video you can pan around in. The casing for LucidCam, which isn't much bigger than a smartphone, is design to either be worn or held out in front of you to capture whatever is going on in front of you. Each camera records in 2K (1080p per eye) at 30fps, and when you're ready to import to the app on your phone you get the option to view in either 2D or 3D. Still photos can also be captured in 2D or 3D if you just want a quick VR capture of what's happening around you.
180 capture is cool, but it's not 360 capture like Jump. To make that happen, LucidCam CEO Han Jin claims you can put three of these cameras in a triangular array and capture in a complete circle. The three 180 captures create the necessary overlay to capture the whole circle without any gaps in the capture, and once these three capture files are stitched together in LucidCam's software you'll be able to watch the video on any VR system just like you would any other 360 YouTube video that is currently available.
LucidCam seems to have a usability edge over Google's Jump rig with GoPros, but they also beat everyone right now on price. LucidCam is currently an IndieGoGo project set at $299 for early adopters with plans to retail for $399. When asked why LucidCam went with IndieGoGo for funding instead of just selling the camera he was already holding in his hand with the app that is already available on the Google Play Store, Han Jin demonstrated how much this platform had changed since he first started talking about it. Every time someone has a new idea that works, they add it. IndieGoGo is basically a way for LucidCam to polish the idea before a consumer launch, and so far it seems to be working well.
You can check out LucidCam video samples through the app, as well as on the LucidCam IndieGoGo page. For $299, or even $399 if you want to wait for this to become a real camera in stores, you're getting consumer-grade VR capture unlike anything else that is currently available. If LucidCam can deliver on the hardware and the software like they claim, which shouldn't be hard when the company is demonstrating new video samples all the time in the app, there's a good chance this is going to be the best bet for a lot of people who want to record for VR.
Get the Android Central Newsletter
Instant access to breaking news, the hottest reviews, great deals and helpful tips.